An astonishing number of Members – not all but largely Hawks and Ospreys – have represented their countries at the Olympic Games or in International contests.
This list of Olympians and Full Internationals has been specially prepared for the 150th Anniversary of the Club in spring 2022. To accompany this refreshment of the 2017 list, here are a few facts…
We have re-checked those names previously listed and added some omitted last time – including some medallists, especially our new road race cycling champion, Anna Kiesenhofer and champion rower Grace Prendergast. Around 180 new names have been added since 2017, including those eleven élite athletes who competed in the Tokyo 2020 (2021) Olympiad. (Scroll down for an A2 poster of All Known Olympians)
There are now 364 Olympians covering every Olympiad from 1896: we have had athletes from all over the world now embracing Bermuda and Saudi Arabia, Denmark and the British Virgin Isles.
Between them they have won more than 210 medals: all the stories behind these deserve celebration, of course, not just for themselves but

as part

of this pantheon showing the astonishing breadth and depth of their achievements.
If you add up all Olympians and other Full Internationals recorded from the 18 clubs including 11 new entries, we know Cambridge University has produced over 1,060 Full International athletes.
Some 92 Gold medals have been won at 28 modern Games since 1900, up to

and including the most recent champion at

Tokyo 2020 (2021)
Cambridge athletes have competed in 25

 

different Olympic sports, some now not played at the Games.
The University has produced Champions at 24 of the 28 modern Olympiads since and including 1900.
In a long tradition of champion Olympic athletes from Cambridge the Rio baton held by rowers George Nash and Tom Ransley has been handed to cyclist Anna Kiesenhofer from Austria, now the women's individual cycling road race champion and Grace Prendergast from New Zealand, holding her Coxless Pair gold in one hand, her Eights Silver in the other.
The 1900 Games were held in St Louis, Missouri and less than 10% of the competitors were from outside North America. However, David Robertson was there competing for GB in the golf event, winning Bronze. The 1906 event was more informal before a full-blown Games in 1908.
Cambridge athletes have represented 18 nations at the Olympics and we have Full International representation at least 10 others.
(Dr) Deng Yaping won 4 golds in Barcelona (2:1992) and Atlanta (2:1996) for table tennis …she was voted Chinese Female Athlete of the Century in 2003.
Richard Meade won 3 Equestrian Gold medals in the 1968 Mexico (1) and 1972 Munich (2) Games. He also competed at Tokyo in 1964.
For longevity of excellence, surely nobody can touch Cambridge fencers? Martin Holt (over 20 years sandwiching World War I); then through the 1970s to 1990s Richard Cohen, Fiona McIntosh, Richard Oldcorn were all Olympic selections for GB across four games (though ultimately absent from Moscow 1980).
The most successful Cambridge Paralympian in medals won is (Baron) Chris Holmes, with 15 Paralympic swimming medals, including 9 Gold.
CUBC has supplied more Olympians than any other University Club: 148 (42%) and more medals: 62. Only in 1904 Olympics was a CUBC member not represented.
In the 1956 Melbourne Games, Cambridge athletes were selected  for 6 of the 9 seats in the rowing Eights.
CUAC has supplied 81

 

Olympians – the latest being Louise Shanahan in Tokyo – winning 27 medals, including 14 Gold and a further 61 Full Internationals
87 International cricketers have shared 1,153 caps from 1878 to 2016, with 561 of those won as captain.
CURUFC has produced more British Lions than any other rugby club in the world: 69 from 1888 to 1997. Oddly perhaps, 21 were never capped by their country, the last of whom was Alun Lewis in 1977.
CURUFC has also seen 137 of its members capped since 1945 as Full Internationals by 10 different nations and one (Philip Keith-Roach) receiving a World Cup winner's medal in 2003. Added to the 197 capped pre-World War 2, the total reaches 346.
Fencers have supplied 18 to the Olympics, winning 4 medals and a further 12 have been awarded Full International caps.
Football has amassed a total of 84 Full Cap players, the most recent (Amateur) was in 1973 (David Cobb who played in the 1-0 win v Greece).
CUHC, having recently (2022) trawled the archives, can claim a remarkable 90+ Olympians and Internationals.
Footnote:
Perhaps the most surprising double gold medallist remains Bernard Redwood (Peterhouse) who won two medals in 1908 for Motor Boating (in separate classes). It seems he was co-opted to bail out his boats that were the only finisher on both occasions. As Motor Boating was never included again, we can safely say that he remains the University's only male reigning Olympic Champion. Sadly, he died of pneumonia aged just 37 with a cycling Half Blue to his name.
These lists continue to be subject to peer group confirmation and review for errors and omissions. This does not include all Full International caps won by Cambridge athletes. We have listed as many clubs as managed to submit their lists. Not all named are Hawks' or Ospreys Members, but the vast majority have been elected.

We have set the bar at a high level: only senior representative honours are presented. This is not to reduce the achievements of all those who have competed for their country at age group levels but we feel that these honours should best be celebrated through the Clubs themselves.
Members are welcome to download and peruse the booklet and make suggested amendments and additions for future editions. Contributions from the many other sports which Members participate in are particularly welcome. These should be addressed to our Honorary Secretary.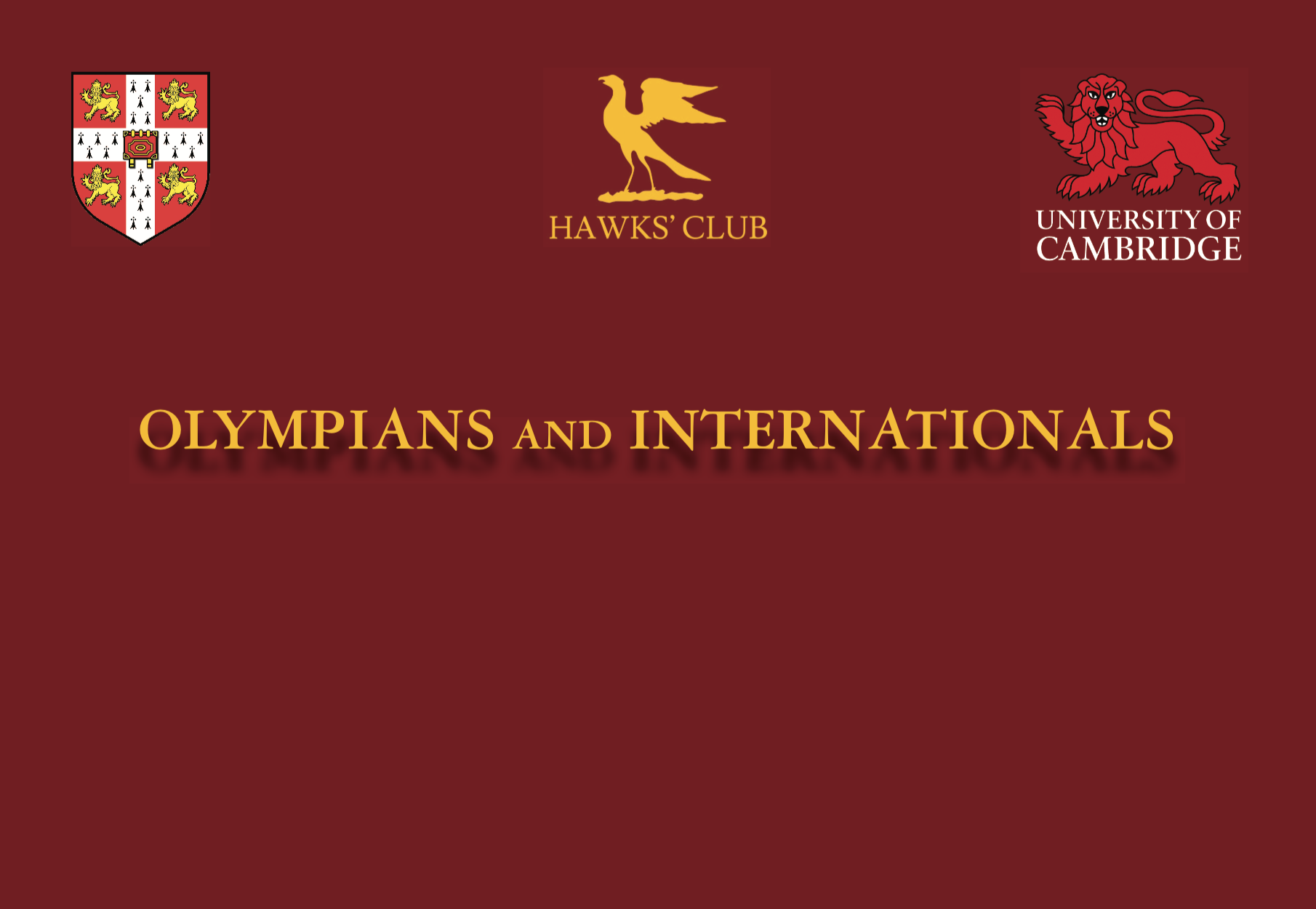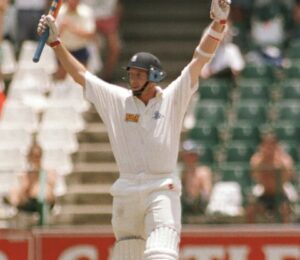 Mike Atherton
Downing, CUCC, 1987-99
Former England Captain, Pictured Here During His 185* v. South Africa in Johannesburg, 1995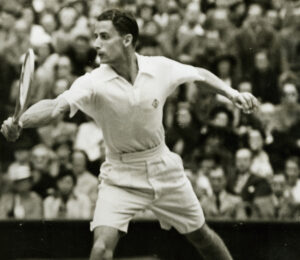 Bunny Austin
Pembroke, CULTC, 1924-27
Wimbledon (1932, 1938) and Roland-Garros (1937) Finalist, Davis Cup Winner (1933–35)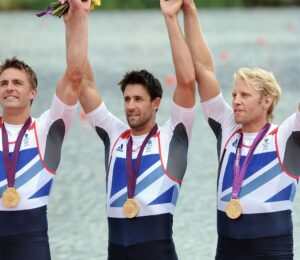 Tom James
Trinity Hall, CUBC, 2002-07
Twice Olympic Champion Rower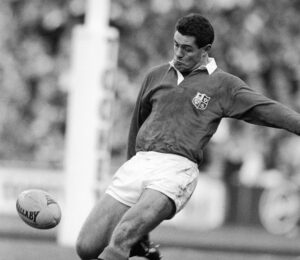 Gavin Hastings
Magdalene, CURUFC, 1984-86
Scottish International (61 Caps, 20 of which as Captain) and British & Irish Lions Captain on the 1993 Tour to New Zealand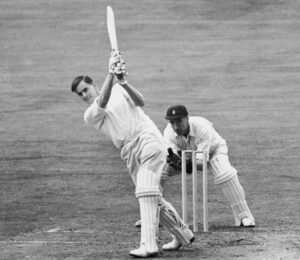 Peter May
Pembroke, CUCC, 1949-52
England Cricket Captain 1955-1961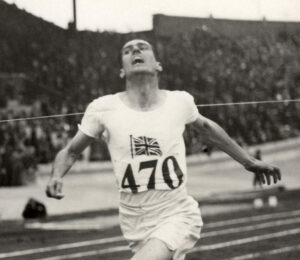 Douglas Lowe
Pembroke, CUAC, 1921-24
Double Olympic Champion, Winning Gold Medals in 1924 and 1928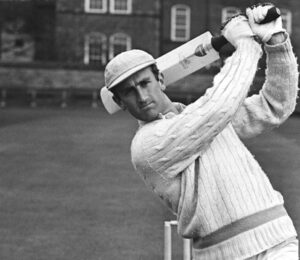 Ted Dexter
Jesus, CUCC, CUGC, 1955-58
England Captain in the Early 60s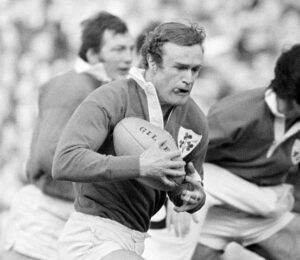 Mike Gibson
Queens', CURUFC, 1963-66
Irish International (69 Caps) and British & Irish Lion (12 Caps Over 5 Tours)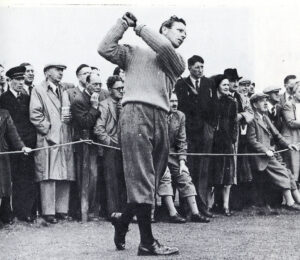 Laddie Lucas
Pembroke, CUGC, 1934-37
Represented Great Britain & Ireland in the Walker Cup in 1936, 1947, 1949* (*as Captain)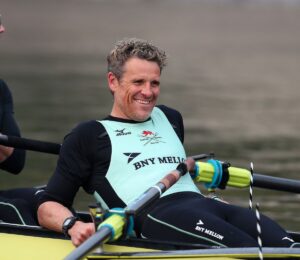 James Cracknell
Peterhouse, CUBC, 2018-19
Double Olympic Gold Medalist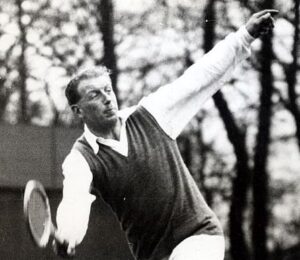 Max Woosnam
Trinity, CUAFC, CUCC, CULTC, CURTC, CUGC, 1911-14
The "Greatest British Sportsman": Quadruple Blue, Olympic Gold Medallist (Mixed Doubles, Antwerp 1920), England Football Captain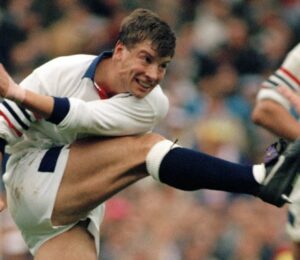 Rob Andrew
St John's, CURUFC, CUCC, 1982–85
Captained England and the British & Irish Lions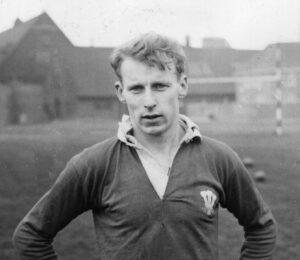 Ken Scotland
Trinity, CURUFC, 1957-60
Scottish International and British & Irish Lion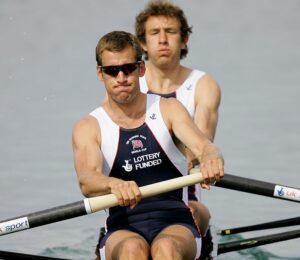 Kieran West
Christ's, Pembroke, CUBC, 1995–2010
Men's Eight Olympic Champion, Sydney 2000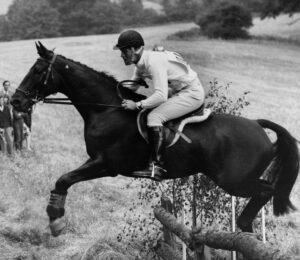 Richard Meade
Magdalene, CURC, 1960-63
Triple Olympic Gold Medalist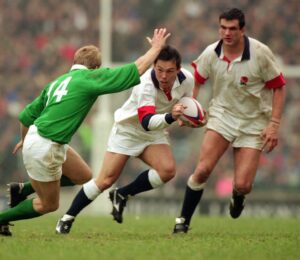 Tony Underwood
St Edmund's, CURUFC, 1990–1992
English International and British & Irish Lion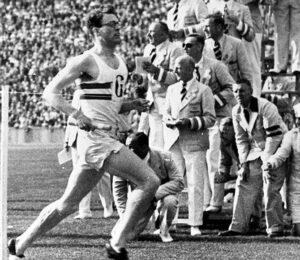 Godfrey Brown
Peterhouse, CUAC, 1935-38
Olympic Gold Medalist in the 4 × 400 m Relay at the 1936 Berlin Summer Olympics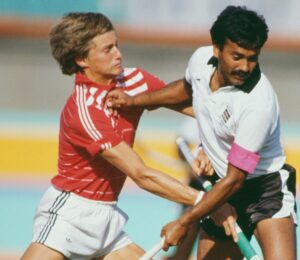 Richard Dodds
St Catharine's, CUHC, 1978-81
Captain of the Gold Medal-Winning Great Britain Squad in the 1988 Summer Olympics in Seoul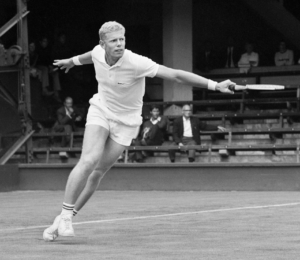 Mark Cox
Downing, CULTC, 1963-66
Australian (1967, 1971) and US Open (1966) Quarter-Finalist, Davis Cup Finalist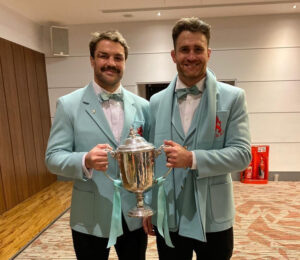 Flip van der Merwe & James Horwill
Queens', CURUFC, 2019-21
South African and Australian Internationals. Here, Varsity Match 2020 Victors.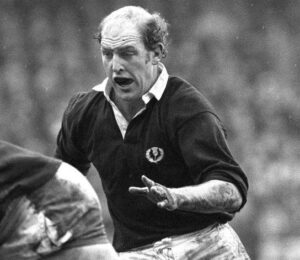 Mike Biggar
Queens', CURUFC, 1968-72
Scottish International with 24 Caps between 1975-80, Four Times as Captain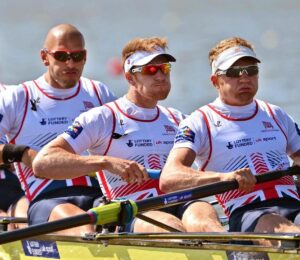 George Nash
St. Catharine's, CUBC, 2008-12
Dual Olympic Medal Winner (Gold at Rio 2016, Bronze at London 2012) and Three Time World Champion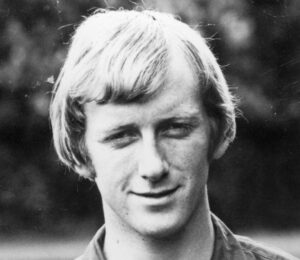 Bernard Cotton
Fitzwilliam, CUHC, 1967-70
73 Caps for England and 54 for Great Britain, Representing the Country at the 1972 Munich Olympics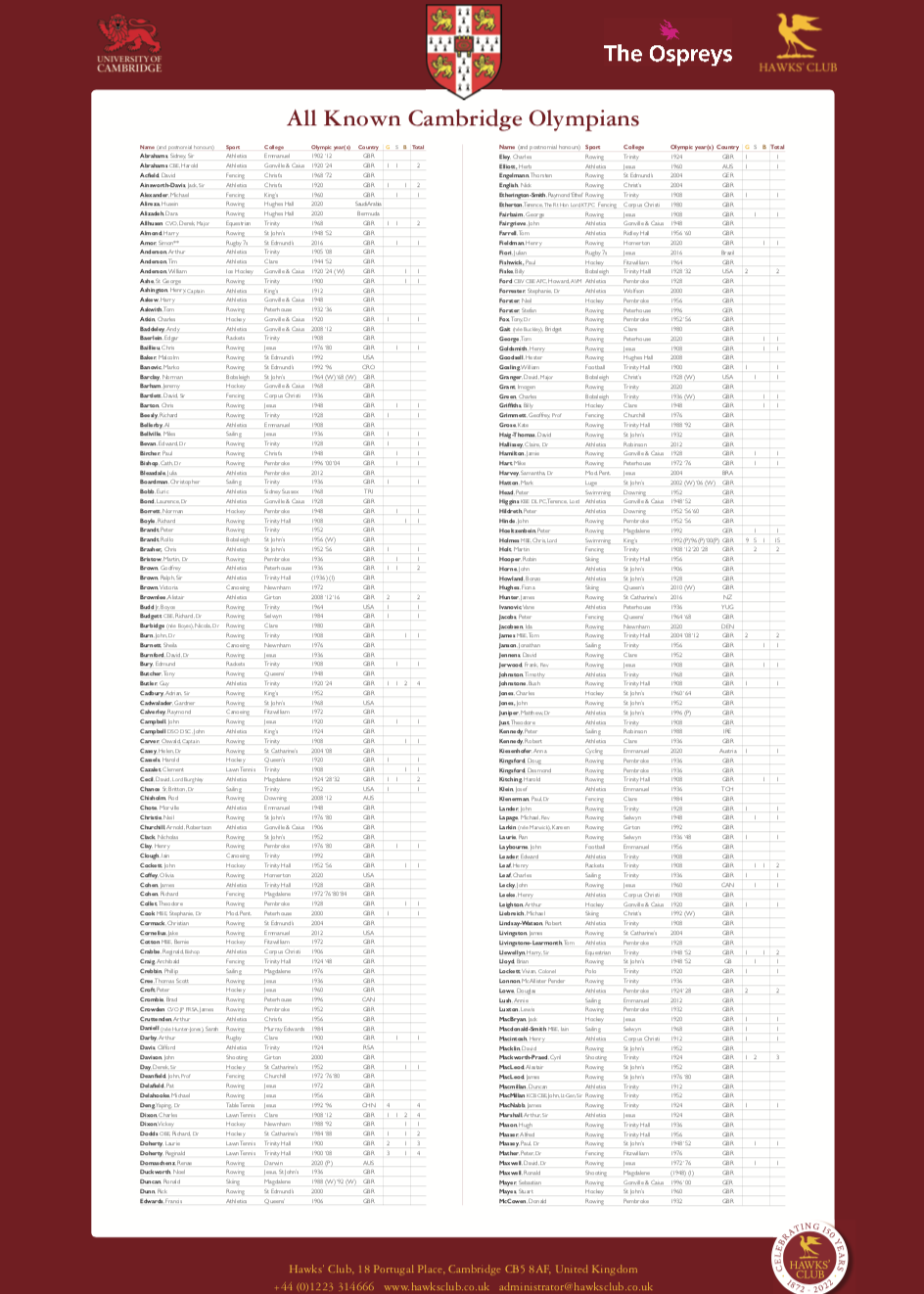 The University published a record of all known Olympians in May 2022, an updated version of the version published in March 2017.  Not all the athletes shown were Members of Hawks' but it shows how over 200 medals have been won.
It can be viewed here or by clicking on the poster image.