This is the transcript of an interview with Dr Andy Richards carried out by Jon Vibhishanan and Holly Tasker. This interview took place over Zoom on the 17th of November, during the second lockdown. Despite calling in from his home, Andy was proudly sporting his Hawks' tie.
Dr Andy Richards graduated in 1955, having joined Trinity college in 1952 to study medicine. At Cambridge, Andy was a keen and successful member of the University swimming club (now CUSWPC), racing in his first Varsity match as a Fresher, and breaking the 200 yd breaststroke record in the process. He went on to become Captain of Swimming in 1955. Andy went on to represent Great Britain at the World University Games in both Dortmund, Germany (1953) and in San Sebastián, Spain (1955) but narrowly missed out on going to the Empire Games in Vancouver in 1954. Although now retired, Andy has had a successful medical career as an ophthalmologist, having qualified at Guys Hospital, trained at Moorfields Eye Hospital, and worked as a consultant at the Royal Berkshire Hospital. He's worked in the UK and volunteered for global charities focussing on eye healthcare provision, including Sight Savers International (Formerly the Royal Commonwealth Society for the Blind). For this work, he was awarded an OBE.
Could you take us back to how when you first started swimming?
As a very young boy, I found I could always swim faster than the other chaps, and when I went to Oundle school, I was soon in the swimming team. Of course, when I was at Oundle, the swimming team had matches against other schools. One of the things we competed in was a public schools cup called the Bath Cup, which was a great event during my school days.
My father was very keen on all sports, and finding that I could swim faster than some of the other chaps, he encouraged me. I trained after a fashion which, these days, would seem terribly amateur! Hoping to be a serious swimmer in those days, really the methods adopted were, by today's standards, very casual and unfocused.
Onwards to Cambridge, I enjoyed competitive swimming with the Cambridge Granta swimming club. I hope it's still going! It was a delightful group of young chaps, and we used to have races, competitions and river swims.
Tell us a bit more about you applying to Cambridge, and whether swimming played any part in it.
I was born and brought up in Cambridge, and my father was a general practitioner and a consultant at Addenbrookes Hospital. He was very keen on sport, especially swimming, and so the plan was to aim to get to Trinity College. Of course, I had to buckle down and do the academic side, which I just about managed! I wasn't a particularly bright student, but I did work hard, and I managed to pass the first MB, which at that time was the entrance exam.
What was it like to swim for the University team, alongside your academics?
I could do my swimming training in the morning; we had access to the Leys School swimming pool before breakfast, which was where I did my training. Once that was over, the rest of the day was available for academic and other activities!
I had the pleasure of competing alongside a delightful lot of chaps. I remember them all so well, and could talk for hours about them! We had various events – the second Cambridge swimming team were called the Tadpoles [now the social club for CUSWPC], who had a ball every year, to which we invited our girlfriends. It was all very nice and jolly, and looking back I suppose very old fashioned!
In my second year, I was Secretary. Usually, one hoped to gain enough reputation in their first year to be elected Secretary, and then the normal progression was that the Secretary would become Captain in his or her last year.
My second year as Secretary was quite busy! Arranging fixtures, getting membership cards printed, contacting other clubs, and meeting people from Oxford to arrange the University match, there was quite a bit to do. Perhaps there was less to do as Captain, where one acted more as a figurehead and a leader, with various pleasant obligations connected with the University match, which was the big event.
I'm pleased to say that we beat Oxford in the Varsity Swimming and Water Polo matches every year that I was at Cambridge!
Cambridge University Swimming and Water Polo Team 1955. Andy (President) bottom, middle.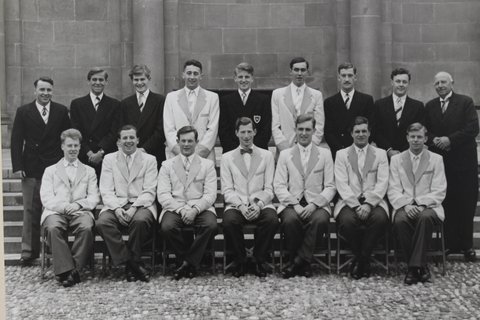 "Ronny on my right, John Rae on my left. As you probably know, John went on to teach at Harrow and later was H'master of Westminster school, published author of novels, radio and TV 'pundit'. Peter Head 4th from L standing in C U blazer. Olympic swimmer.
John invited me to Sidney Sussex to introduce me to the great Dennis Silk the President as a preliminary to proposing me for election to the Hawks' Club.
I was speechless at meeting The Great Man! Couldn't wait to wear THE tie! Happy Days!
Long live the Hawks and thanks for all you are doing to perpetuate it.
A"
Andy in an email to James Skelton, October 2020
While you were at University, you were also selected to take it a bit further, and represent British Universities. Could you tell us a bit more about that?
Well, I have to look back with huge regret, because my great disappointment was to miss out on being selected for the Empire Games, which were held in Vancouver – you may remember reading about Roger Bannister there. I just missed out on selection for the British National team, as they only took two in the breaststroke category, and I was third at the trials. So I was a 'nearly' on the national scene!
In University, I was able to keep my head above water (literally!), and was selected for what was then called the Student Games, which were a kind of international 'mini-Olympics'. In my time, the British Universities Sports Board had some very hard working, friendly officials who got together a team which went to the World University Games, to which I went twice: one was in Dortmund, Germany, and the other was in San Sebastián, Spain. The swimming team did quite well! 
What was it like to be part of the Hawks' Club during your time at Cambridge?
Of course, I had heard about the Hawks' Club before I went up to the University. As a schoolboy I used to watch University sport, obviously, rugby at Grange Road, and cricket at Fenner's, and I looked up and worshipped great Cambridge sportsmen and the Hawks' Club. I dreamed of one day being elected to join it!
I was proposed by John Rae, a close friend who became headmaster of Westminster School, and was a well-known author, who was in the swimming team. He was at Sidney Sussex with Dennis Silk, who was an absolutely delightful, quietly spoken, dignified undergraduate, and a very close friend. He was a member of the cricket and rugby teams, and went on to become headmaster of Radley College, and he seconded my proposal.
Once elected to the Hawks, I was proud as could be! I occasionally enjoyed having lunch and coffee with friends at the clubhouse, and I remember the delightful pictures of predecessors on the walls.
After graduation, I wore my tie regularly, which is instantly recognisable all across the world. I also used to go to the Hawks' Club Dinner in London often, with Ronny Ullman, a delightful friend of mine who was responsible for making Hawks' Club Ties. He was the Secretary of the [swimming] club when I was Captain, and he went on to be Captain.
Cambridge May Ball about 1952 or 1953, Andy second from left.
"Ronny Ulmann (left), not sure who his partner was but the gorgeous young lady second from left is Fearne Ewart, international swimmer (Bronze, 440 yd freestyle, Vancouver 1954) to whom Ronny introduced me.
She married another.
We are still in touch."
Andy in an email to James Skelton, October 2020. 
Could you tell us about the voluntary work that you did that led to you being awarded an OBE?
Having completed my training at Moorfields, I found how transportable ophthalmology was – we used to do some of the surgeries without all of the instrumentation and devices that are used today. I found that I could undertake short term voluntary assignments abroad, where what I had learned at Moorfields was extremely welcome. I was able to teach and carry out surgery, and could fit all of this around a career at home.
These assignments were with the Royal Commonwealth Society for the Blind, which is now Sight Savers, and I was welcomed into their activities all across the world, including Nigeria, Bangladesh, and Kenya among many others.
My assignment in Nigeria was the best time in my life, in which I worked alongside the absolutely wonderful resident Nigerian medical professionals. I was there soon after the Nigerian Civil War, when there was a significant need for all medical aid. I also had fantastic experiences during all of the other assignments.
Is there anything you'd like to say to current Hawks and Ospreys?
Swimming was really important to me, including the camaraderie and the fun alongside the training. Playing sport at Cambridge stood me in good stead, something that I hope all current Hawks and Ospreys remember!