"Since joining Cambridge in October 2014, I have competed for the Men's Blues and GBR. In 2016-17 I captained the Blues to a record breaking unbeaten season, which included winning an away Varsity and the British Universities and Colleges Sport (BUCS) Team Championships. I played a leading role in Cambridge's victories at Varsity with the top indicator of +10.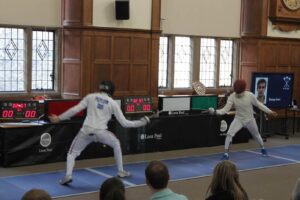 Individually, I have represented GBR at several U17 / U2o Championships – 19th at Moscow was a highlight. Through recent strong domestic performances – including a 2nd place at the British Championships – I obtained a top 10 GBR Men's Senior rankings.
As a result, I have been selected for the Senior GBR team for the World Cup internationals this season. My aim is to achieve L64 results at these internationals and secure a top four GBR ranking by the end of this season. I also won BUCS individual Championships, winning the final 15-5.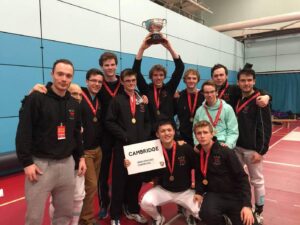 One of the major obstacles to my fencing is the high cost of competing internationally. Despite being selected the GBR Senior team, I have not been able to compete abroad this season due to the high costs of competitions. In 2014-15, I was funded by a Talented Athlete Scholarship scheme (TASS) Award. However, fencing was not eligible in 2015.
To achieve my sporting goals for this season I need to compete regularly abroad. The Hawks' Award will make a substantial difference in helping me to achieve this." (Lawrence estimated his annual expenses to be around £5,500 per year).
Laurence Peplow
Blue 2016-17
Winner BUCS Individual Championship
GBR International
See how your donations help