Charlie Dewhurst
St John's, CUGC, CURFC, CUCC, 2008-2011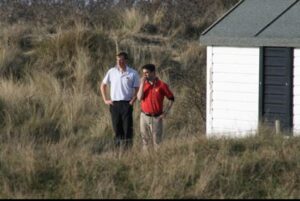 Where are you now?
Currently live in South West London, though never too far away from a golf course. I work as Commercial Director at SailGP (think F1 on water) which takes me to some cool places (usually with golf clubs in tow) – Bermuda, Saint Tropez, Sydney, Singapore. 
What are your sporting career highlights?
As a Cambridge golfer, sporting highlights are few and far between – more time in the bar than on the range. However, one that stands out is the first hole of the 2010 Varsity Match at Porthcawl where I got my first blue. I was playing with a great friend David Duncan, and we were sacrificed off top against the Oxford number 1 pair. Much to everyone's surprise (especially ours), we birdied the first hole and went 1-up. Unfortunately, it didn't last long, but it was a pretty sweet moment. Winning my Captain's match against the OUGC Captain in 2012 was also a highlight. 
What are your fondest memories of Cambridge Sport and The Hawks' Club?
The best moments at the Hawks' were always after matches, when things really kicked-off. The most memorable time was when Mike (the steward at the time) was away and we had a proper lock-in. There were about 50 people in the bar all chanting "when Mike's away, the boys will play!" The other great time of the year was the Hawks' Event, which was the ultimate at bringing everyone together. As a Committee Member it was particularly special, and perhaps my proudest moment was securing the free Cobra deal for the first time – hopefully a legacy that still lives on. 
What do you miss most about Cambridge/The Hawks' Club?
I definitely miss the freedom and all that time! Playing 72 holes every weekend with your mates, Committee Dinners on Tuesday nights, unlimited free drinks at Cindies (RIP), and those spontaneous evenings when you go into the Club for a quick beer and end up still there 4 hours later, playing 25-heads and 2 jugs of Tomohawk down. 
If you could relive any sporting moment from your lifetime, what would it be and why?
Definitely the last hole of my final match as a CUGC player – against the OUGC Captain at Hunstanton in 2012. All square on the last I hit my drive about 45 degrees right into the beach huts – a pretty depressing moment after 4 years of Cambridge Golf! Fortunately I could pitch out and ended up winning the hole and the match 1-up (the Oxford Captain had some issues on the green…). However, it would have been nice to finish that match with a birdie, rather than a trip to the beach