Dan Wooler
St Catherine's, CURUFC, 1989-92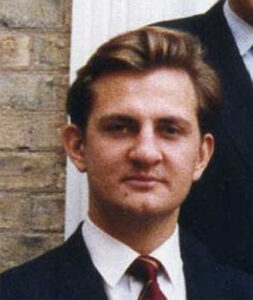 Where are you now?
In the Maldives with my wife and three children.
What are your sporting career highlights?
A half time team talk by Brendan Mullin, formerly of Ireland and B&I Lions, and captain of OURUFC in the match against the Penguins who included amongst their numbers the soon to be rugby league Hall of Famer, Martin Offiah, on my opposite wing.  Having addressed the team one by one, Mullin turned to me and asked politely if, in the second half, I could just catch and tackle.  Offiah scored five tries. I never fully recovered (note: I was at the 'other place' as an undergraduate).
Captaining the LX Club to a famous 'unbeaten season' – I can't remember the year (1991/92?), or even if we were actually unbeaten, but the victory over Oxford at Iffley Road was sweet – or was it Grange Road?
Followed by the infamous Amsterbanned tour of '92 where the entire mixed squad of Blues and LXs were banned by the RFU for a month from all rugby, and your correspondent and the current Director of Studies for Natural Sciences at Downing College were 'requested' not to tour for a year.
Appearing in a Blues team at inside centre (I believe the groundsman's son was ill that day) against Northampton Saints with Adrian Davies of Wales at flyhalf and Tony 'TU' Underwood on the wing.  The world record for 'miss one' calls in a single match was soundly beaten that day.
What are your fondest memories of Cambridge Sport and The Hawks' Club?
We took possession of Portugal Place in the year after my Presidency, and so the opportunity to sit on the fundraising committee with the likes of Sir Adrian Cadbury, John Marks, and Lord Butterfield was a sheer joy and privilege.  However, the opening ceremony with HRH Duke of Edinburgh was most notable, not least for his interchange with David Dix, a confident second row antipodean and Blue of the time, who suggested he "bring the wife" to the next Captain's cocktails at our esteemed club.
More general memories include training at Grange Road on misty midweek evenings, giggling with Duthie, Pring, Davies et al. on the back of the coach returning from an away match, and the sheer unparalleled joy of watching Chris Sheasby's white VW Scirocco being towed away outside the Mill.
What do you miss most about Cambridge/The Hawks' Club?
I miss being surrounded, all the time, by like-minded, like-humoured people with a similar passion for sport, fun and friendship. And I miss Jim Ashworth's friendly smile.
If you could relive any sporting moment from your lifetime, what would it be and why?
Ref fixture for OURUFC against the Penguins above, I would ask Brendan if I could play on the other wing.