Hawks' Newsletter December 2021
A View From The Clubhouse
Members of CUHC, CUAFC and CUGC celebrating Christmas in the Clubhouse
Gentlemen Hawks,
With the first post-COVID term of Clubhouse events having finished, and most students having gone off on vacation, I find myself reflecting on the last four months at the Clubhouse. It must be said that when I took on the role of 'interim steward' for the first three weeks of Michaelmas I did not foresee how action-packed the Clubhouse would be over the duration of the entire term. The beginning of this journey started with the Clubhouse being incredibly busy from the start of preseason. It was apparent that the post-'Freedom Day' summer enthusiasm for socialising had very much not worn off for Hawks and Ospreys alike (and wouldn't wear off for some time!).
As term progressed, I was superseded by Gary Parker (the new steward), rescuing me from a mounting Land Economy MPhil workload. Thankfully, I can now take a step back and enjoy an artfully crafted Hawks' Burger for dinner, usually 4/5 times a week alongside a pint of Hawks' Harrier and the odd lime soda. A true sports person's diet, cheers Gazza. On a more serious note, reflecting on a whirlwind first term back has reinforced the unique nature of Hawks to me. There is no other place in the world where you could be chatting to an ex-international sports star one moment, and then be singing karaoke in the bar with a group of likeminded University students the next. That's without even mentioning Tomahawk. Pop in for a pint, or for a non-alcoholic Toma (ginger beer), when you're back. Mid-January cannot come soon enough. 
Merry Christmas and Happy New Year.
GDBO,
Nick Sweeney (Trading, Darwin, CUAFC)
Internationals Project
An astonishing number of Members – not all but largely Hawks (and Ospreys) – have represented their countries in International contests or at the Olympic Games. In 2017, we prepared and issued further lists of Olympians and Full Internationals for each of the clubs who were able to contribute.
In this latest 150th Anniversary edition we have updated existing lists and added fresh names of elite athletes. This list of Olympians and Full Internationals has been specially prepared for the 150th Anniversary of the Club. We have rechecked those names previously listed and added some omitted last time – including some medallists. Almost one hundred fresh faces are now included, including our nine elite athletes who competed in the Tokyo 2020 (2021) Olympiad.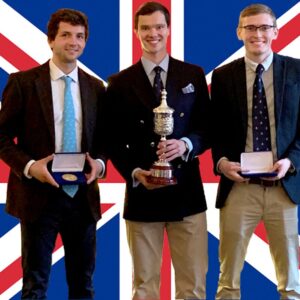 Real Tennis Internationals: Jamie Giddins (Fitzwilliam, CURTC, CURC, CUGC, CUSRC, 2012-16), Jamie Douglas (St John's, CURTC, CUSRC, CURC, 2005-08) and Ed Kay (Emmanuel, CURTC, CURC, CURFC, 2010-18). Photo courtesy of The Tennis and Rackets Association
These lists continue to be subject to peer group confirmation and to review for errors and omissions (please get in touch with Jonathan Dickins, jonathandickins@googlemail.com, if you would like to offer any additions/changes). This does not include all Full International caps won by Cambridge athletes (e.g. only Men's Hockey Olympians are shown). We have listed as many clubs as managed to submit their lists. Not all named are Hawks or Ospreys members, but the vast majority have been elected.
We have set the bar at a high level: only senior representative honours are presented. This is not to reduce the achievements of all those who have competed for their country at age group levels, but we feel that these honours should best be celebrated through the Clubs themselves.
For more information, see the Olympians and Internationals section of the website. 
The Hawks' Club Olympians and Internationals' booklet can be found here.
Editor's Note: The Club would like to thank Jonathan Dickins for all his hard work in maintaining and updating our list of Olympians and Internationals.  
Hawks' Halloween House Party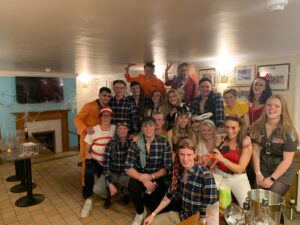 The Hawks' and Ospreys' Committees preparing for a busy night of working hard!
602 days after the inaugural house party on the 8th March 2020, the Hawks' House Party returned on Halloween at the Clubhouse. Doors opened at 8pm and 130 residents assembled in the Clubhouse for an evening full of entertainment. The tables in the bar were set up for TomaPong, the Dining Room was host to a silent disco, whilst the Van Alen room was reserved for those wanting a sit down between games of TomaPong and stints in the silent disco. Despite some questionable Halloween themed costumes, the evening was a roaring success and we look forward to the next House Party in 2022! Thanks to Tom Walton (Events, St John's, CURUFC) for organising the evening.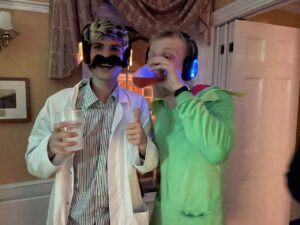 Messrs Mcpherson (Fitzwilliam, CUAFC) and Sweeney enjoying some Halloween Tomahawk in the silent disco
Hawks' Club Port and Wine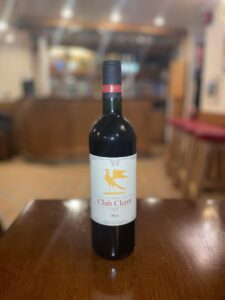 The Club is delighted to announce the launch of a Hawks' Club wine for members. We are very lucky to have John Casson MW (Jesus, CURTC, 1970-1973) as one of our members. John, during a distinguished career in the wine trade, was Executive Director of the Institute of Masters of Wine. He has assisted us in putting together the offer. The supplier, Private Cellar, is a Cambridgeshire-based online wine supplier. A small percentage of the sales that go through our webpage at Private Cellar will flow back to the Hawks' Club and help us increase the services that we offer to today and tomorrow's elite athletes. (Spoiler alert – a Club Mâcon will also be available in the New Year.)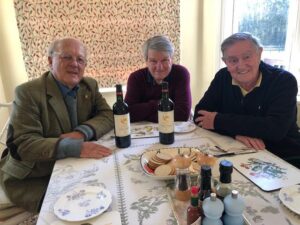 Left to Right: Roger Dalzell (Christ's, CUABC, CURUFC, 1959-1962), Ian Balding (Christ's, CURUFC, 1959-1962) and Tony Lewis (Christ's, CUCC, CURUFC, 1959-1962) enjoying the Club Claret
John's bio is on the website (see here) for the more curious among you. If you are interested in viewing and/or buying some wine using our offer, please click on this link: www.privatecellar.co.uk/hawksclub.
Enjoy, and please send any feedback to James Skelton (Trinity, CUGC, CUEFC, CUAFC, CUDC, 1986-1989) at skellaci@yahoo.com.
In addition to this wine offer, we have also introduced a Hawks' Club port (only available to be purchased in the Clubhouse at this stage). The Club port has been popular amongst residents, with many members enjoying a glass post-Hawks' Burger and Brownie. Do purchase a bottle if you find yourself in the Clubhouse!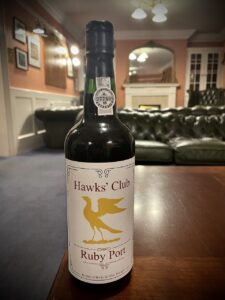 The Club would like to thank all those who have been involved in the launch of the Club wine and port (and special thanks to James Skelton who was the driving force behind the launch of both products).


Hawks' Club Movember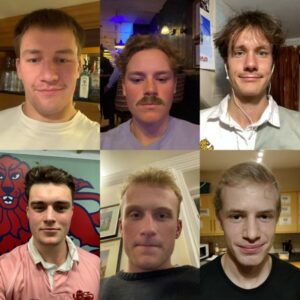 Hawks' Committee Movember efforts: Tom Walton, Calum Mackenzie (Emmanuel, CUGC), Ed Tyler (Sidney Sussex, CUHC), Ben Jackson (Sidney Sussex, CURUFC), Nick Sweeney, Jeremy Dempsey (Girton, CUAC)
While many of the Hawks' Club's best traditions have been difficult to run for the past few years, the Club's new Movember tradition has gone from strength to strength. Last year's committee raised an admirable £659 as a group, despite the simultaneous November lockdown. This year, the Hawks' Movember was expanded to encompass members of any sports club that signed up, helping us raise £4,719 together. Special congratulations should be given to Uilliam Blythman, who raised a phenomenal £1,010 as part of the Hockey Club's contribution to the Hawks' Movember. 
While most people know Movember for the Moustache-growing element, there are other ways to fundraise too, including running as part of "move for Movember". Several Hawks and Ospreys together ran a total of 277km in the month. 
As sporting activity, whether high-performance or more casual, is increasingly recognised as making a hugely positive contribution to mental health (as well as physical health), it is fantastic that the Hawks' Club's membership are so supportive of the Movember foundation. The work they do literally saves lives, with the money raised by the Hawks and Ospreys furthering Movember's work in the fields of men's mental health (and suicide prevention), as well as beating prostate and testicular cancers. For more information on the incredible work this charity does, please visit https://uk.movember.com/about/cause. It is also not too late to donate, via the Hawks and Ospreys page.
Thank you to all of the Hawks past and present who encouraged, participated or donated, and watch this space for next year, as we hope to best this year's total.
Ed Tyler (HOATS, Sidney Sussex, CUHC)
Alumni Bookings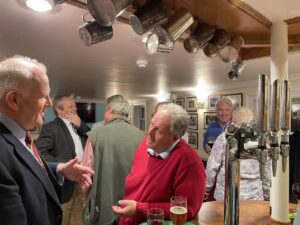 Over the past few weeks, we have really enjoyed welcoming back groups of alumni members for lunches and dinners at the Clubhouse. In late October, the infamous 'Monday Night Club' (led by Angus Pollock) booked in for a curry night in the Clubhouse. The evening was full of stories, poems and the occasional song – all fuelled by a splendid spread put on by our new steward, Gary Parker. Towards the end of November, we welcomed back the 2001 CURUFC team (led by Mike Count) for a steak lunch during CURUFC's 150th Anniversary week. Again, it was great to see members catch up and reminisce about old times! Please do get in touch with Gary (manager@hawksclub.co.uk) if you and your teammates/fellow Hawks would like to book in for a lunch/dinner at the Clubhouse.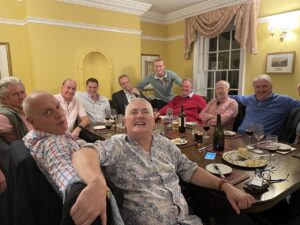 Hawks' Club Annual Dinner 2021 at the Savoy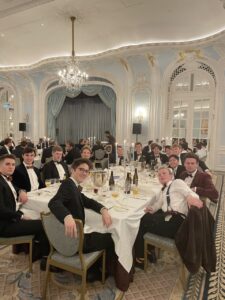 Adam Goldney (Jesus, CUAC, 2017-2021), Tomas Nevrkla (Girton, CUAFC, 2017-2020), Nick Sweeney, Paddy Mortimore (Darwin, CUAFC), Ryan Hoffmann (Queens', CUAFC, 2018-2021), Harry Atkins (Clare, CUHC, 2018-2021), Hantian Wang (Jesus, CUHC), Ben Rushmore (Clare, CUHC, 2018-21), Ed Tyler, Seb Shaw (Jesus, CUHC), Adam Parkes (St John's, CUGC, 2014-2017) James Burgess (Jesus, CURLFC, 2016-2020), Elliot Ebert (Jesus, CUGC, 2016-2020)
On Wednesday 8th December, approximately 210 Hawks gathered at The Savoy for the Hawks' Club Annual Dinner. After a one-year hiatus due to Covid, the evening provided an opportunity for Hawks to catch up in person in some delightful surroundings. Those in attendance stretched from 1962-2021 (year of election to the Club). Thank you to the London Dinner Committee for all their work in organising such a special evening.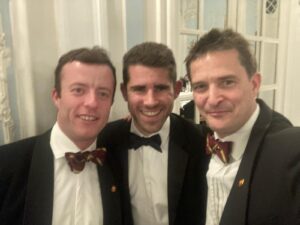 Ed Hyde (President, Jesus, CUCC, CURC, CURTC, CURFC), James Brooks (Emmanuel, CUAC, 2012-2016), Jono Arscott (Magdalene, CUCC, CUHC, 1989-1992)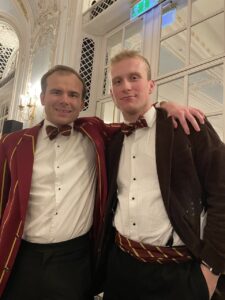 Niels Van Fraassen (Jesus, CUCRC, CUSSC, CUYC, CUHC) and Nick Sweeney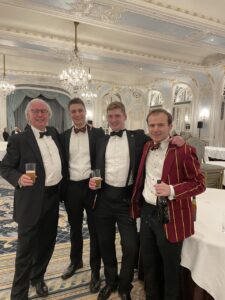 Kevin McCollum (Downing, CULTC, CUSRC, 1972-75), Adam Goldney, James Burgess, Niels Van Fraassen
Harry Houillon represents Kent County Cricket Club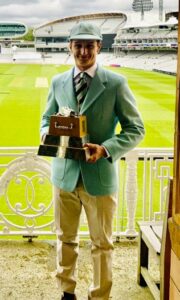 Harry celebrating victory in the One-Day University Match at Lord's in May 
Congratulations to Harry Houillon (Fitzwilliam, CUCC) who made his First-Class debut for Kent County Cricket Club against Sussex in July in the 2021 County Championship (two days after representing Cambridge in the Three-Day Varsity Match at Teddington).
A scorecard from the Kent vs Sussex match can be found here.
Tony Underwood Talk
Ed Hyde, Tony Underwood (St Edmund's, CURUFC, CUAC, 1990-1992) and Lea Wenger (Ospreys' President)
In late November, the Clubhouse hosted a talk by Hawk, Tony Underwood. Addressing an audience of Hawks (residents and alumni), Hawks DRC members and Ospreys, Tony focussed on the topic of 'resilience' and how to deal with setbacks, with the talk providing some valuable insights into the psychological challenges of dealing with life's highs and lows. The relaxed and conversational nature of the talk meant that the audience were engaged throughout (with some of Tony's old CURUFC teammates chipping in with some especially challenging questions!). Thank you to Tony for such an interesting discussion and to Graeme Menzies (St Catharine's, CUHC, 1973-1976) for helping to organise.
Nightclubs Update – (Sunday) Life Finds a Way
In times of emotional turmoil, Hawks may wish to turn to Mary Woolstencraft Shelley. In Frankenstein, she writes that 'Nothing is so painful to the human mind as a great and sudden change'. The thought of losing our beloved Ballare and Vinyl was perhaps a painful one, but the reality has been nothing short of Revolutionary.
The many months of virtual drinking and pub quizzes gave Hawks and Ospreys ample opportunity to consider the strategic benefits of relocating Sunday Life. After negotiations with various venues, the committees voted in favour of launching a reformed Sunday club night at Lola Lo's. The student-only event – with which Hawks has a promotional partnership – has been a complete sell-out every Sunday of term and we look forward to watching this continue next term and beyond.
Late September also saw the launch of Wednesday Cindies at Revolution with residents and students alike flocking to pastures new. Housing lagers by the pint and discounts for resident members, the new location has been a roaring success in filling the Ballare-sized hole in our hearts. Whilst the Cindies smoking area may now only be a memory held dear by alumni, be assured that the rigorous networking continues to thrive atop Revolution's rooftop terrace.
We are confident that the successes and pints will continue in their masses into the new year.
Ben Jackson (Events, Sidney Sussex, CURUFC)
Blue Bird update
With Cambridge sport back in full swing this term, the Blue Bird team has been kept busy with plenty of match reports sent in by teams across the university, including the Hockey Club, who enjoyed the season's first pre-season tour away to Sheffield. Moreover, The Blue Bird's podcast, The Lion's Den, is back rounding up the sporting action from around the university each week. The first two shows are available on the Cam FM website and tune in at 5pm on Thursday evenings during term time to listen to the show live on the radio! CURUFC's annual fixture against the Steele-Bodger invitational side was met with live coverage on Blue Bird's Twitter, as was the women's 88s game. The Blue Bird has also heard from plenty of college sports, such as St John's Hockey Club having a successful season, topping the Division 1 League as well as getting plenty of new players involved across all four teams. The Blue Bird spoke to the Senior-Pro-Vice-Chancellor (Education) Graham Virgo and the Director of Sport Nick Brooking about the importance of sport within the university; the link to the full article can be found here. Additional features this term have covered various topics such as LGBT+ inclusion, a rise in the popularity of Korfball at Cambridge, and the growth of women's football worldwide. Next term, be sure to keep up to date with all the latest sport action via The Blue Bird, including the Boat Races and the Rugby Varsity Matches.
Charlotte Cutter, Editor-in-chief
Sightings of the Club Colours
Five Hawks at the Quidnunc Cricket Club Quinquennial Dinner at Lord's Cricket Ground: Robin Jones (Homerton, CUCC, CUAFC, 1995-1997), Ed Hyde, Jono Arscott, Anthony Murley (St Catharine's, CUCC, CUGC, CUFC, 1977-1981), Alex Moen (Vice-President, Magdalene, CUCC, CUHC, CURC)
Varsity Matches 2021-2022
Dates for Varsity Matches taking place during the 2021-22 academic year will be posted on the Varsity Fixtures page of the website. This page will be updated as dates for Varsity Matches are confirmed by various clubs. A link to results from 2020-2021 Varsity Matches can also be found on the link above.
Hawks' Club Welsh Dinner 2022
The 2022 Welsh Dinner will take place on Friday 14th January at the Cardiff & County Club, Westgate Street, Cardiff. Dress: black tie/club tie. £50 per head. All Hawks are welcome. Please get in touch with Stephen Whitehead (Christ's, CURUFC, 1969-1972) (whiteheadstephen3@gmail.com) if you would like to purchase a ticket.
Where Are They Now?
This year, we will once again continue our 'Where Are They Now?' feature, which we know many Hawks, both alumni and residents alike, really enjoy reading. In this section, we ask alumni to reminisce about their sporting achievements and their time in Hawks'. We feel communications like these are vital to maintaining the connection between alumni, old friends and the Club. We hope you enjoy reading!
We would love to hear from you and share your entries, which you can do here. Do also encourage any fellow Hawks to share their stories too – the best entry at the end of the year will win £50 of Hawks' merchandise! Last year we had many great entries, with the eventual winner being Russ Abel (Fitzwilliam, CUHC, 2000-04) and the runner-up John Taylor (Sidney Sussex, CUGC, CURFC, 1984-89). You can find all of our previous submissions here.
Our three most recent responses are both great, so many thanks to Sam, Dan and George:
Sam Grimshaw (Jesus, CUHC & CUCC, 2002-2013)
Dan Wooler (St Catharine's, CURUFC, 1989-1992)
George Bilclough (St John's, CURUFC, 2012-2015)
It would be great to hear from you so please take a few minutes to submit your entry! 
Legacy Pack Reminder
A reminder for Members who received a Legacy pack in November in the context of our 150th Anniversary and have not yet returned the form with their updated details: we would very much like to hear from you. 
Members who did not receive the pack, but would like to consider making a bequest at this special moment in the Club's history, should complete this form or contact admin@hawkstrust.co.uk
Contact Us and Picture Submissions
Please do get in touch with us about anything at all Hawks' Club related! We particularly welcome photos of Hawks past and present which we will try to get up in the Clubhouse and on the website. It is also great to hear about the sporting or social activities of past Hawks – for example, anecdotes or brief thoughts on current affairs, or how we could improve the newsletter. We're very keen to get content in here that you as Hawks alumni want to read about! Do get in touch either at president@hawksclub.co.uk or secretary@hawksclub.co.uk.
You can also rapidly and easily keep up to date with all the latest Hawks' Club activities by following our social media accounts on Instagram, Facebook, Twitter and LinkedIn.
A reminder to keep your details up to date on the website (your username should be <SURNAME><INITIALS> e.g. MOENAJ for Alexander James Moen – send an email to secretary@hawksclub.co.uk if you have forgotten your username).
If you enjoyed this newsletter, you can also read all six of last years' newsletters, and this year's October newsletter, here.
Newsletter compiled and edited by Alex Moen (Vice-President, Magdalene, CUCC, CUHC, CURC) and Jeremy Dempsey (Communications Officer, Girton, CUAC).