George Bilclough
St John's, CURUFC, 2012-2015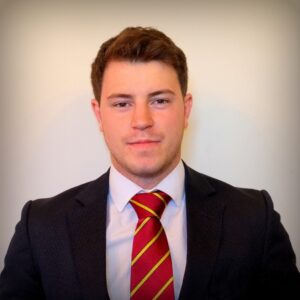 Where are you now?
I live in Crowthorne, Berkshire. I have recently been made a Housemaster at Wellington College.
What are your sporting career highlights?
For Cambridge, winning the LXs varsity at Grange Road, and winning for the U20+1s at Twickenham. For John's, captaining the Redboys to the League and Cuppers double.
What are your fondest memories of Cambridge Sport and The Hawks' Club?
Some great nights with the Squandies in the bar, and Committee dinners in the dining room. I also loved pulling pints and chatting with anyone who came into the club (even if I was sometimes a little bit worse for wear with my "one for you, one for me" policy).
What do you miss most about Cambridge/The Hawks' Club?
I miss the carefree nature of life at Cambridge – and having the ability to pop round to Hawks' on any given night of the week for a burger, a brownie, and a jug.
If you could relive any sporting moment from your lifetime, what would it be and why?
Not quite a "sporting moment" but I'd love to sit and have another pint with Ashpit. Always a great story up his sleeve.