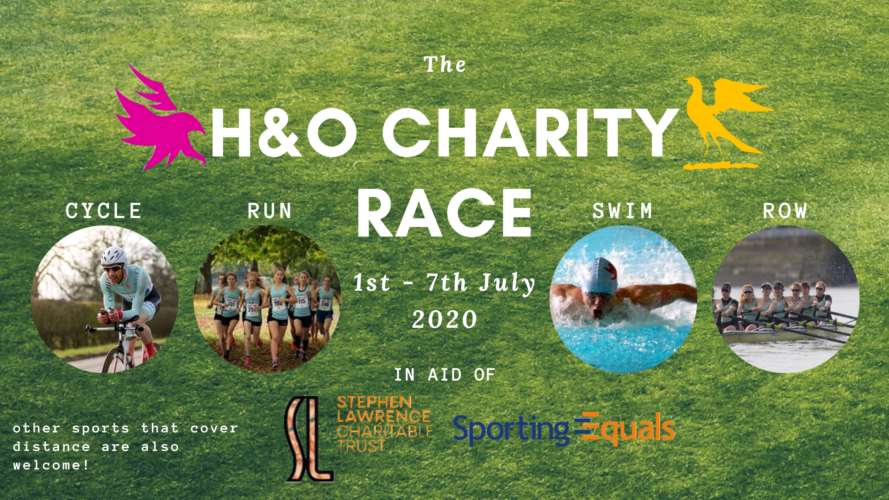 From the start of July 1st to the end of July 7th, the Hawks' Club took part in a charity race against the Ospreys, to raise funds for the Stephen Lawrence Charitable Trust who "work with young people from disadvantaged backgrounds aged 13 to 30 to inspire and enable them to succeed in the career of their choice. [They] also influence others to create a fairer society in which everyone, regardless of their background, can flourish", and Sporting Equals who "raise awareness and understanding of the needs of Black, Asian and Minority Ethnic (BAME) communities within the sports and health sector, in order to change attitudes and increase participation in sport and physical activity".
The aim of the race was to cover as much distance and raise as much money as possible. The sporting component of the race was multifaceted to reflect the large number of sports both Clubs represent, so participants could run, row, cycle, swim, canoe, kitesurf, or any other activity!
Over this week, 91 Hawks logged activities on the Hawks' Strava Club, and cycled 8231 km, ran 2009 km, rowed 84 km and swam 2.4 km, combining for a total active time of 496 hours. The Ospreys, in comparison, had 46 participants, who cycled 2763 km, ran 854 km and sailed 7.4km, for a total active time of 235 hours.
There have been some standout individual performances too, with Jonathan Vibhishanan (CULRC; incoming HOATS officer) cycling 1012 km, Hilary Foord (CURLFC; outgoing HOATS officer) cycling 519 km over some serious elevation, and Mike Phillips (CURUFC; outgoing President) running 104 km, including a marathon!
Thanks to your support, we've been able to raise a huge £1,675.50 with Gift Aid. Combined with the Ospreys' fundraising efforts, we've raised £2,540.50 with Gift Aid together! Thank you to everyone who took part in the race and to those who donated, making this event a huge success – we couldn't have done it without your support!