Ian Ralby
St John's, CULC, 2007-2011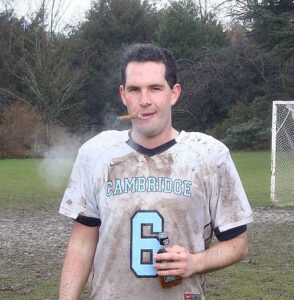 Where are you now?
While I live back in the US – in Maryland where I grew up – I have traveled extensively since finishing at Cambridge in 2011. I have worked in more than 80 countries around the globe, and I have even continued to travel, though much less so, over these last two crazy years. For most of the the last decade, I have worked with navies and coast guards to fight pirates, traffickers, smugglers and thieves. Over the last few years, though, my work has moved increasingly from maritime law enforcement and security to focus both on maritime defense and economic development. I have dealt a lot with building the "blue economy" in different regions, as well as in countering maritime terrorism, hybrid aggression and "grey zone conflict." Now with the outbreak of war in Ukraine, I am working on a number of different fronts to support the sovereignty and self-determination of the Ukrainian people who have shown uncommon courage and heroic character in the face of an illegal invasion. Some of that actually takes me back to the focus of my PhD at Cambridge, looking at the legality of private military companies operating in armed conflict zones. So either physically or virtually, I am all over the map.
What are your sporting career highlights?
I actually had two sporting careers. Before Cambridge and through my undergraduate years in the US, I was a springboard diver. I won numerous titles in the US at the regional level, the high school level and in NCAA Division 1. I had quit that after undergrad and did not really do sport competitively while I was in law school or practicing law. When I got to Cambridge, the chance to play lacrosse, a sport that is incredibly popular in my hometown, led to my second sporting career. I thoroughly enjoyed playing for Cambridge Lacrosse, captaining one of the oldest university teams in the world, and serving both as President of CULC and ultimately as President of The Hawks' Club (2010-11). Nothing beat the feeling, though, of a victory in the 93rd Varsity Match in 2010!
What are your fondest memories of Cambridge Sport and The Hawks' Club?
As much as I loved playing matches, some of my fondest memories are of morning training sessions with the team throughout the winter. Cold mornings – sometimes after a night out at Cindies (which I hear has finally closed) or Life – were sometimes painful but almost always invigorating and extremely memorable. The peace and quiet of walking through Cambridge on frosty mornings before almost anyone else was up and about were amazing times in retrospect. But so, too were countless casual nights in the bar for a Hawks' Burger and a Tomahawk, or a swap in the dining room. The Clubhouse was as much an anchor of my time in Cambridge as my own College and I remain close with the friends I made there from all the sports. I also worked to bring the Hawks and Ospreys closer together and I am glad to see how that trend has continued. To this day, Hawks and Ospreys alike remain among my closest friends.
What do you miss most about Cambridge/The Hawks' Club?
The people. 100%. I miss the random in-depth conversations about random topics with people from different Colleges, courses and countries. I miss the cleverness of the banter, and the craziness of the antics. It is a rare place that has such a collection of people who simultaneously are at the top of their sport, are at the top of their field and are able to down 5 shots topped up with Coca-Cola as if it was water.
If you could relive any sporting moment from your lifetime, what would it be and why?
In the 2010 Varsity Lacrosse Match, three years of working to beat the Dark Blues finally came to fruition. The match was bonkers as there was an intense hail storm in the middle of it that made for a very messy game. But when the final whistle blew, the ball was in my stick and we had outlasted them for the first time in my stint with the team. It was a great moment, a great day and a great win. GDBO!