Isaac Freckleton
Trinity, CUSRC, 2015-2018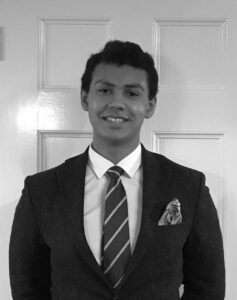 Where are you now?
I am in the process of relocating to Jersey, where I will work as an Associate in the commercial litigation team of an offshore law firm. I'm looking forward to the lifestyle: there is indeed a squash club on the island, and I hope to get into some sailing…
What are your sporting career highlights?
Leaving aside my many prizes for "most outrageously dressed", it would have to be the year that I captained the Ganders (CUSRC's 2nd and more glorious team). I learnt a lot about leadership, teamwork and camaraderie in that year. Some of my best friends still today are from that team. Smashing O***rd was a nice supplement.
What are your fondest memories of Cambridge Sport and The Hawks' Club?
I would like it to be the inaugural Annual Ganders Dinner but my memory goes no further than starters… The Hawks' Club is a very special place for many reasons, but my fondest memories would have to include chatting away the evening with Andy Evans (former Steward), serving fellow Hawks from behind the bar, sampling some jugs of Toma, and endless banter with Zaamin B Hussain (fellow committee member though I don't really know what he did…).
What do you miss most about Cambridge/The Hawks' Club?
The ability to easily play sport during the working week, living very close to good friends, and the endless stash.
If you could relive any sporting moment from your lifetime, what would it be and why?
A squash match against the fearsome President of the Swans Club. In spite of – or as a result of – our friendship, the tension was very high with neither of us wanting to drop a single point. In the words of my opponent, it was "murder on a squash court". Despite the fifth and final game ending in a draw due to injury, it was a well-fought match: English-scoring without a referee, and no arguments about lets or strokes. I would relive that match in particular because it best encapsulates what squash means to me: hard but fair competition followed by a hearty meal amongst friends.