View from the Clubhouse
Cancellation of The Hawks' Event 2021
Unfortunately, following the government announcement on the 14th June, it is with great sadness that we confirm that the Hawks' Event is cancelled this year. We do not feel that we can do the event justice given the current restrictions imposed.
We will be back next year, better than ever, with our timeless combination of food, inflatables, bottomless drinks and banging tunes for a 2022 Hawks' Event.
Save the Date – London Savoy Dinner
The Hawks' Annual Dinner at the Savoy will be taking place on Wednesday 8th December 2021. Please save the date – we look forward to seeing as many of you there as possible! More communications to follow in September.
Summer Trading
We have Sky Sports again in the bar! Please make use of this and enjoy a pint of Harrier, some say it's the second cheapest pint of lager in Cambridge. We are open in July but will close for August.
Donations
We would like to express our sincere gratitude to all those who have made one-off or annual donations to the club, your continued support is very much appreciated. If you haven't got round to it yet, we are still a little shy of our target and more information can be found here.
Thank you to all for your patience and support during this difficult year.
The Hawks' Committee 2020-21.


Varsity Results Summary
Since the release of our last newsletter, a number of varsity matches have taken place. Congratulations to all who donned the light blue amid the difficult conditions this year. In the interest of preventing this newsletter from becoming an epic, we include selected match reports (indicated by *) below, and we will include more (including rugby union, tennis golf and athletics) in a follow-up newsletter in the coming weeks.
Sport

Date
Location
Result

Athletics – Men

04/07/21

Lee Valley

Cambridge 123 – 85

Athletics – Women

04/07/21

Lee Valley

Cambridge 107.5 – 95.5

Basketball – Men

19/06/21

Iffley Road

Cambridge 74 – 72

Basketball – Women

19/06/21

Iffley Road

Oxford 54 – 28

Cricket – Men* 

T20 / 50-over / 4-day

June 2021

Fenner's / Lord's / Teddington

Ox by 9 wickets / Cam by 4 wickets / Draw

Cricket – Women 

T20 / 50-over

June 2021

Fenner's / Wormsley

Ox by 25 runs / Ox by 88 runs

Football – Men

26/06/21

Oxford

Oxford 2 – 0

Football – Women

26/06/21

Oxford

Oxford 3 – 0

Golf – Men's Blues

Stymies

06-07/07/21

14/07/21

Aldeburgh GC, Suffolk

Thorpeness GC, Suffolk

Draw 7.5 – 7.5

Oxford 10.5 – 4.5

Hockey – Men*

16/05/21

Southgate

Cam (Shuffles 5 – 3)

Hockey – Women*

16/05/21

Southgate

Oxford 1 – 0

Lawn Tennis – Men

26-27/06/21

Moor Park Golf Club

Oxford 11 – 10

Lawn Tennis – Women

26-27/06/21

Moor Park Golf Club

Cambridge 17 – 4

Polo

05/06/21

Guards Polo Club

Oxford 8 – 3 

Rackets

14/07/21

Queen's Club

Cambridge

Rugby Union – Men's Blues

LXs

04/07/21

30/07/21

Welford Road

Grange Road

Oxford 34 – 7

Cambridge 20 – 15

Rugby Union – Women

04/07/21

Welford Road

Cambridge 10 – 5 

Rugby League* – Men

18/06/21

Cambridge

Cambridge 14 – 8

Table Tennis – Men

27/06/21

Cambridge

Draw 4 – 4

Table Tennis – Women

27/06/21

Cambridge

Oxford 6 – 3

Yacht

26-27/06/21

Solent

Oxford
A full list of Varsity fixtures and results for the 2020-21 academic year can be found on the Cambridge Sport website here.

Cambridge Win at Lord's for the First Time Since 2012 in Rain-affected Thriller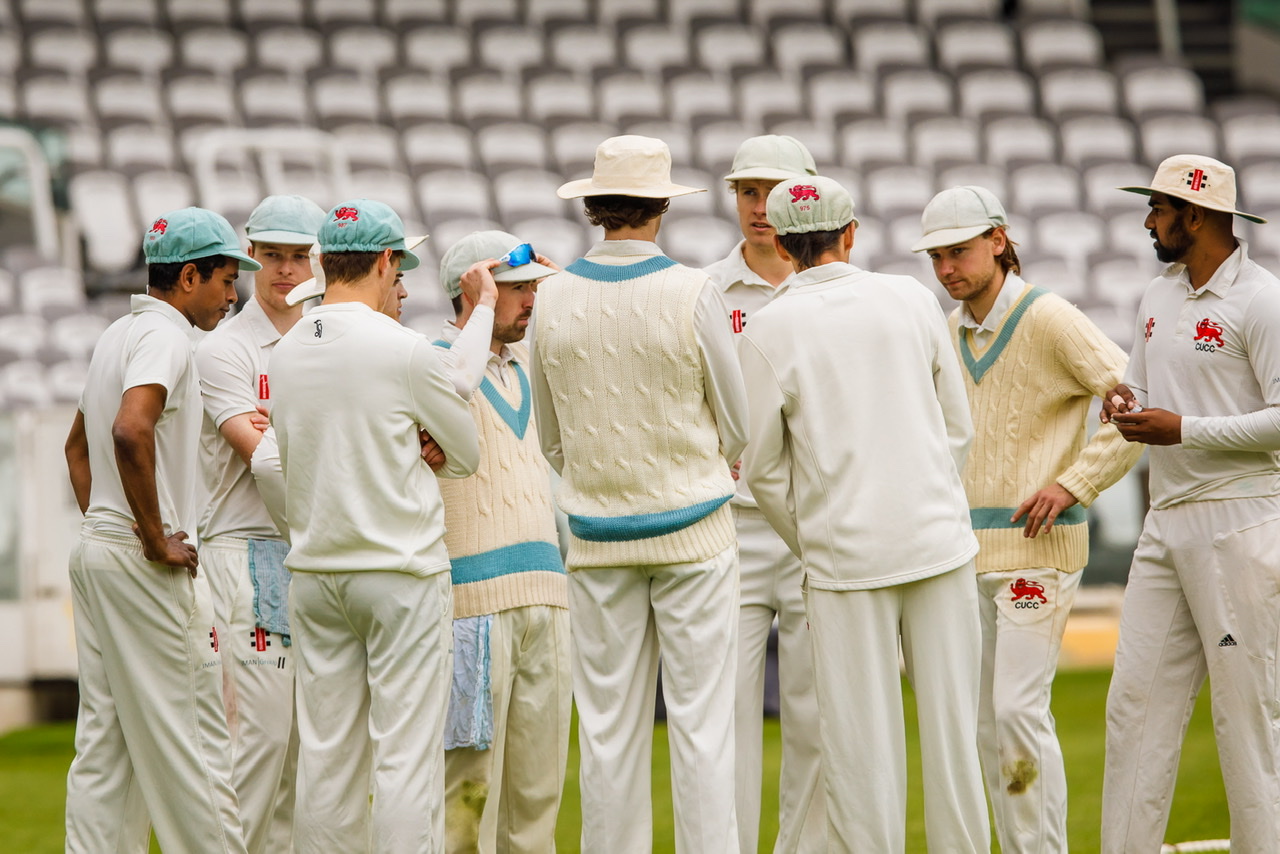 Nick Taylor (Captain, Clare) speaks to his side ahead of the start of play.
Having won the toss on an overcast day, O*ford began comfortably amid some wayward opening bowling littered with wides and reached 46 without loss in the eighth over. Mudara Senanayake (St John's) made the initial breakthrough, before off-spinner Aaran Amin (Emmanuel) made two further strikes to leave O*ford at 87-3. At this point, the threat of rain became a reality and this rain set in, causing a frustrating three-hour delay. Upon the resumption, the by-then well-oiled crowd were getting ever more involved with some lively engagement with the players and fellow supporters (in a socially distanced manner, of course), as O*ford responded to the reduced 29-over game with some aggressive strokeplay, particularly targeting the short boundary towards the Mound and Tavern Stands.
O*ford continued to make hay against the Cambridge seamers, hitting five sixes as the score raced towards 200. Despite the loss of his partner who skied an Alex Moen (Magdalene) slower ball into the covers, O*ford opener George Hargrave moved serenely to an excellent hundred as the Dark Blues closed on 229-4 off their 29 overs. Cambridge's Duckworth-Lewis-Stern adjusted target – due to the earlier lengthy rain interruption – was 215.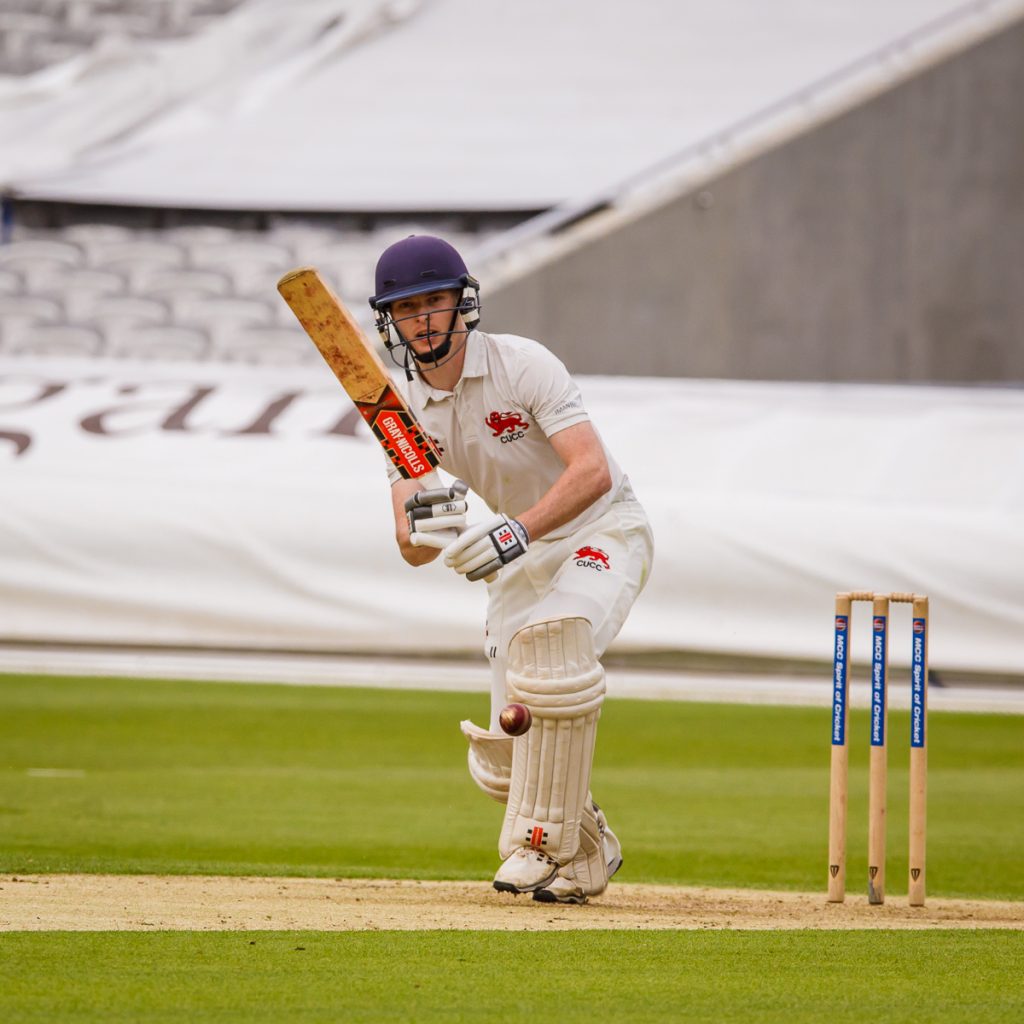 Alex Moen (Magdalene) plays through the leg side.
The Cambridge reply got off to the worst possible start as opener Harry Houillon (Fitzwilliam) was bowled by the O*ford skipper with an absolute beauty that shaped away and nicked the top of off stump. Moen and captain Nick Taylor (Clare) rebuilt, putting on 76 in positive fashion, though just as the partnership was developing into a match-shaping one, Moen departed unnecessarily for 34 off 26 balls after miscuing a wide delivery (I'm sorry!). This pattern repeated through the middle section of the innings – amongst the regular boundaries, wickets also fell, with Taylor, Ed Hyde (Jesus) and Jovan Dhariwal (Magdalene) all falling the ball after finding the rope. This left Cambridge at 127-5 after 21 overs, with 88 still required from the final eight overs. Amin was unbeaten on 17 from 19 balls and the next over was dispatched with remarkable alacrity and proved to be the true turning point of the run chase – Amin went 6, 6, 4, 6 off the first four balls of the over from O*ford's off-spinner, with all three 6s disappearing over the off-side. This wrested the momentum back in Cambridge's favour as the erstwhile audible O*ford support faded and was replaced with increasing waves of Light Blue noise.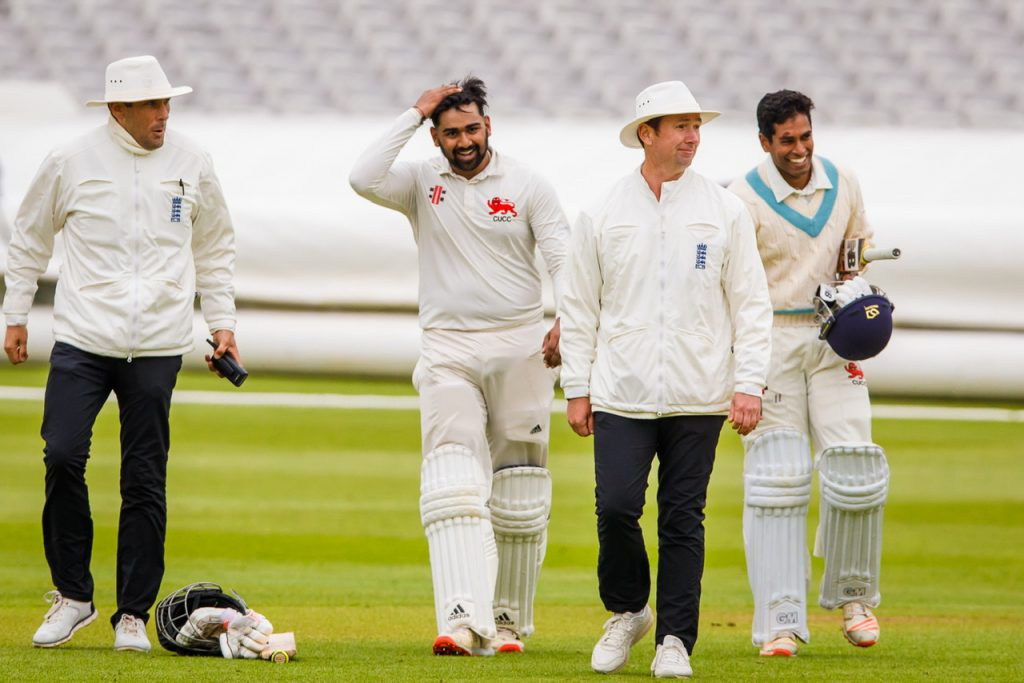 Amin and Senanayake take in the applause after securing a famous victory (Michael Harris).
When Sam Turner (Downing) fell with the score at 176, having contributed just 5 to a partnership of 52, CUCC still needed 39 from 23 balls. Three Amin 6s in the next two overs helped reduce the target to 9 from the last. After a couple of 2s and wides respectively, Amin smashed the third ball of the final over off the back foot over extra cover to the long Grand Stand boundary to seal a thrilling and dramatic victory for Cambridge. This was Cambridge's first win at Lord's since 2012 and it was Amin who was undoubtedly the star of the show, combining his two early wickets with a memorable, match-winning 93 not out off just 50 balls, including eight 6s.
Alex Moen (Communications Officer, Magdalene, CUCC, CURC, CUHC)
Full Blue Bird article can be found here.

Cambridge and O*ford Split Hockey Varsity Matches
Both the Men's and Women's Blues headed to Southgate Hockey Centre on 16th May to take on O*ford in the 121st Varsity Matches.
The Women started off quickly with some dynamic work in the midfield by Amy Edwards and skipper Mollie Ring-Hrubesova looking dangerous down the left wing. O*ford countered this fast start well, though, with goalkeeper Kirsten Meehan forced to make a number of good saves early on. Despite some valiant defence from the Light Blues, one was snuck past Meehan following a barrage of O*ford short corners.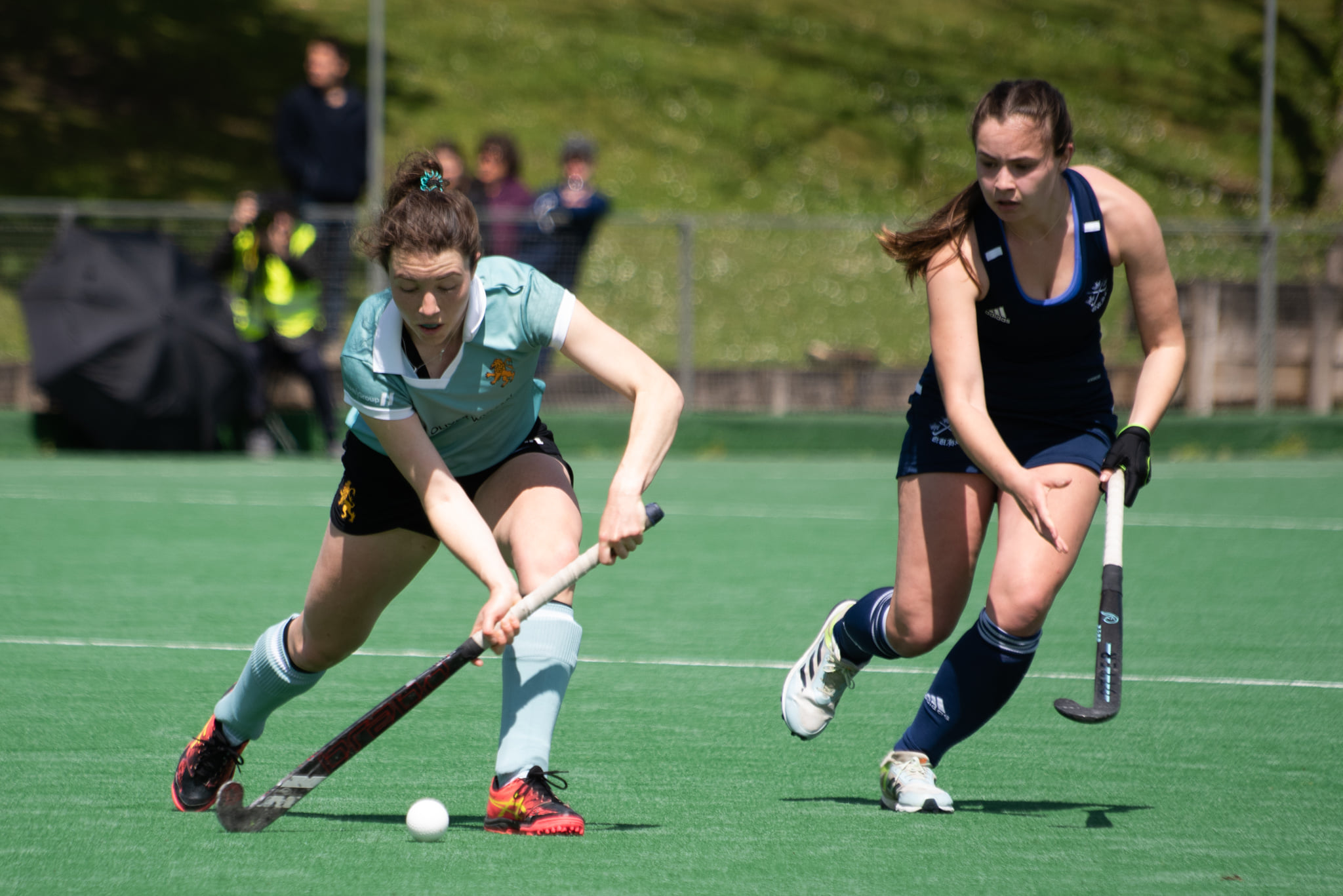 CUHC stalwart Liv Shears (Jesus, 2013). 
Varsity debutante and Women's Player of the Match Emily McStea looked consistently dangerous up front in leading the growing number of Cambridge attacks towards the latter stages, forcing the O*ford defence ever deeper. But clear-cut chances were limited, summed up by a futile final effort to find a Dark Blue foot in the D as the full-time whistle blew at Cambridge 0-1 O*ford. Coach Kieran Gilmore (St Catharine's, 2013) admitted the disappointing result was a fair reflection of the game, and in particular of the O*ford side's more aggressive nature.
Under clouding afternoon skies O*ford made a strong start in the Men's Match, despite sporting shirts that were conspicuously lacking two crucial components (the Australian national team is the only other men's team to wear sleeveless shirts, but they can certainly back it up with their ability and physiques…). Cambridge defended well and on the counter-attack shortly afterwards Hantian Wang (Jesus) combined well with Harry Atkins (Clare) down the right-hand side to take the lead in the Light Blues' first real chance of the game. Calls from the sideline to 'settle down' came from coach Charlie Bannister as Cambridge took a 1-0 lead into the half-time interval.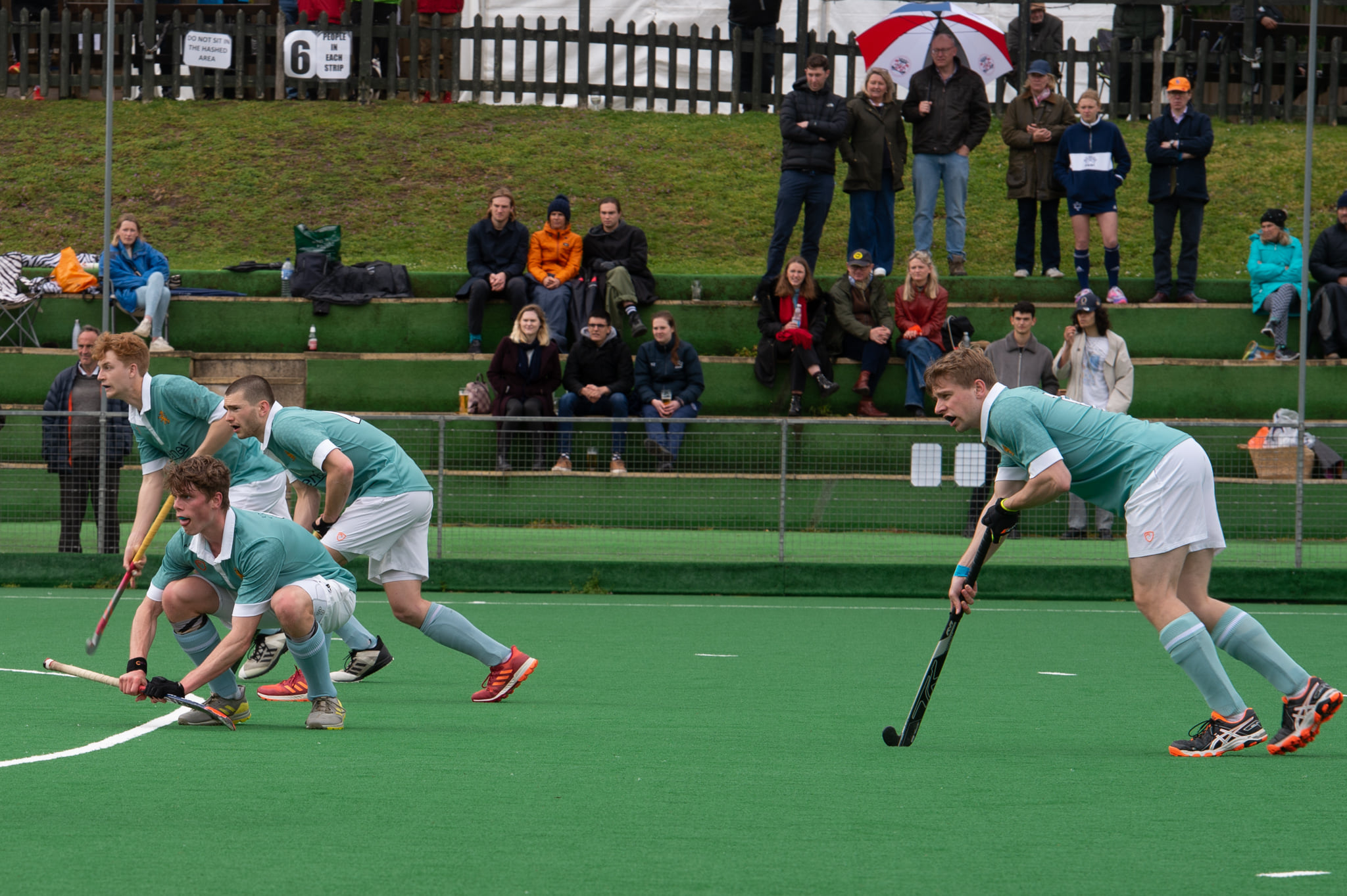 The Men's Blues, lining up for a short corner. It's going bottom right, why do O*ford never seem to learn?
In the second half, Cambridge's set-pieces continued to look aggressive as Gerrit Farren (Trinity) had a flick destined for the top corner well saved by the Dark Blues' goalkeeper. Midway through the second period, O*ford pressure finally told as the Cambridge backboard was struck. With the game turning frantic, it appeared that once again, a Varsity hockey clash was to be decided on a set of nerve-wracking shuffles. This was indeed the case as the final whistle sounded with the score locked at Cambridge 1-1 O*ford.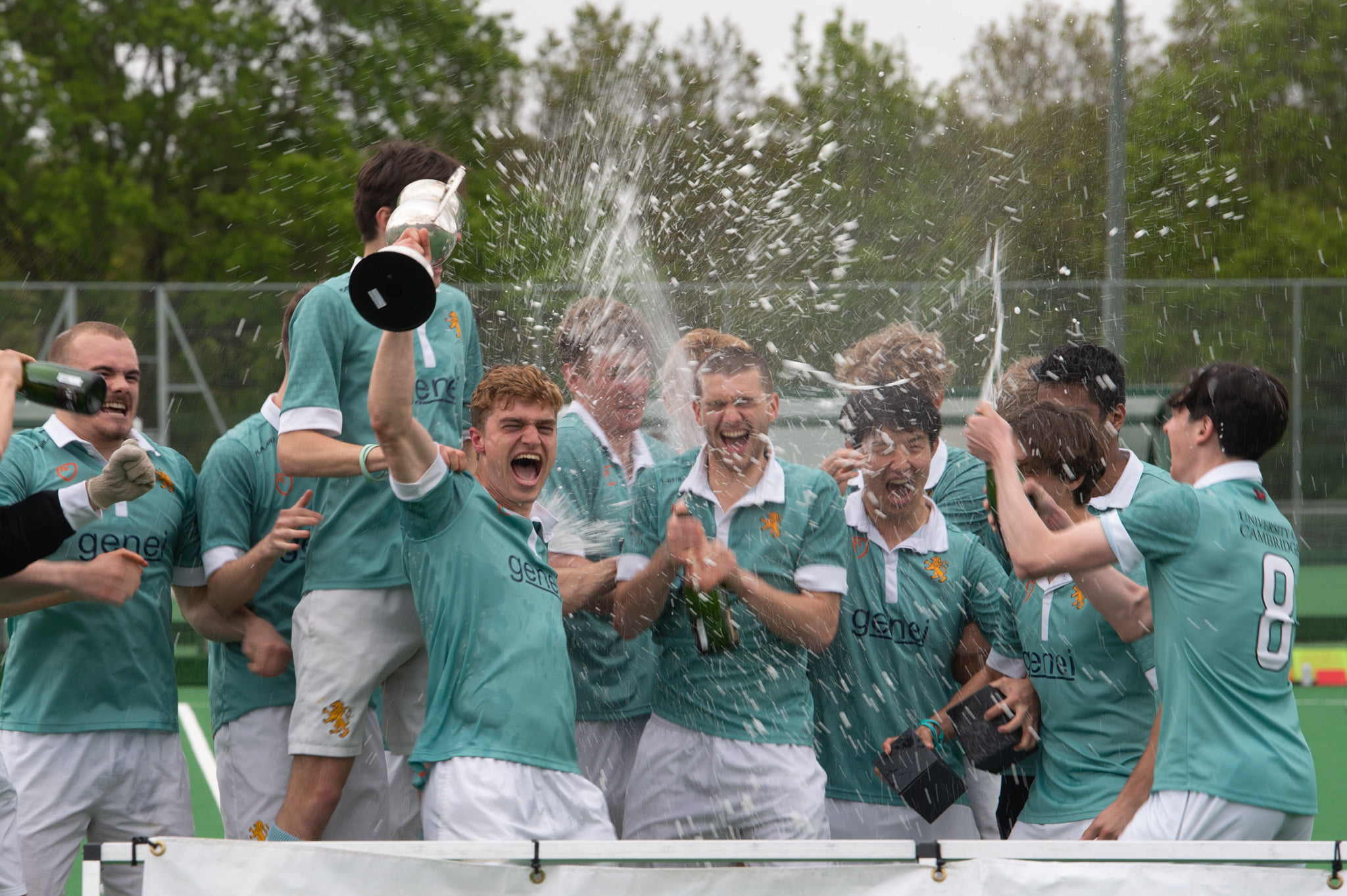 "Joué Joué" – Jonathan Parke (Clare, 2017) – Blues Captain 2021.
The composure of Sean Gilmore (Jesus, Honorary Secretary), Seb Shaw (Jesus), captain Jonathan Parke (Clare), and Farren, coupled with an O*ford miss, meant CUHC President Ed Tyler (Sidney Sussex) was left to calmly slip one past the goalkeeper and take victory for Cambridge, earning himself the Player of the Match award in the process. Such a nail-biting finish was a fitting way to end a day of great hockey at Southgate, with the spoils shared.
Alex Moen (Communications Officer, Magdalene, CUCC, CURC, CUHC)
Full Blue Bird article can be found here. Photo credits to Simon Webb.

Rugby League Varsity Reports
On Friday 18th June, OURLFC travelled in the rain to Grange Road for a double header against Cambridge's Green Lions. They were surely confident of victory, having won the Varsity match every year since 2009. However, what the Other Place hadn't reckoned on was the incredibly hard work of the squad over the last year, led from the front by the Committee and Club President Elliott Stockdale (Queens') in particular, who worked tirelessly both on and off the pitch to make this match happen.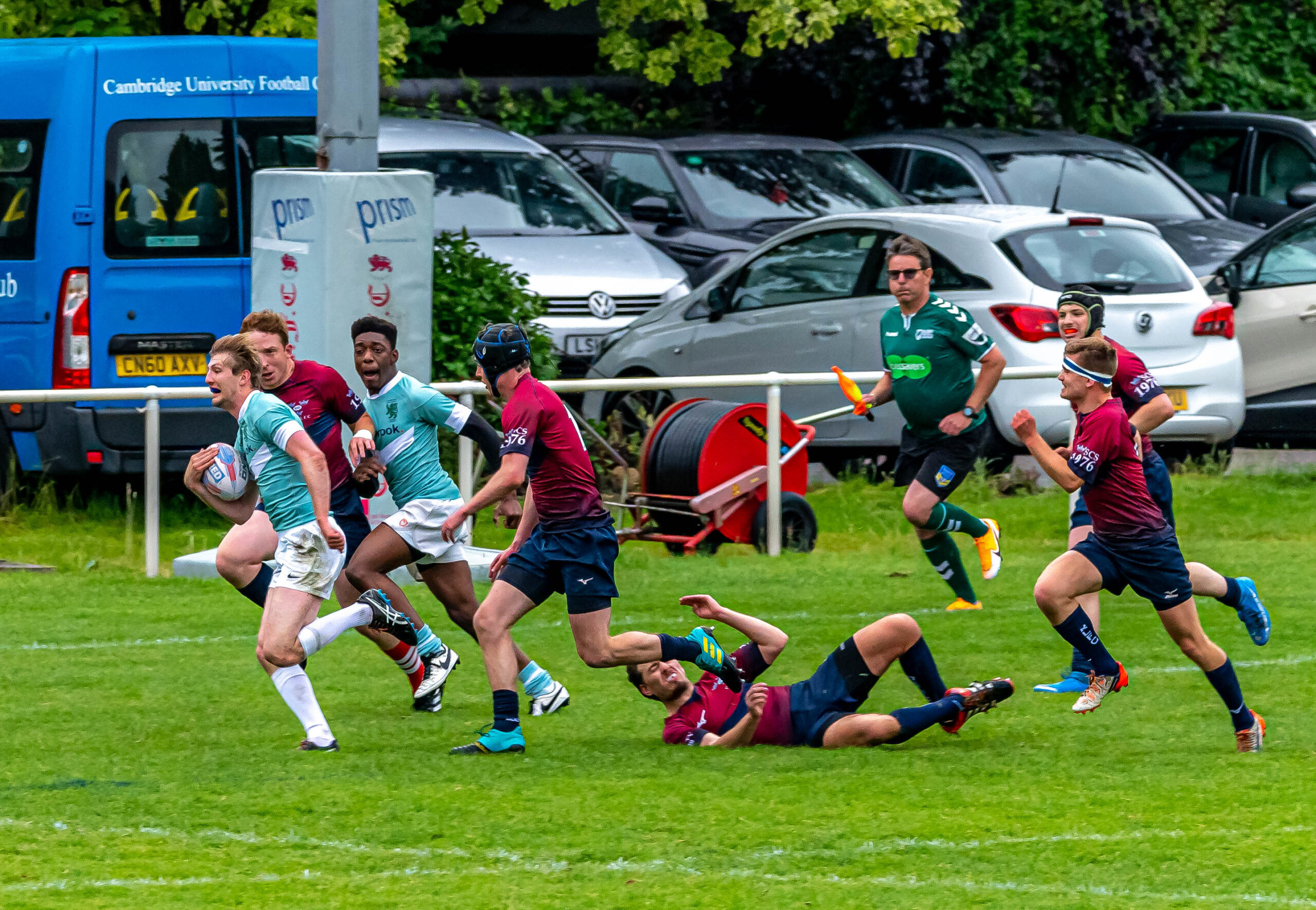 Rugby League veteran Matthew Brady (Darwin) with a stellar interception followed closely behind by Felix Asare.
First up was the 2s contest, a close affair with a lot of dedication and heart from both the CURLFC Reserves and the O*ford Maroons. Cambridge's side was its strongest in almost two decades, with impact tackles and carries down the middle from Joe Fennel (Trinity), James Arthur (Queens') and Matyas Molnar (Fitzwilliam, Hawks' Club President). The two Cambridge half backs Howard Hawkes (Magdalene) and Juan Rodgers (Girton) controlled the game, often linking with the back three and finding gaps in the O*ford line. However, the O*ford side was well organised and moved the ball around the pitch easily, and after a gruelling first half ended at 0-0, O*ford started the second half strongly and scored two tries. Cambridge's half-back Seb Baynes (Corpus Christi) scored a try later in the second half, but ultimately, O*ford's defence held out and clinched a 14-6 victory. This was the first time since 1999 that the Seconds' clash has been within ten points in what was an excellent performance, as the squad looks to build for a victory in next year's Varsity.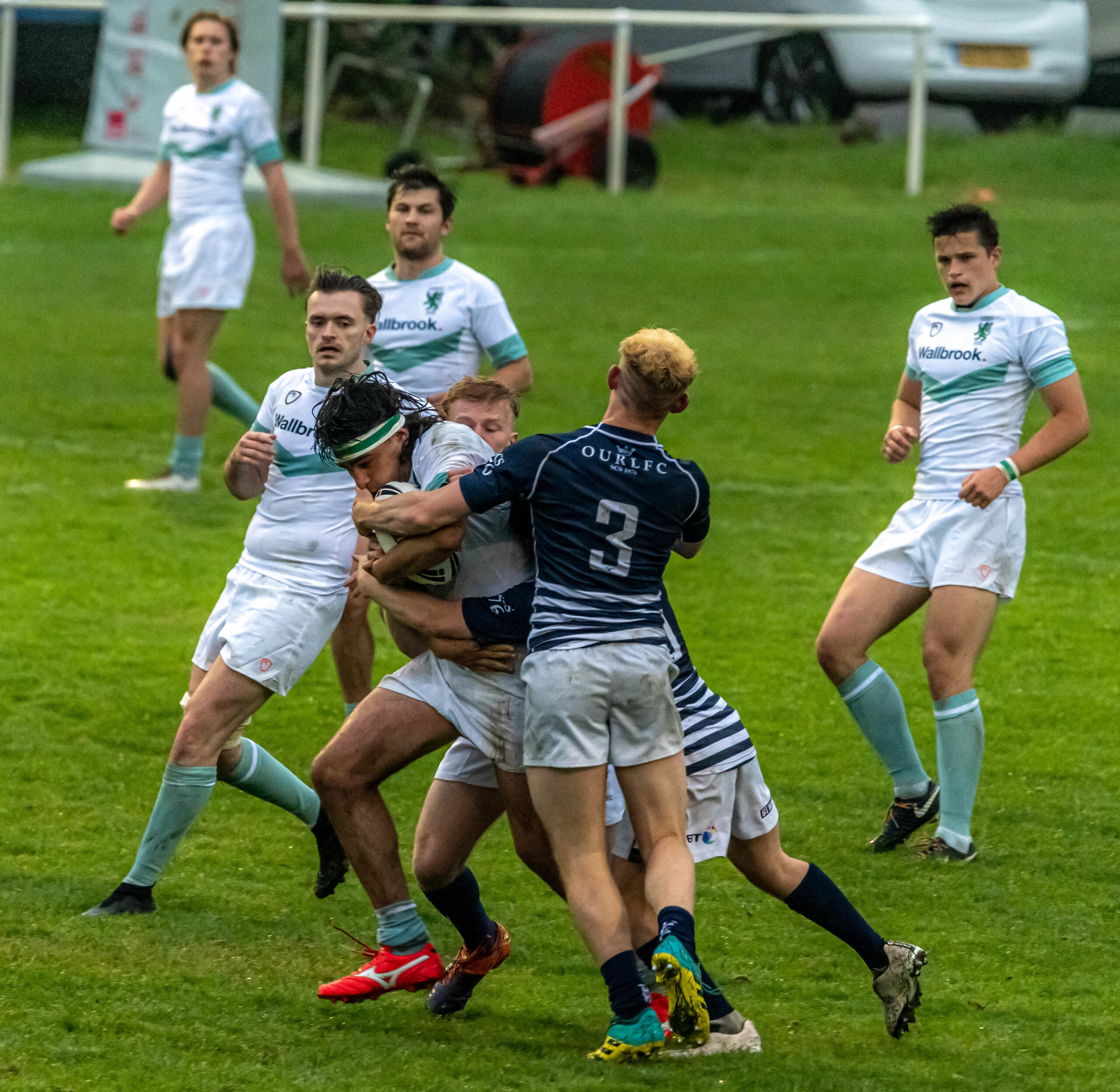 Dual-code and MOTM Hugo Lloyd Williams leading the charge in the middle. The poor boys in dark blue simply didn't want it by the 2nd half.
Next came the 1s Varsity match, kicking off in front of a sold-out Grange Road crowd of 300+. Adding to the usual vitriol of a Varsity clash, it was a family affair this year, with Cambridge prop and man-of-the-match Hugo Lloyd Williams (St John's) facing off against his twin brother Jamie on the O*ford bench. From the first collision, Cambridge's forwards looked dominant, driving O*ford's ball-carriers back and charging into contact with real intent. The entire pack performed admirably, with captain Max Holcroft (St John's) and Lloyd Williams leading by example with several crunching tackles. Nevertheless, it was the Dark Blues who first got on the scoreboard, with Cambridge getting caught out wide. However, the Green Lions responded quickly, marching down the field on the back of O*ford penalties. A strong carry from second-row Matthew West (St John's) brought them a meter from the line, and West's deft offload enabled centre James Laudage (St John's) to dive across the line, bringing Cambridge level. They continued to apply pressure, with winger Joe Thrush (Churchill) going over in the corner to pull Cambridge ahead. Dreams of a Varsity win seemed possible for the Light Blues, yet they struggled to extend their lead, with breaks from both Richard Bowen (Churchill) and Alex Froud (Magdalene) failing to materialise in points. With 20 minutes remaining, West punished an O*ford penalty in front of the sticks from the tee, while a knock-on forced by Lloyd Williams was scooped up by Will Yarwood (Clare), who used his pace to win the race to the line. Despite a yellow card to half James Mahon (Fitzwilliam) and an O*ford try, the Green Lions clung on to their lead.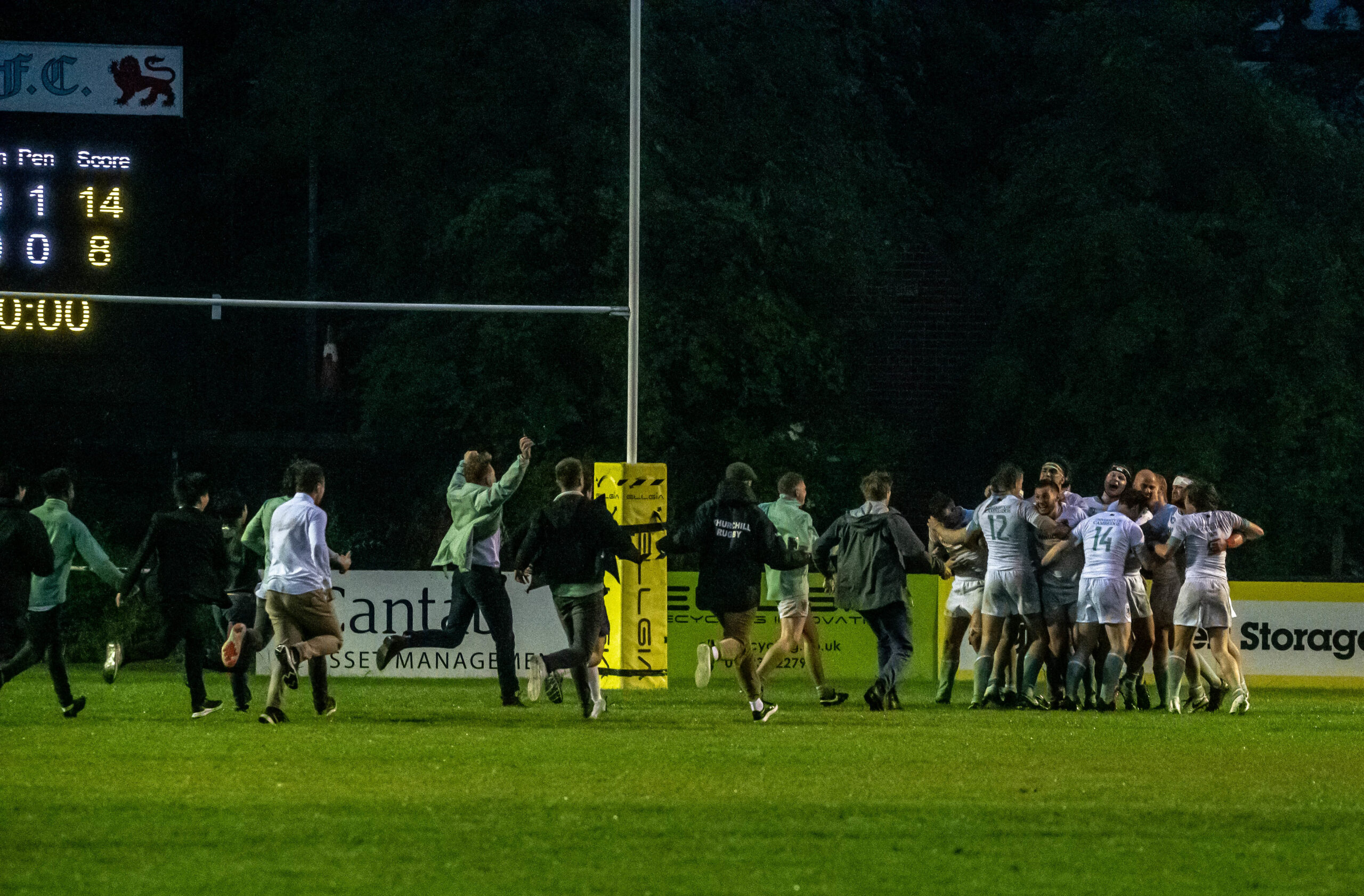 Scenes at the final whistle as the Cambridge boys finally bring it home after 12 long years.
Given the shortened season and difficulties of training over the past year, it was always going to come down to which team brought greater physicality and desire to the Varsity game. In the end, to paraphrase Depeche Mode and Cambridge's own Todd Tunley (Magdalene), the Green Lions 'just couldn't get enough' of the contact, and bullied the O*ford players into submission. At the final whistle, the scoreboard read Cambridge 14-8 O*ford, a 12-year drought was broken, and mayhem ensued at Grange Road.
Hugo Lloyd Williams (St John's, CURFLC, CURUFC)
Full Blue Bird article can be found here.

The Fog Match of 1952
Our sincere thanks to James Burnet (Caius, CUHH, 1951-54) for sharing the cracking story of the 'Fog Match', the O&C Cross Country Match which took place during the 'pea soup' fog of 1952!

This photograph is just before the start. Identifiable are James Burnet, just by the signpost; the bald fellow in the middle is Harold Abrahams (Chariots of Fire). Number 13 is Willie Jones and just beside him John Best.
"Visibility was rarely more than 25 yards and frequently down to less than ten. The race was organised by Thames Hare and Hounds (and still is, I believe) who had foreseen such a possibility and made plans to cope many years previously. Members who all knew Wimbledon Common intimately and where the race took place, stationed themselves at intervals around the course and shouted "Oxford and Cambridge" and blew whistles until all sixteen runners had passed. It was a triumph of organisation!
The 'pea soup' fog of 1952 was one of the worst ever. The Smithfield cattle show was being held at the same time and beasts worth thousands of pounds each, died like flies in the polluted air as indeed did hundreds of (possibly less valuable?) old age pensioners! As a result of all this the government began to take air pollution seriously and fogs like that happily no longer occur. I spent the next two nights coughing continuously and found my pillow covered in black detritus the next morning but, as far as I know, none of us came to any harm. Sadly, Oxford won by a substantial margin."
A link to the full story, the matchday programme, and the entry into the Thames HH minute book, can be found here. It's a brilliant read. Once again, thanks to James for sharing this experience! 
Editor's Note: Please do reach out to us via secretary@hawksclub.co.uk with more stories like this, we love reading them and would like to include more in future newsletters.

Mike Higginbotham – First Ever Basketball Full Blue
In this piece, originally written for the Beverly Hills High School (BHHS) Athletic Alumni Newsletter, Mike Higginbotham (Magdalene, CUBbC, Law, 1984-86) discusses his experience of basketball and winning his Blue at Cambridge. Mike is an All Time BHHS 3 sport athlete (football, basketball & baseball) and was the first ever Full-Blue awarded in Basketball by Cambridge University. 
"When I arrived at Cambridge in 1984 as a 27-year-old, I still had a few years of playing ball left in me, my sports were football, baseball, and basketball with football and baseball being my best sports. Unfortunately, at the time neither baseball nor football was offered as a university-wide or intercollegiate sport at Oxbridge. I found the closest thing to baseball offered was cricket and the closest thing to football offered was rugby. After watching a cricket match, I quickly gave up on the idea of playing as I could not figure out the rules at all. And I said no to rugby when I saw that the players wore no equipment like shoulder pads or a helmet. I had enough of those risks playing tackle at La Cienega park in 1970! So, my only choice seemed to be basketball.
At Oxbridge in 1984, a few sports like rugby, tennis, cricket, soccer, golf, and rowing were all designated as full blue sports. Track was designated as a discretionary full blue sport, and most of the sports were designated as half blue (e.g. basketball and ice hockey) or no blue (e.g. frisbee and racquetball). Sports were originally to be the same designation at both universities, but a historical anomaly meant that this was not the case for basketball. As a result of the Oxford Rhodes scholarship program, 100 scholars were selected each year from the United States and, as sporting achievement was a factor in selection, Oxford would get several strong basketball players every year and a few superstars like Bill Bradley and Tom McMillen every now and then. At the time, Oxford was the best collegiate basketball team in the United Kingdom winning the British universities basketball tournament most years. Perhaps unsurprisingly, Oxford dominated over Cambridge in those years, and the Light Blues hadn't won a basketball Varsity match in 25 years when I arrived. In recognition of this high caliber of play the O*ford Blues committee designated basketball as a full blue sport.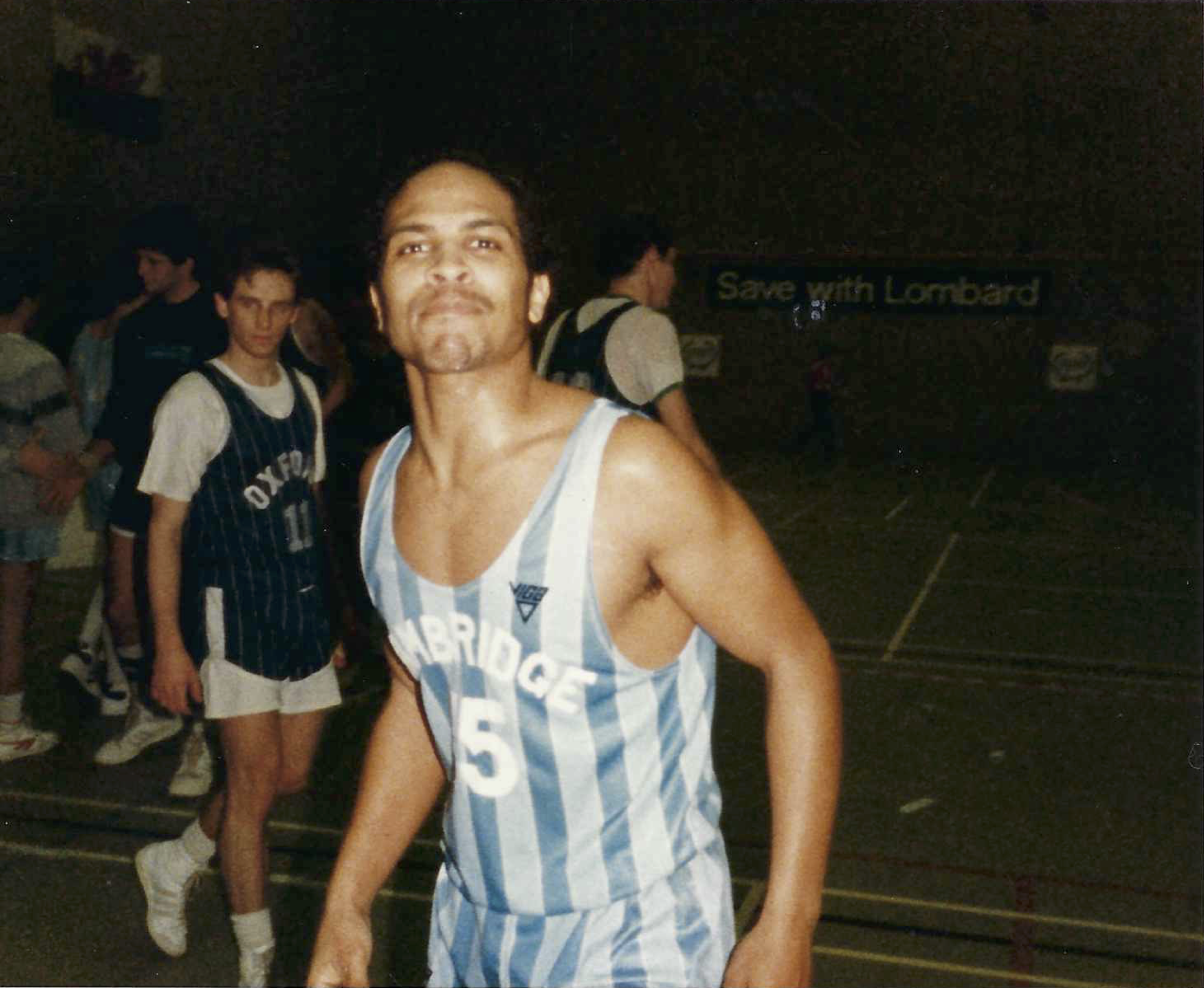 Mike, captured just after the 1985 Cambridge win over O*ford at the Cambridge City Sports Centre.
In the Blues basketball game of 1985, Cambridge beat O*ford 63-62 for the first varsity match victory in 25 years. I was the leading scorer and managed to sink the game winning free throws! As a result of avenging 25 years of embarrassment the Cambridge University Blues committee designated basketball as a discretionary full blue sport raising the level from half blue status. A year later, in 1986, I was awarded my full blue, the first for basketball at Cambridge, after participating in the Blues match and being selected for the British universities All Star team and designated as its captain!
Full blue status earns automatic admission membership in the Hawks' Club (the universities athletic Honor Society) but the most tangible and visible signs of this status is the right to wear a Blues jacket with a patch over the pocket indicating for which sport the award is earned. These Jackets can be worn at formal dinner affairs, university and other sporting events (e.g. Wimbledon and Henley Royal Regatta), and garden parties. The best thing about the jacket though, for me, was I could pretty much go anywhere on campus. It was sort of like having an automatic invitation to any social gathering!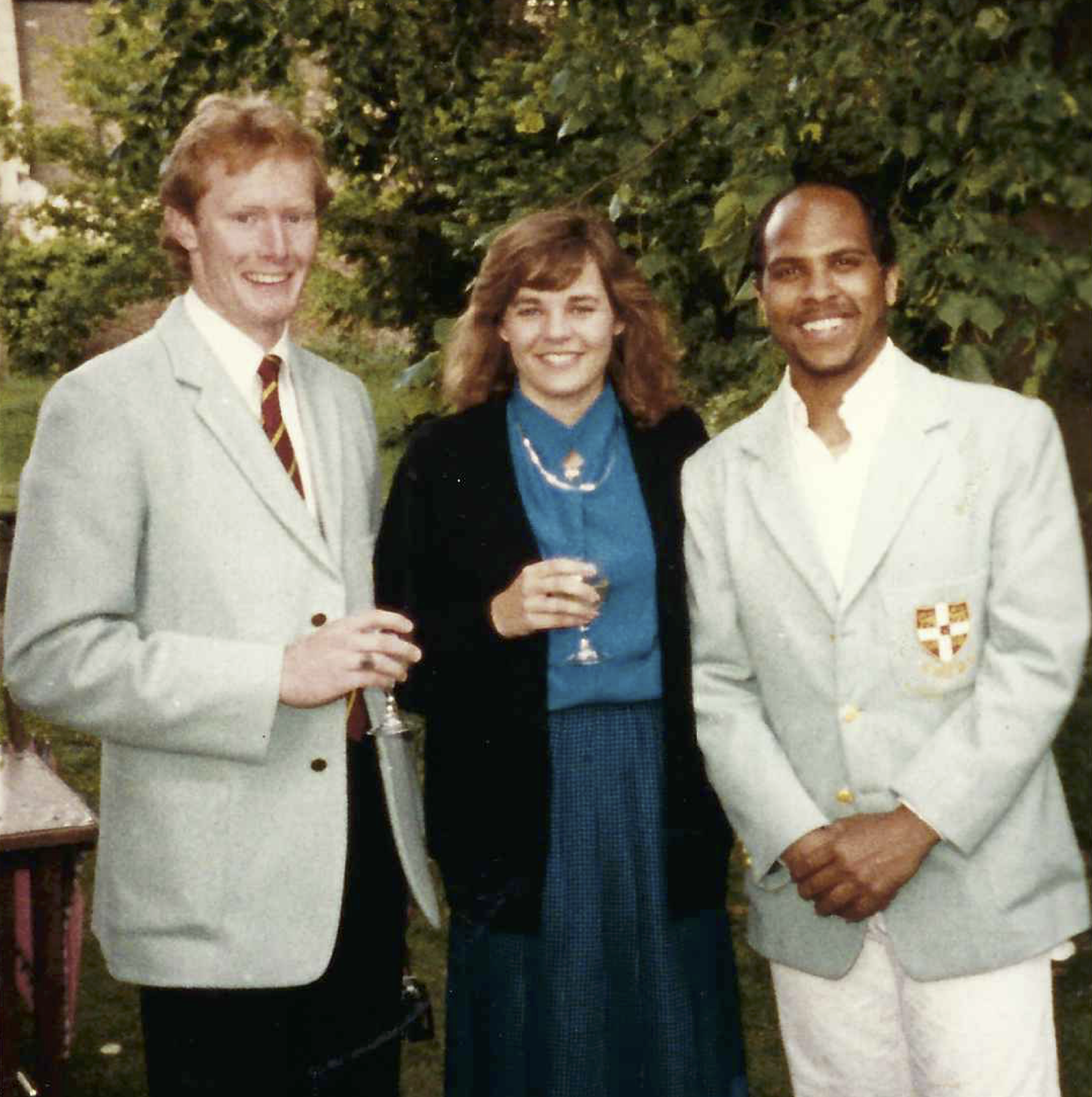 Mike pictured at the Emmanuel College garden party in May Week 1986. Also pictured are Brian Bergstrom (Emmanuel) and his wife (left and middle). Brian won a Full Blue in basketball and golf in 1986. He was a starting guard for the Cambridge University Basketball Club and was a British Universities All-Star team selection.
A few weeks ago, I returned to Cambridge for the first time in 30 years. While I did step on the courts, and relive the sweet victory, the timing was good because my jacket had gotten a little tight and did not fit well anymore. I decided to get another and only had to go up one size from 38 to 40!
A special debt of gratitude is owed to my fellow Hawk and Magdalene classmate, and superstar Rugby player and coach, Gavin Hastings, who as a member of the Blues Committee in 1985 introduced and championed the petition to change the status of the Cambridge Basketball Club from half-blue to discretionary full-blue status."
Editor's Note: Thanks again for sharing your Cambridge-basketball story Mike! We hope you had a chance to visit the clubhouse on your return. Please do reach out to us via secretary@hawksclub.co.uk with more stories like this, we love reading them and would like to include more in future newsletters.

Where Are They Now?
In 'Where Are They Now?', we ask alumni to reminisce about their sporting achievements and their time in Hawks'. In the absence of any face to face events, we feel communications like these are vital to maintaining the connection between alumni, old friends and the Club. We hope you enjoy reading! Many thanks to all who have participated so far. To read the most recent responses please click the links below:
Alexander Hackmann (King's, CURPC, 2010-15)
Robert (Bob) Eadie (Trinity, CUSWC, CURA, CUSBC, CUMPC, 1967-70)
Two cracking entries, many thanks to Alexander and Bob. We would love to hear from more of you, so please submit your entry here by the 31st of July for a chance to win £50 of Hawks' merchandise!

Best Dressed Competition
We are delighted to be running the "Best Dressed" competition. Send your Best Dressed pictures to president@hawksclub.co.uk – the best submission by the 31st July 2021 will receive £50 of Hawks' merchandise! This deadline is fast approaching so get yours in as soon as you can! You can view the current entries here.
As an example (and a current contender for the grand prize!), below we present the submission for a very smart Christian Roberts (St John's, CUAC Blue, 2009-2013), off to the royal meeting in full morning suit with his Cambridge Blue double-breasted waistcoat and Hawks' tie.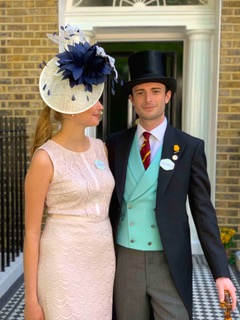 Contact Us and Picture Submissions
Please do feel free to continue to get in touch with us about anything Hawks' Club related! We particularly welcome photos of Hawks past and present which we will try to get up in the Clubhouse and on the website. It is also great to hear about the sporting or social activities of past Hawks – for example, anecdotes or brief thoughts on current affairs, or how we could improve the newsletter. We're very keen to get content in here that you as Hawks alumni want to read about! Do get in touch either at president@hawksclub.co.uk or secretary@hawksclub.co.uk.
You can also rapidly and easily keep up to date with all the latest Hawks' Club activities by following our social media accounts on Instagram, Facebook, Twitter and LinkedIn.
A reminder to keep your details up to date on the website (your username should be <SURNAME><INITIALS> e.g. MOLNARMD for Matyas David Molnar – send an email to secretary@hawksclub.co.uk if you have forgotten your username).
If you enjoyed this newsletter, you can also read the previous newsletter here.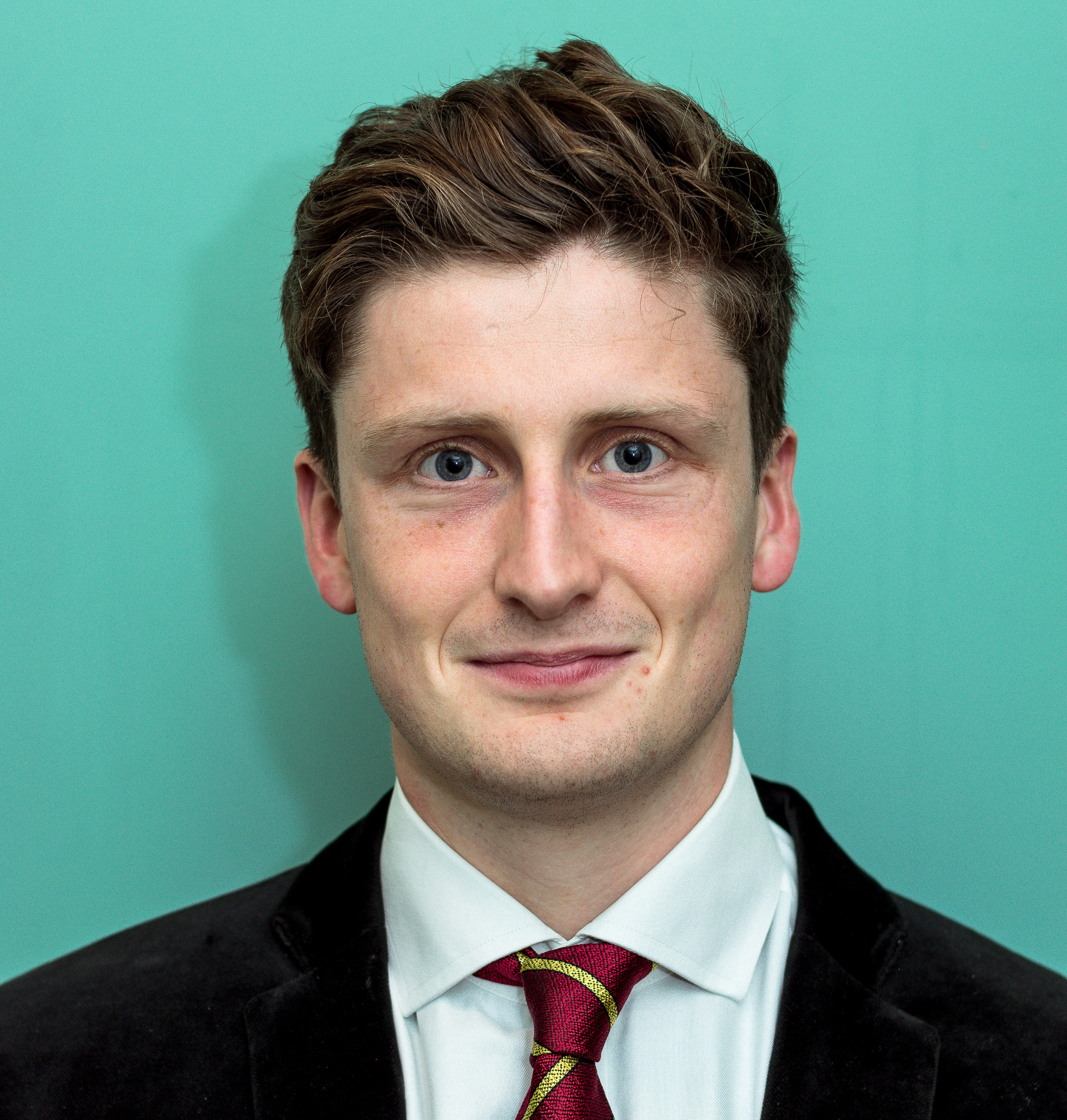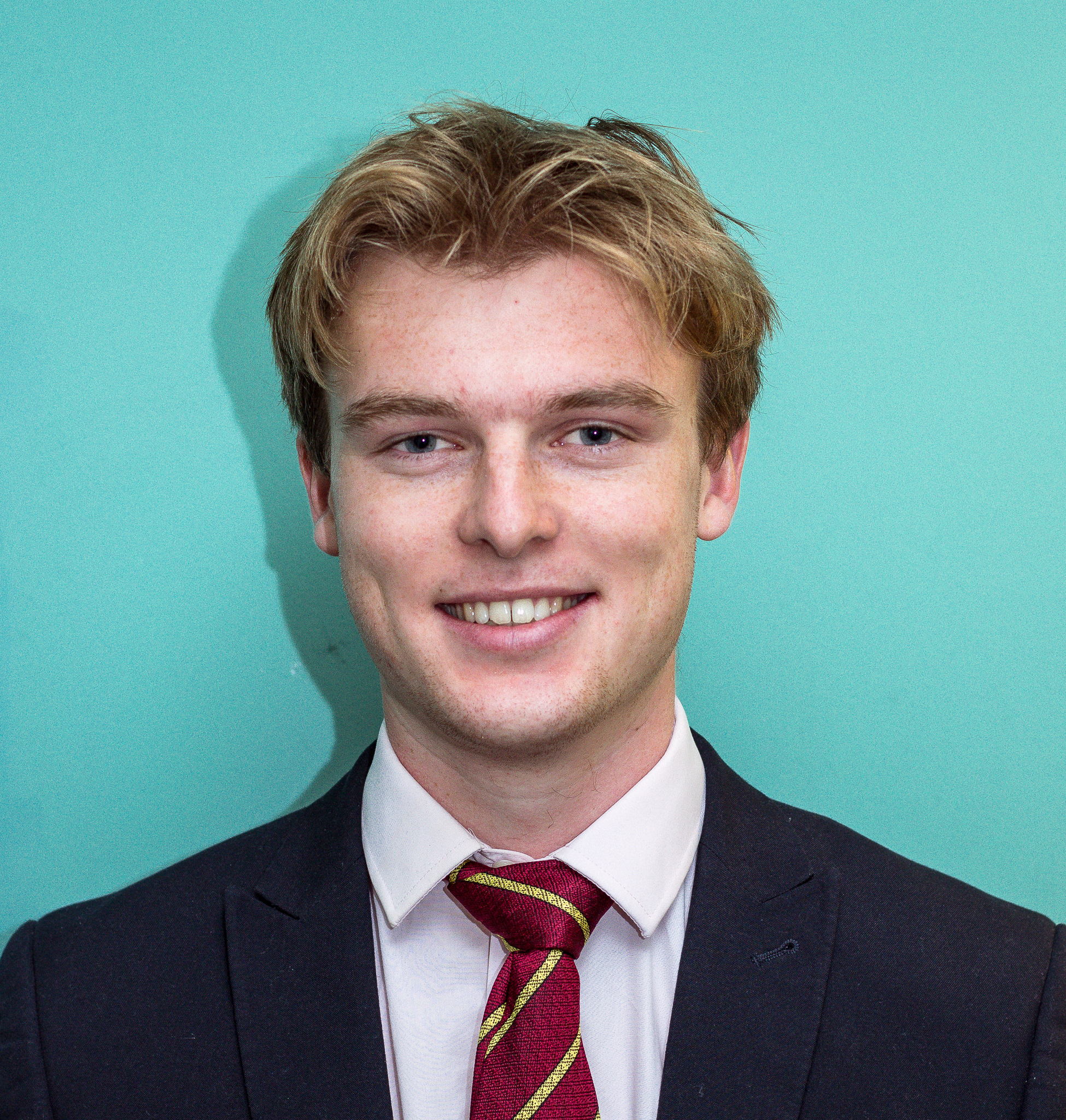 Newsletter compiled and edited by:
Johnny Staunton Sykes (Vice-President, Jesus, CUHC, CUPC)
&
Alex Moen (Communications Officer, Magdalene, CUCC, CURC, CUHC).