Hawks Newsletter June 2022
6 Hawks in an Olympic Boat – Reflections on rowing at the 1956 Melbourne Olympic Games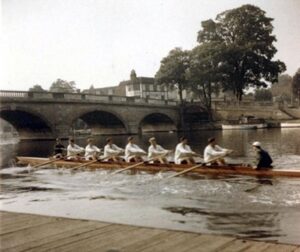 The 1956 crew
English rowing was in a divided and fractious state in 1956. There was much criticism that GB crews were drawn from too narrow and exclusive a pool of talent i.e. Oxford and Cambridge and the senior Tideway clubs. The international success achieved by the great Cambridge crews of the early 1950s had not been followed up by other English crews or universities. The time when Leander could throw together a crew for the Grand at Henley made up of recent old Blues, which with three weeks or so of training would then see off the best foreign crews had clearly come to an end. Yet the Amateur Rowing Association selectors in the summer of 1956 did not seem to accept this and when Leander put together an eight for the Grand that year which was made up largely of men who had rowed in the Boat Race over the previous six years, the ARA let it be known that it was expected that this crew would be the GB entry in the Olympic regatta at Melbourne later in the year.
 At Jesus we had rowed over all four nights as Head of the May races in June 1956 and as was the convention at the time entered for the Grand at Henley in July, one of the last years in which this convention was observed, and even then it was hardly realistic to expect a college crew to win it. We were, however, undaunted by the fact that we were drawn in the first round against Leander, the Olympic hopefuls. In the event, we had a wonderful row and, inspired by the customary Jesus disdain for the pampered heroes of the 'Pink Palace', we beat them by half a length. The 'Times' pronounced Leander's defeat to be the death knell for English rowing! We did not quite see it that way, although we lost in the next round to the French Army, who went on to win the event.
The ARA quietly dropped their support for Leander and put together a new crew which was drawn mainly from rather more recent Blues to compete in the European Championships, which were taking place later in the summer, in Bled. It was again quietly put about that, all being well, this would be the GB entrant at Melbourne in November. But the crew did not impress in Bled, and was disbanded.
Cambridge had won the Boat Race earlier in the year with a decent crew, but we were not heavily involved in the ARA's Olympic preparations, as we took the Blue boat to race in Brazil during that summer and were thus unavailable. I had been elected President of the CUBC for 1957, and had told the selectors that I could not take a term off Jesus to train and travel to Australia for the Games. Not perhaps a sense of priorities which would be relevant today!
The ARA were now pretty desperate, but still determined to make a final attempt to produce an ad hoc eight for the Olympics, and drew heavily on members of the 1956 Cambridge crew for their revamped squad. I think I still have the telegram from the ARA saying in effect – 'your country needs you' – and 'we have fixed the academics at Jesus'. The new squad was stroked by Chris Davidge, an Oxford Blue with a high reputation established over many years, who was in many ways the Steve Redgrave of those days. The newly reinvigorated crew boasted no less than 6 members of the Hawks' Club, which perhaps constitutes some sort of record, and lent it a certain distinction. So we assembled for training at Leander in Henley, with only some two months left before the Olympic regatta. This lack of time was compounded by difficulty in getting suitably qualified coaches to prepare the crew, although Derek Mays Smith, (another Hawk!) who had achieved so much success with the JCBC, was finally appointed to take charge.
We arrived in Melbourne in November – the Australian spring – to be greeted with freezing temperatures and high winds. We rowed at Ballarat, a few miles outside Melbourne, and were billeted in a disused immigration camo consisting of unheated Nissen huts, which were so cold that our coaches went shopping for electric stoves to make life slightly more comfortable. Ballarat had been a gold mining town, and we were shown round an old mine, which as one crew member later remarked 'was the nearest we got to gold on the whole trip'. The medals in the VIIIs were won by the USA, Canada and Australia, and we were not really in the running, but we did have the satisfaction of beating the French Army, who had defeated Jesus at Henley. Our times were reasonably competitive with most of the other European crews, but it was significant that whilst we were quick up to the half way point we were much slower than the top crews over the second half of the course. This suggested that our technique was good, but we lacked the strength and endurance of the medallists. Modern training and coaching methods have taken note and altered goals to address this shortcoming. The lake on which we rowed has now dried up due to Australian droughts, but a monument has been erected at the site displaying the names of those who competed in the 1956 Olympic regatta, which is a nice touch.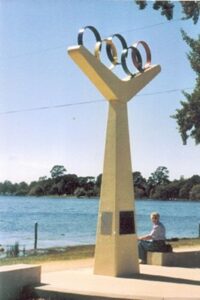 The monument in Ballarat
All this was of course unforgettable for us as undergraduates and somehow consistent with the values of Hawks' Club members, and the Olympic experience is certainly one to be treasured. However it perhaps also provided a blueprint of how not to select and prepare an Olympic entrant. Lessons have been learned and GB rowing is now very professionally organised and very successful. There was a delayed and delightful result of absenting myself from Jesus for the seventh term of my undergraduate Law Tripos – I had to return to College to complete one more term after taking my final examinations, in order to keep the nine terms residence necessary for a BA. This consequence of 'fixing the academics at Jesus' meant that I had to work for a so called Certificate of Diligent Study, which entailed no more than an occasional supervision in French. That was, for me, a memorable bonus from the Olympic experience.
Mike Delahooke (Jesus, CUBC, 1954-1957)
David Miller – Book Donations
The Club is delighted to receive a donation of over 600 sports books from Hawk, David Miller (Peterhouse, CUAFC, CUAC, 1953-56). David was the former chief sports correspondent of The Times and has written on 30 different sports in his career as a journalist. He has also covered 14 World Cup football finals, as well as being the author of biographies of Sebastian Coe, Stanley Matthews and Matt Busby.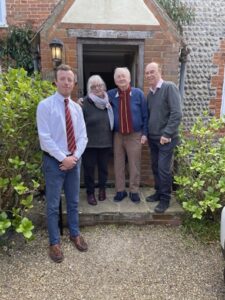 Ed Hyde, David Miller's daughter, David Miller and David Cobb in Norfolk
David Cobb (St Catharine's, CUAFC, 1964-67) and President, Ed Hyde (Jesus, CUCC, CURC, CURTC, CURFC), recently travelled to David's home in Norfolk to collect the books and transport them back to the Clubhouse. The books are located in the bar, book cabinets in the Lounge and in the Burrough Room. Do have a browse when you're in the Clubhouse!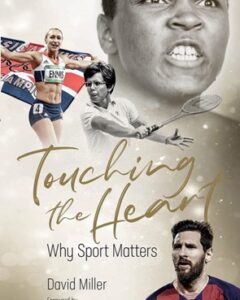 David's latest book, 'Touching the Heart – Why Sport Matters', was published in 2021. The book provides an extraordinary analysis of 50 top sportsmen and women, with particular attention paid to the factors that really drive sport's top performers. The book is in aid of the Starlight Foundation, a charity that supports seriously ill children in the UK.
John Harrison – Life as a leading football goalkeeping analyst
If you were sat on the sofa or in the pub watching the 0-0 draw between Crystal Palace and Leeds United on the 25th April, you would have heard ex-Liverpool defender Jamie Carragher outlining why he thought Liverpool's goalkeeper, Alisson, was the best in the world at saving 1 on 1s. To support his argument, Carragher referenced analysis produced by freelance football data analyst, John Harrison (Robinson, CUAFC, 2012-2020). Minutes later, messages were flying about various Cambridge sport WhatsApp groups – why? Because John was somewhat of a legend of Cambridge sport during his time as a student, playing 99 times for CUAFC. We caught up with John to learn more about his role as a football data analyst. 
1) Please can you expand on your role as a football data analyst? How did you get into football data analysis?
During the final year and a half of my PhD I started thinking about what I was going to do after I graduated & I was sure I didn't want to stay in academia but I was also positive that I wanted to keep researching things & do a data scientist/analysis style job. 
I thought maybe I would enjoy football data analysis but in order to test this I decided to in my spare team start building my own models & analysing video footage to see if I enjoyed it. 
I started with the 2018 World Cup where I analysed every game and every goalkeeper's performance. The reason I chose to do goalkeepers is because 1. I thought there was a gap in the market & not many people were analysing GKs in detail & 2. I played as a goalkeeper to a decent level & had professional coaching so I sort of knew what the current thoughts & ideas of GK coaches were so I wanted to test some of them out.
I posted my analysis of the 2018 World Cup on Twitter and a company called GK intelligence saw it and we started working together on both educational content for coaches and goalkeepers, as well as on detailed performance analysis for scouts and agencies. Once I got this opportunity I started getting far more connections in the world of football data analytics & goalkeeping and I managed to present at the Statsbomb Conference and at the Apport Garda Conference in 2021. I also started appearing on various YouTube channels like "Latte Firm" and "The Redmen TV" to present my analysis. 
My role as a freelance football data analyst now involves building models to evaluate goalkeeping performance which allows me to work with clubs, agencies, & scouts when they are looking to recruit goalkeepers. My role also involves presenting my analysis on various platforms (YouTube, Twitter etc.) so it can be consumed by fans and so that it can start helping to make the conversion around goalkeeping a lot more insightful than just "they have to save that" or "you can't get beaten at the near post" or "what a great save".
2) Who are the main consumers of your analysis? Coaches/goalkeepers/scouts/fans?
I guess it's probably a mix of all of those. My decision making modelling stuff is probably used most by goalkeepers and coaches looking to improve their performance and their sessions whereas my performance analysis modelling is probably used most by scouts & football clubs looking to recruit players, while my ad hoc analysis that I post on Twitter I guess is mainly used by football fans looking to better understand the nuances of goalkeeping.
3) What have been your most significant findings?
My most significant finding probably comes from my research of 1v1 situations. I used historical data & machine learning techniques to evaluate what a goalkeeper should do when a striker runs through 1v1 with them & I found that they should only rush out & engage once the striker is within about 14 yards of goal. If they rush sooner they will likely be chipped, rounded or have the ball curled past them whereas if they don't rush at all once the striker is within 14yrds they will not have sufficient reaction time to make the save if the striker hits the target. This research has been incorporated into the training routines of multiple top level clubs and international sides which is awesome!
4) If you could pick any goalkeeper in your team, who would it be?
I think at the moment it has to be Alisson Becker of Liverpool. He's by far the best goalkeeper in the world when it comes to 1v1 situations which in the modern day is vital and not only that he's probably the most well rounded goalkeeper in the world. He's probably not the best shot stopper, cross claimer, sweeper, or distributor but he's in the top 5 of all categories which means Liverpool don't have to adapt their style in anyway to cover a weakness of his when he plays.
5) What sport did you play at Cambridge? What are you favourite memories of Cambridge sport?
I played University football for CUAFC for 7 years (99 competitive appearances) so I have so many great memories of sport at Cambridge! If I had to make a top 3 it would probably be:
Winning BUCS Midlands 1A with the Blues after beating Oxford 1-0 at home.

Coming runners up with the Blues at the world elite university football tournament in Wuhan in 2018.

Winning my final ever varsity match with the falcons in 2020 after saving a penalty in the 96th minute when the scores were level.
Hawks' Cricket Report
Inspired by the article in March's newsletter about how the Hawks' was originally a cricket club that emerged from St John's Eagles in 1872, a number of resident members decided to re-start the Hawks' Club cricket team. Following a few brain-storming sessions in the Clubhouse over a few jugs of delicious Hawks' Harrier (cheapest pint in Cambridge outside Spoons), a captain and vice-captain were elected, a fixture list was drawn up and, most importantly, some Hawks' cricket merchandise was designed. The team have already played two fixtures (see match reports below) and further fixtures are planned for later in the term. We hope that the Club cricket team will continue for many years to come and there are already plans for a Hawks' Residents vs Hawks' Alumni match next summer.
Hawks' Club vs Remnants CC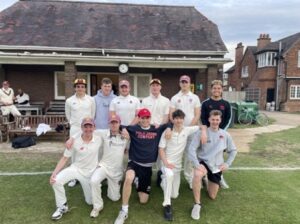 Top (left to right): Charles Norbury (X, CUHC), George Pugh (Robinson, CUAFC), Jonny Andrews (Homerton, CURUFC, CUCC), Nick Sweeney (Trading, Darwin, CUAFC), Will Parker (King's, CUHC), Matt Hawthorn (Pembroke, CUAFC)
Bottom (left to right): Owain Houghton (Queens', CUHC), Ed Hyde (President, Jesus, CUCC, CURC, CURTC, CURFC), Sonny McPherson (Fitzwilliam, CUAFC), Joe Helm (Churchill, CUAFC), Joey Dalton (Magdalene, CUAFC)
The Hawks' Club cricket team enjoyed a winning start to the season against the Remnants CC at Fitzwilliam. A resolute team fielding display was complimented by strong individual performances from Will Parker (58) and skipper Nick Sweeney (3-11). The team then returned to the Clubhouse in high spirits to refuel and prepare for the showdown with Jesus College CC later in the week.
Hawks' Club vs Jesus College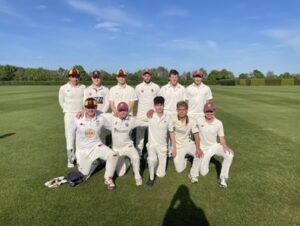 Top (left to right): Charles Norbury, Tim Andrew (Jesus, CURUFC), Nick Sweeney, Paddy Mortimore (Darwin, CUAFC), George Pugh, Ben Adam (Gonville & Caius, CUAFC)
Bottom (left to right): Jonny Andrews, Ed Hyde, Joe Helm, Matt Hawthorn, Owain Houghton
On a delightful summer's evening at Queens & Robinson pitches, the Hawks' Club cricket team experienced their first defeat of the season, at the hands of Jesus College. Jesus posted 154/8 from their 15 overs, whilst Hawks only managed to muster 99/7 in reply. Memorable moments included Nick 'jazz hands' Sweeney taking a remarkable one handed, diving catch off his own bowling (rumour has it he is still airborne). Also, shoutouts to Charles Norbury seeing off the new ball, whilst there was some decent ball striking from Tim Andrew and George Pugh. Both teams reconvened at the Clubhouse for some burgers, dippers and Harriers. The team is now looking forward to the remaining fixtures over the course of this term.
Glen Horn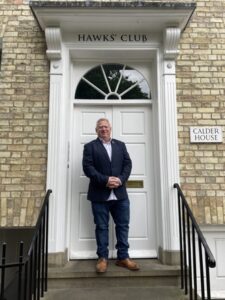 We are very pleased to welcome Glen Horn as our new Club Steward. Glen joins the Club after working as the Pub Manager at The Finningham White Horse in Suffolk. Before this, he has run pubs in Kent, worked for Disney and been the managing director of a company that delivers training sessions to improve teamwork and decision making. Glen has enjoyed serving as clerk for the parishes of Westhorpe, Wyverstone and Wattisfield, as well as being elected to serve as the ward member for Wetheringsett on the Mid Suffolk District Council in 2015. Outside of work, he enjoys watching cricket, rugby and F1 and is a great fan of classic hand-drawn animation. Glen started at Hawks in April and has settled in superbly well – please get in touch with him at manager@hawksclub.co.uk if you would like to make a booking!
Sightings of the Club Colours
It is great to see the Club Colours being worn with pride by our members! If you have any photos of yourself in the maroon and gold and would like to contribute them to the newsletter, please email president@hawksclub.co.uk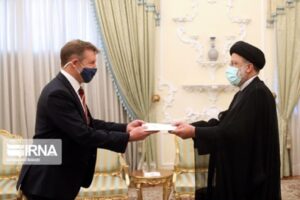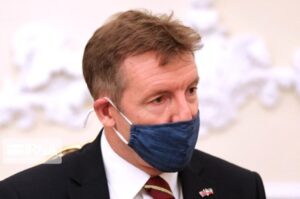 Simon Shercliff (St Catharine's, CUHC, 1992-1995), the British Ambassador to Iran, presenting his credentials (letter of appointment from Her Majesty) to the President of Iran, Hojjat-ol Islam Ebrahim Raisi, © IRNA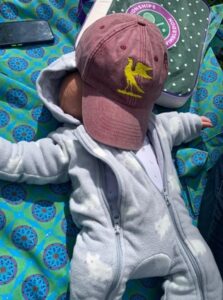 John De Vos Daneel, son of Pieter De Vos Daneel (Jesus, CUCC, 2019-20), keeping the sun off his head with a Hawks' baseball cap. Rumour has it that John's first words were GDBO…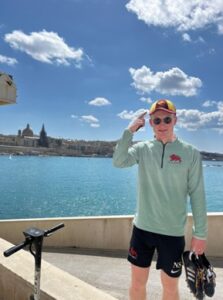 Nick Sweeney (Trading, Darwin, CUAFC) rocking his Hawks' baggy cricket cap on the CUAFC tour to Malta in March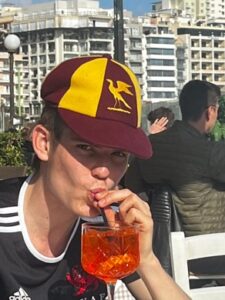 Sonny McPherson (Fitzwilliam, CUAFC) rehydrating after a tough day's work on the CUAFC Malta tour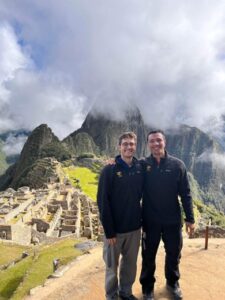 Ben Rushmore (Queens', CUHC, 2018-2021) and Ryan Hoffmann (Queens', CUAFC, 2018-21) keeping warm in their Hawks' quarter zips whilst travelling in South America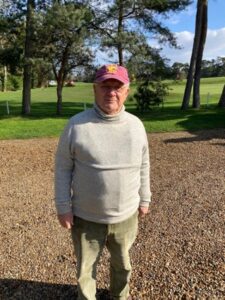 Roger Dalzell (Christ's, CUABC, CURUFC, CUOGC, 1959-1962) sporting the Club colours on the golf course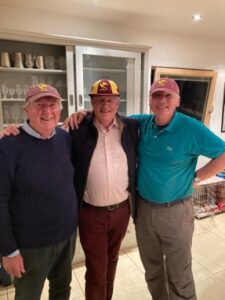 Hawks' headwear all round! Mike Jones (Downing, CUGC, CULTC, 1972-1975), Peter Pentecost (Pembroke, CUGC, 1974-1977) and Chris Neville (Gonville & Caius, CUGC, 1973-1976)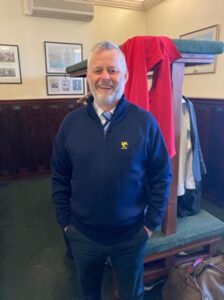 Iain Smith (Girton, CUGC, 1984-1987) wearing his blue Hawks' quarter zip in the changing room at Deal. Iain supports Hibernian so refuses to wear maroon/claret (the colours of Hibernian's arch-rivals, Hearts)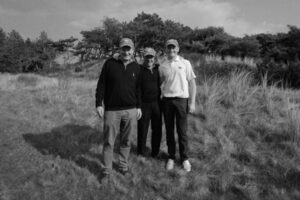 Three generations of Hawks' Club golfers at the Golf Varsity Match at Formby in March, James Skelton (Trinity, CUGC, CUAFC, CUCC, CUEFC, CUDC, 1986-1989), Jeremy Caplan (Magdalene, CUGC, CUSRC, CUCC, 1960-1964) and Calum Mackenzie (Merchandise, Emmanuel, CUGC)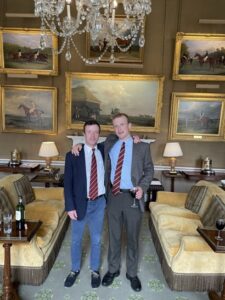 Ed Hyde and Nick Sweeney enjoying a glass of wine after lunch at the Jockey Club Rooms in Newmarket, both in their Club Ties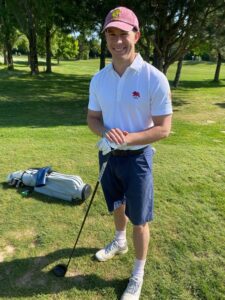 James Galkowski (Selwyn, CUGC) sporting his Hawks' baseball cap
Welsh Dinner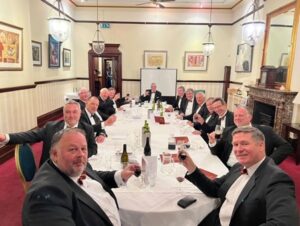 With a dogged determination only to be anticipated of Hawks, the 2022 Welsh Dinner took place at the fourth attempt on the 29th April. 
The diminution in size of the gathering from the original January date, (when postponement had been necessitated as numbers had grown ironically to 60 and double the legal COVID limit), was variously blamed on the organiser's failure to appreciate that it was a Bank Holiday weekend; the start of the cricket season, that crucially Emmerdale and the Great Bake off finale were on the telly and allegedly, it collided with Matthew de Maid's quarterly Avon Calling house party.
" More wine for  us " roared Huw Bach Thomas in anticipation as the simply excellent menu was about to be served. 
The Dinner, however, commenced on a more sombre note as John James called for a moment's silence in memory of the loss of two great Welsh men and supreme Hawks: Jeff Bird and Brian Rees. We also noted that for almost the first time Dennis Gethin and Russell Jenkin's Health precluded their attendance.
Post Dinner, the floor was opened and a serious debate with everyone contributing was triggered by Stuart Roy asking John Charles Rees to outline the legal debate around head trauma in contact sport, individual choice and duty of care by The Sporting Bodies. 
John held rapt the attention of all with as simply a clear and brilliant explanation of the case from all fronts as one would anticipate from a leading QC for the British Boxing Board of Control. The experience and control of his Governing Body was a quality standard for the likes of rugby and soccer. The implication for youngsters being allowed into amateur sport was self evidenced.
The evening moved seamlessly on, however, with reminiscence of great Welsh Hawks – yes ! the inimitable Brian Rees and Brian Thomas! But,  Gentleman , just as anything that "goes on" on tour stays on tour, raucous accounts of such made at our Dinner, remain with the crusts of the Welsh Rarebit. ( and, social responsibilities aside, is it humanly possible for an entire piano to be thrown out of a fifth floor hotel room by one man, any way ?)
Around a dozen confirmations have already been received for the 2023 Dinner on Friday January 20. Further details from Steve Whitehead whiteheadstephen3@googlemail.com
Stephen Whitehead (Christ's, CURUFC, 1969-1972)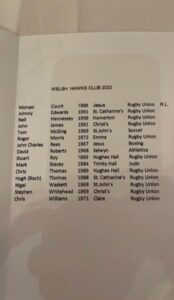 Alumni Clubhouse Functions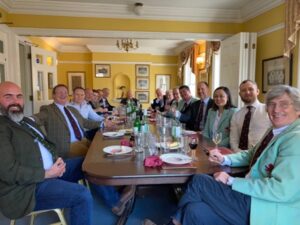 A lunch for CURUFC members local to Cambridge organised by Mark Hancock (Hughes Hall, CURUFC, 1987-1989)
It is always great to see alumni members returning to the Clubhouse, whether for a casual drink or a pre-booked lunch or dinner. Over the past few weeks, we have welcomed a number of alumni groups back to the Clubhouse (see photos above and below). If you would like to book a function at the Clubhouse, please get in touch with Steward, Glen Horn, at manager@hawksclub.co.uk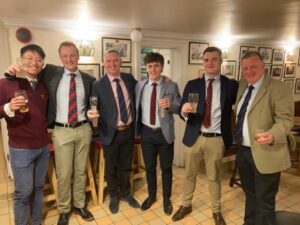 Hawks enjoying a drink with members of the Queen's University (Belfast) Golfing Society after they enjoyed a dinner organised by James Skelton (Trinity, CUGC, CUAFC, CUCC, CUEFC, CUDC, 1986-1989)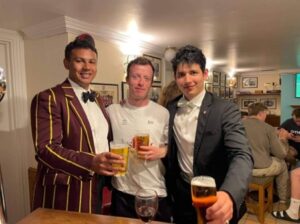 Isaac Freckleton (Trinity, CUSRC, 2015-2018) (left) and James Ganendra (Trinity, CUSWPC, 2015-2019) (right) held at a dinner at the Clubhouse to celebrate receiving their MA degrees – pictured here enjoying a beer or two with President, Ed Hyde
Do You Recognise?
In this new section of the newsletter, we will be asking members to see if they recognise any of the faces in the photographs from Club events below. The photographs have been unearthed in the Clubhouse over the past eighteen months and we would really appreciate any information regarding the photos! Please email president@hawksclub.co.uk if you think you can supply some of the names in the photos below.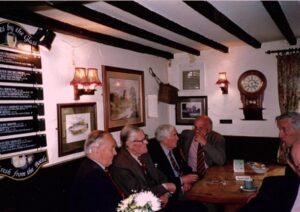 A few Hawks gathered in a pub somewhere…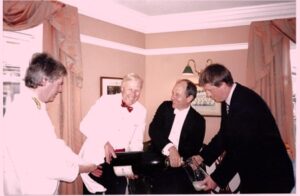 A champagne reception in the Van Alen Room (Members Lounge). Former Steward, Seb Barker, on the right…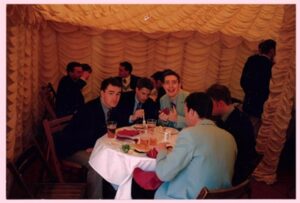 A few Hawks mid-burger at a summer event of some kind…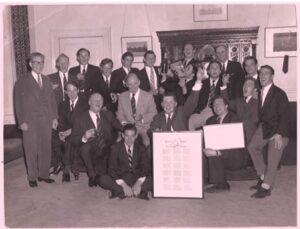 A photo belonging to Donald Steel (Christ's, CUGC, CUCC, 1957-1960) of a champagne reception in the old Clubhouse…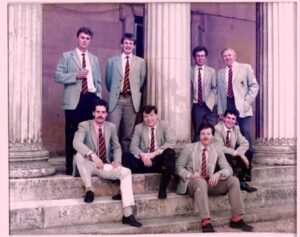 A Committee photo from the mid-1980s?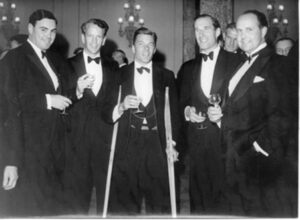 A photo from the 1949 London Dinner…
Hawks' Darts Update
The Club Darts Tournament has taken place over the past four months at the Clubhouse, expertly organised by Committee member, Tom Walton. 19 teams from a variety of University and College sports clubs entered the tournament and the matches have been hotly contested. Despite some questionable team names and match attire, there has been some respectable darts on show, although a few checkouts have taken a little longer than they should have done. With a few group stage matches still to be played before the finals night later this term, the 'Bears, Development Squad' and the 'Bears, Senior Squad' currently lead the way!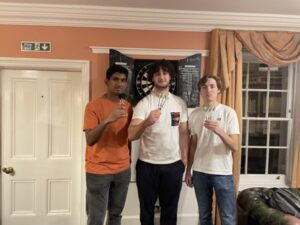 Cambridge University Darts Club after their victory against Cambridge University Rackets Club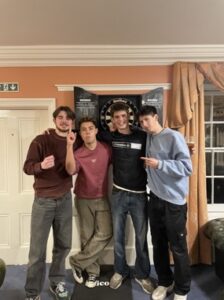 Smiles all round for the CUAFC Risotagio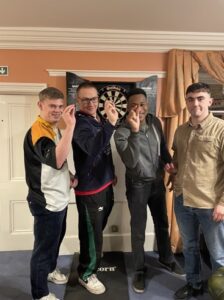 The early pacemakers, Bears – Senior squad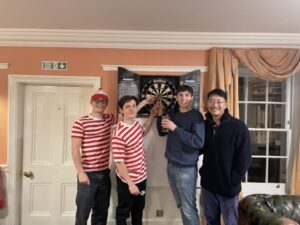 Where's Theo vs CUGC Stymies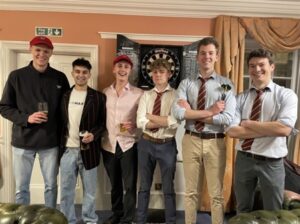 Jesus College Cricket Club vs CURA Men 
Hawks' Club Wine – "Leg stump please, Umpire!"
We are delighted to announce our Hawks' Club Rosé is available on the Hawks' wine webpage. Given that the cricket season is upon us, we thought you'd appreciate the creativity of our non-existent marketing team. It is tremendous value at £13.85 a bottle (free delivery for 2 cases +). Indeed, the Hawks' Club have just held their first cricket fixture for about 120 years, with more fixtures to come.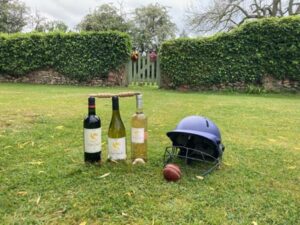 We only have 100 cases of the 2021 Saint Croix Rosé, and we expect strong demand. The Club Claret and Club Mâcon continue to sell well, so we'd advise stocking up to avoid disappointment. When they run out, we are unlikely to be able to get more, and will move on to something else.
We have responded to feedback and added more choice on our Bordeaux selection. You may enjoy John Casson's tasting notes on the Club Rosé and the St Emilion Grand Cru below. John's comments on both are in comparison to other wines he was asked to taste. I suspect he maybe ambitious when thinking that some Hawks' members would leave a bottle of Rosé "not out" overnight.
Click here to shop.
www.privatecellar.co.uk/hawksclub
For avoidance of doubt, our wine offer is run by volunteers, and a very small margin goes back into The Hawks' Company Ltd to help us run the Portugal Place Clubhouse (where all club wines are available to drink and take away). Why not get along and meet our new Club Manager Glen Horn?
We recognize that delivery charges, via the website, are too high for our Hawks in Scotland. If you live in Scotland and would like some wine, please call Peter McCalmont (on 07803 296 544) and we will see if we can work something out. 
New Selections (tasting notes from John Casson MW)
Sainte Croix Rosé, Côtes de Provence 2021 – £13.50
"I would really recommend that we go for the Côtes de Provence 2021 for the Hawks own label. The fruit quality was much better and more intense and the acidity in balance, giving the wine instant charm and appeal. Having allowed the two wines to warm up for an hour after the initial tasting it is the Côtes de Provence that has retained its initial quality. While one can be fairly certain that rosé in a restaurant setting will be drunk well chilled, as the Hawks wine is for home consumption it may well warm up before the bottle is finished or be kept for the following day (by then I hope that the first bottle has been consumed and it is the second that is kept) and the wine we have selected will be much better in these circumstances. If it could be priced at the same as the Mâcon at £15.76 that would be excellent, but it might well be slightly higher and that would be entirely acceptable." The price is £13.85 – well done to our partners at Private Cellar.
Ch Tour Baladoz St Emilion Grand Cru 2016 – £29.95
"Well, what a star wine and a real credit to the appellation of St Emilion Grand Cru that has a huge disparity among properties. I really enjoyed this and would far rather pay £29.95 for this than the £20.50 for a lesser wine. This is the one I would heartily recommend for the Hawks' selection, and sits well alongside our Club Claret."
Spring Clubhouse Lunch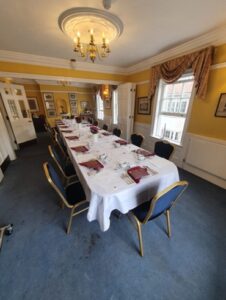 On Thursday 26th May, the Spring Clubhouse Lunch took place in Cambridge (the first event of its kind post-COVID). Twenty alumni members gathered in the Van Alen Room for some drinks before heading up to the Dining Room for a three-course meal. John Pritchard's fascinating post-lunch talk stimulated much conversation around the table and provided an excellent way to round off what had been a very enjoyable few hours in the Clubhouse. A few stragglers set up camp in the bar after the lunch had finished, with a couple staying put until the early hours of the evening to enjoy some dinner at the Club.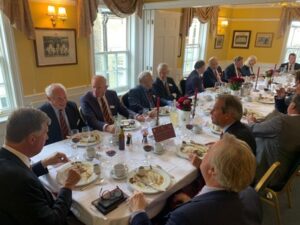 We look forward to seeing Clubhouse lunches becoming a more regular feature in the diary over the coming months and years. Thanks must go to Jonathan Dickins for organising, to Glen Horn (Club Steward) for running the event so smoothly and to Seb Barker for providing the tremendous food!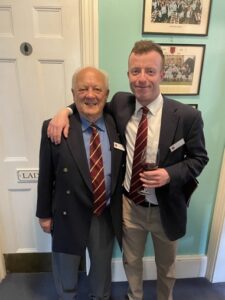 Roger Dalzell and Ed Hyde post-lunch
Mike Biggar Awarded MBE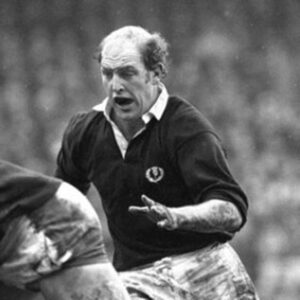 Mike in action
With the recent staging of the Varsity Match at Twickenham, it seems timely to celebrate the achievements of Hawk, Mike Biggar (Queens', CURUFC, 1968-72), a Rugby Blue and former Scotland captain. In 2020, Mike set himself the challenge of walking 100 steps in 30 days, aiming to raise £1000 for NHS charities. Mike was involved in a near-fatal car accident in 1992 and was left with severe head injuries. After spending a year in hospital, Mike learnt to walk and talk again with the help of doctors, nurses and therapists. In his challenge, he exceeded both targets and raised £77,5678. Mike was subsequently awarded an MBE for services to charity and the NHS in the delayed Queen's Birthday Honours list in early 2021. Congratulations Mike! A video on Mike's walking challenge can be viewed on the website here.
Brian Woodham Looks Back on the 60th Anniversary of an Astounding World Record
This summer marks the 60th anniversary of one of the little known but most impressive performances in Cambridge Sporting history. This report by Brian Woodham, one of the competitors in the relay, may shed some light on it.
JOGLER 1962  WORLD RECORD BROKEN
The event in question was the 10 man John O'Groats to Lands End running relay record attempt by CU Hare and Hounds Club. This is a personal recollection 60 years after the event by Brian Woodham (1961-64, St Catherines, Mechanical Sciences (now Engineering)).
At 2 pm on July 3rd 1962, a single runner, Tim Johnston, future Olympic marathon runner, set off from John O'Groats to launch our quest for a world record. Tim and Adam Brown had the honour to ensure that the initial 20 miles were completed on or inside our 2 hour schedule. They were immediately left behind by our cavalcade of 4 Dormobiles, a Hillman Husky van containing  two primus rings and rations and a Jet petrol tanker emblazoned with our record attempt. Following the runner was a small 3 wheel bubble car to track and light up, the runners day and night.
So the game was on. There were many questions. Would the weather hold and give us Northerly winds all the way? Was it feasible that this young team of 9 undergraduates and one graduate, our Captain Mike Turner, could cover all 835 miles at 6 minutes per mile non-stop? What would the ingenious short cuts researched by John Dyson deliver on the ground? In short, could we run almost 32 consecutive marathons and clip 6 minutes per marathon off the existing record?
We were confident and there was a great team spirit, not just among the ten runners but the whole Hare and Hounds squad which included drivers, navigators, cooks and motivators. I was very much a junior member of the team, selected as one of two 'running reserves' alongside Richard Wilson. Our job was to be 'on duty' for 8 hours at a time, switching from van to van every 20 miles and jumping out to run whenever needed – at least that was the brief!
Looking back now, I am amazed that I was in this golden team having arrived as a freshman in the previous October knowing that my hero, Herb Elliot (1960 Olympic 1500m champion), had only finished third in the 1960 University match. A mere Yorkshire Schools winning team member such as myself would never make the grade amongst these running gods! I was playing College first team hockey and running for the cross country team when the Selwyn Road relay took place in November and was 'spotted' as one of the faster finishers. This led to immediate selection for the H and H 4th team, an invitation to join the Christmas training camp in Buttermere and regular Sunday pack runs with the elite squad: 20 miles to the Gogs and back in 2 hours. Then, I think in April, I was asked if I would train as a possible JOGLER. Intense speed and endurance efforts, a place in the 10 mile road race team against Oxford and finally the invitation to the final training camp in the North York Moors in June. This was it. A seven day full on test to select the last places in the team all under the care and comfort of Mike's mother, who produced prodigious amounts of food and put up with our kit!
What recollections still are there all these years later?
The first emergency was on General Wade's Military Road in the Scottish Highlands; the vital 'short cut' to bypass the huge bends in the A9. A great concept in daylight, rather different at night in the remote mountains. George Lawson, a true Iron Man, was meant to have handed over on the Northern slopes of this old cobbled grassy road. It just did not happen and a legend was born. George just ploughed on and on up and over the pass in the dark. The waiting van on the Southern side was getting concerned. Where was Tim? I was despatched to run up the southern side and find him and get back down as quick as possible. After 10 minutes a figure emerged. It was George almost run out of energy. What an effort, what a winner.
I remember my first full 5 miler: fresh legs speeding down a long straight road near Crieff in a pretty fast time with that smell of heather in the air and sun shine. Later that night jumping out of the van on the long grind up the A6 to Beattock summit, bubble car behind with its lights tracking every step as the lorries passed by with the occasional honk.
Carlisle or Penrith Dairy early next morning. Porridge and cream at 4 am. What a change from the Hillman Husky artificial stews! Later that morning we were passing Preston and made use of the  Public Baths. Hot Water on tired and aching limbs, these days it would be ice packs I guess.
The word was out by the bubble and Hillman grapevine that all was not well with our leader who was having hip problems. So it came about that, near Warrington, I left my running reserve role to take on the Captain's full time position. One recalls little except the relentless drive to never exceed 30 minutes for each of your two 5 mile legs in every 20. Night-time grinding through Gloucestershire, encouragement from the bubble and occasional dormobile moving ahead, and on we went, blisters from the Dunlop plimsolls (no shock absorbers then), trying to get some sleep after a quick food stop, drive 60 miles and then do it again.
Bristol, another brilliant dairy breakfast, as we split into smaller sections for the dash to Land's End. We were not far off schedule to just beat the record, but were behind on our own plan. It was warm July day as we ran alternate 2 and 3 mile segments and swung into Devon where the North Devon Hills awaited tired bodies. The Daily Mail had been reporting us and small bands of schoolchildren would stand waving flags as a runner toiled through. Porlock Hill, a notorious 1 in 4 gradient. I had to cut off the bends so it must have been nearer a 1 in 2 run climb. I remember running up Red Pike in December: 'Brian, Go for it!'.
The climbs behind us, the team split into two groups of 5 to accelerate! Alternate miles as we sped down Devon and by the time the sun was setting on Bodmin Moor we were well inside the record a moving very fast. That was when I hit 'The Wall'. The tank was empty. I just could not put another foot forward. Afterwards I found out I had run almost 50 miles in basically 2 days, but I felt I had failed the team.
Undeterred, the now nine, because Mike felt he could do the very short mile, half mile and quarter mile bursts as we continued to romp down Cornwall, we kept beating the clock.
The finish line was at Land's End Hotel- 42 minutes past midnight on 7th July. No Press, the Daily Mail had not expected us before 3.30, so the hotel manager had to suffice. Exhilaration not denouement. The time was 82 hours 42 minutes, breaking the record by 3 hours 10 minutes, as well as exceeding our own personal 6 minute mile average speed target
After that it was back to Cambridge for a Long Vac term. Doing a survey project on Coe Fen with lots of pretty girls in punts drifting by was the new normal! I needed to catch up and recover from a lowly Third!
Conclusion
It was an all-consuming project. There were no pilot schemes to test us out, it was back yourself and the whole squad around you. It is the nearest that a running team can come to the bonding of team sports. Yet it was a one off so the sense of achievement remained very personal. We did have a Golden Anniversary dinner in 2002 at Peterhouse where Mike was a Fellow and most, but sadly not all , were there. Many had continued running throughout their lives and still met up infrequently. But the buzz and stories were still there. Was the mystery of General Wade's Road ever solved?
Brian Woodham (St Catharine's, CUHH and CUAC, 1961-1964)
Internationals and Olympians
An astonishing number of Members – not all but largely Hawks – have represented their countries at the Olympic Games or in International contests. This list of Olympians and Full Internationals has been specially prepared for the 150th Anniversary of the Club – you can find this information in the Olympians and Internationals section of the website, while the Hawks' Club Olympians and Internationals' booklet can be found here.
In addition, the University published a record of all known Olympians in May 2022, an updated version of the version published in March 2017.  Not all the athletes shown were Members of Hawks' but it shows how over 200 medals have been won. Please click here to view this record of all known Cambridge Olympians.
Matt Rogan Nominated in Sunday Times Book Awards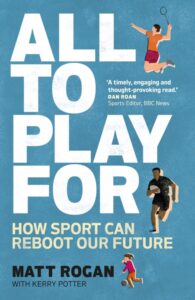 Congratulations to Hawk, Matt Rogan (Fitzwilliam, CULTC, CUAFC, 1993-97), who has had his book, 'All To Play For – How Sport Can Reboot Our Future', shortlisted in the Sports Performance category of the Sunday Times Book Awards. Also shortlisted in the same category are books written by Adam Peaty, Tony Bellew, Jake Humphrey and Eddie Jones to name a few!
If You're In Town
Please pop into the Clubhouse if you find yourself in Cambridge. The Clubhouse is open from 6pm daily (apart from Mondays), serving food and drink. It has been great to see a number of alumni call in at the Clubhouse over the past couple of terms. At the end of April, Robin Marlar (Magdalene, CUCC, 1950-1952) called in at the Clubhouse whilst visiting Cambridge! He is pictured below with a new Club Tie presented by President, Ed Hyde, whilst also sharing a drink with a few resident members in the Van Alen Room!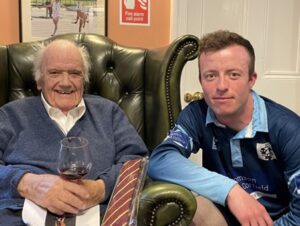 Robin and President, Ed Hyde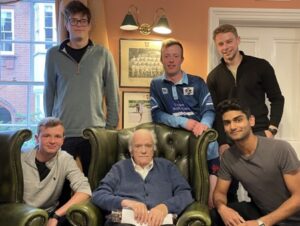 Robin and a few resident members in the Van Alen Room
Continuing on the theme of Cambridge cricketers, Bob Barber (Magdalene, CUCC, CUAC, 1954-1957) also popped into the Clubhouse recently, where he enjoyed a drink with Tony Murley, Rob Heginbotham, Herbie Hancock and a few residents!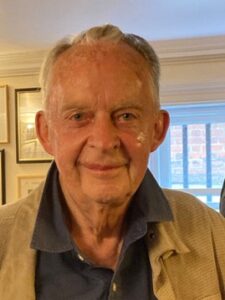 Bob Barber in the bar
The Borough Room
The Burrough Room is now back in action!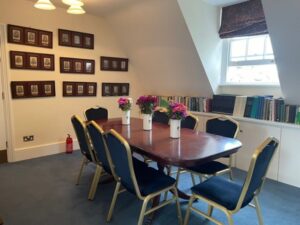 The room is named after Hawk, Alan Burrough CBE (Jesus, CUBC, 1936-1939), who was a great supporter of the Club and made some significant financial contributions towards the current Clubhouse on Portugal Place. 
The Burrough Room is located at the top of the Clubhouse and can seat up to ten people – perfect for committee meetings and small dinners! Photos of all Club Presidents adorn the walls, whilst a number of sports books from David Miller's (Peterhouse, CUAFC, CUAC, 1953-1956) collection are located around the room.
Please get in touch with Club Steward, Glen Horn, at manager@hawksclub.co.uk if you would like to book the Burrough Room!
Where Are They Now? 
This year, we will once again continue our 'Where Are They Now?' feature, which we know many Hawks, both alumni and residents alike, really enjoy reading. In this section, we ask alumni to reminisce about their sporting achievements and their time in Hawks'. We feel communications like these are vital to maintaining the connection between alumni, old friends and the Club. We hope you enjoy reading!
We would love to hear from you and share your entries, which you can do by emailing president@hawksclub.co.uk. Do also encourage any fellow Hawks to share their stories too – the best entry at the end of the year will win £50 of Hawks' merchandise! Last year we had many great entries, with the eventual winner being Russ Abel (Fitzwilliam, CUHC, 2000-04) and the runner-up John Taylor (Sidney Sussex, CUGC, CURFC, 1984-89). You can find all of our previous submissions here.
Our three most recent responses are below, so many thanks to Isaac, James and Charlie!
Isaac Freckleton (Trinity, CUSRC, 2015-2018)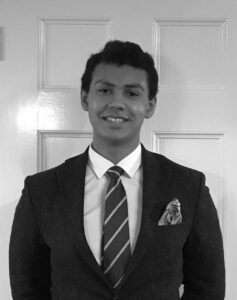 Where are you now?
I am in the process of relocating to Jersey, where I will work as an Associate in the commercial litigation team of an offshore law firm. I'm looking forward to the lifestyle: there is indeed a squash club on the island, and I hope to get into some sailing…
What are your sporting career highlights?
Leaving aside my many prizes for "most outrageously dressed", it would have to be the year that I captained the Ganders (CUSRC's 2nd and more glorious team). I learnt a lot about leadership, teamwork and camaraderie in that year. Some of my best friends still today are from that team. Smashing O***rd was a nice supplement.
What are your fondest memories of Cambridge Sport and The Hawks' Club?
I would like it to be the inaugural Annual Ganders Dinner but my memory goes no further than starters… The Hawks' Club is a very special place for many reasons, but my fondest memories would have to include chatting away the evening with Andy Evans (former Steward), serving fellow Hawks from behind the bar, sampling some jugs of Toma, and endless banter with Zaamin B Hussain (fellow committee member though I don't really know what he did…).
What do you miss most about Cambridge/The Hawks' Club?
The ability to easily play sport during the working week, living very close to good friends, and the endless stash.
If you could relive any sporting moment from your lifetime, what would it be and why?
A squash match against the fearsome President of the Swans Club. In spite of – or as a result of – our friendship, the tension was very high with neither of us wanting to drop a single point. In the words of my opponent, it was "murder on a squash court". Despite the fifth and final game ending in a draw due to injury, it was a well-fought match: English-scoring without a referee, and no arguments about lets or strokes. I would relive that match in particular because it best encapsulates what squash means to me: hard but fair competition followed by a hearty meal amongst friends.
James Ganendra (Trinity, CUSWPC, 2015-2019)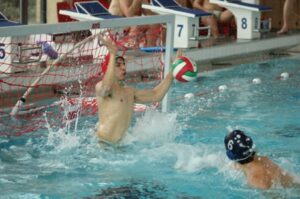 Where are you now?
I am currently working at the Boston Consulting Group, a management consultancy. I have worked on multiple topics, but primarily focused on the decarbonization topic. Working at a firm like this you come across a healthy concentration of Hawks & Ospreys ….
What are your sporting career highlights?
I was a member of the University Water Polo team from 2016 – 2018. My fondest memory was in my first year, where we managed to clinch a Varsity win in the final minute of the match, overcoming what had been a 5 year rut in the 2nds Varsity team. The team chemistry was phenomenal.
What are your fondest memories of Cambridge Sport and The Hawks' Club?
Taking a girl (a CUSWPC member herself) I was trying to impress for a date at the Hawks Club. She was still lukewarm about me, and I thought that a dinner at one of Cambridge's finest establishments would help change her mind. We ended up having a lovely evening, though I only found out four years into our relationship that the Vegetarian Option she got was not up to par. Thank goodness I had great chat….
Ps. I can testify that the club's vegetarian options are now up to par – well done chef!
What do you miss most about Cambridge/The Hawks' Club?
The Stories . Sitting in the bar, hearing people regail wild sporting moments or post match shenanigans was always a delight. Having recently visited the club it was great to see Ed Hyde + Committee have still managed to keep up the atmosphere.
If you could relive any sporting moment from your lifetime, what would it be and why?
Malaysia's water polo team in the SEA games, where they finished 3rd . My country ended up surpassing expectations and it was great to see many of my old club team mates leading the national charge.
Charlie Dewhurst (St John's, CUGC, CURFC, CUCC, 2008-2011)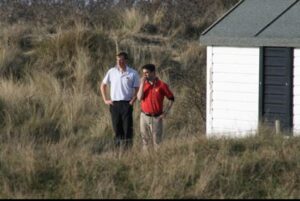 Where are you now?
Currently live in South West London, though never too far away from a golf course. I work as Commercial Director at SailGP (think F1 on water) which takes me to some cool places (usually with golf clubs in tow) – Bermuda, Saint Tropez, Sydney, Singapore. 
What are your sporting career highlights?
As a Cambridge golfer, sporting highlights are few and far between – more time in the bar than on the range. However, one that stands out is the first hole of the 2010 Varsity Match at Porthcawl where I got my first blue. I was playing with a great friend David Duncan, and we were sacrificed off top against the Oxford number 1 pair. Much to everyone's surprise (especially ours), we birdied the first hole and went 1-up. Unfortunately, it didn't last long, but it was a pretty sweet moment. Winning my Captain's match against the OUGC Captain in 2012 was also a highlight. 
What are your fondest memories of Cambridge Sport and The Hawks' Club?
The best moments at the Hawks' were always after matches, when things really kicked-off. The most memorable time was when Mike (the steward at the time) was away and we had a proper lock-in. There were about 50 people in the bar all chanting "when Mike's away, the boys will play!" The other great time of the year was the Hawks' Event, which was the ultimate at bringing everyone together. As a Committee Member it was particularly special, and perhaps my proudest moment was securing the free Cobra deal for the first time – hopefully a legacy that still lives on. 
What do you miss most about Cambridge/The Hawks' Club?
I definitely miss the freedom and all that time! Playing 72 holes every weekend with your mates, Committee Dinners on Tuesday nights, unlimited free drinks at Cindies (RIP), and those spontaneous evenings when you go into the Club for a quick beer and end up still there 4 hours later, playing 25-heads and 2 jugs of Tomahawk down. 
If you could relive any sporting moment from your lifetime, what would it be and why?
Definitely the last hole of my final match as a CUGC player – against the OUGC Captain at Hunstanton in 2012. All square on the last I hit my drive about 45 degrees right into the beach huts – a pretty depressing moment after 4 years of Cambridge Golf! Fortunately I could pitch out and ended up winning the hole and the match 1-up (the Oxford Captain had some issues on the green…). However, it would have been nice to finish that match with a birdie, rather than a trip to the beach.