Martin Ebert
Engineering, Fitzwilliam, CUGC, 1985-88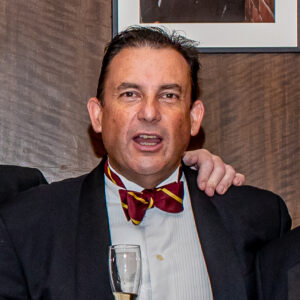 Where are you now?
Literally in Santander, Spain isolating for 10 days having been diagnosed with COVID when trying to play in a Ladies European Tour ProAm near Barcelona. However, I have a view of Real Pedreña where Seve started to play golf so there are compensations! Generally, I live in Chichester and work as a golf course designer around the world.
What are your sporting career highlights?
There are not many to chose from but I once won the Donald Steel Trophy, a golf event played at Victoria Golf Club, a course I designed with Donald Steel, in Sri Lanka. I was coming down the stretch playing against the nearest challenger. He was about 15 years old and called 'Tiger Cub' as he looked like Tiger and played like him. However, he got his ball stuck up a coconut tree when going for the green on the par 5 15th and his caddy refused to climb up the tree to identify it. That allowed me to stagger to a one shot victory.
What are your fondest memories of Cambridge Sport and The Hawks' Club?
The Hawks' Club was not in a great state when I was there with the premises being shared with the Pitt Club and I remember the distressed look on Jeremy Caplan's face when he saw what had become of it. So great that it is back to being a great Club with a great premises.
My fondest memory of Cambridge Sport is probably the Decathlon which was an end of year event between the Stymies and Blues golf teams. The morning started with 9 holes at Worlington, followed by a return to Cambridge and football, tennis. squash and cycling. The afternoon's highlight was the punt race, which often involved innocent punting tourists getting soaked and the culmination was a Beer Boat Race in the evening and the Curry Challenge.
What do you miss most about Cambridge / The Hawks' Club?
The camaraderie of playing golf with both the Stymies and Blues teams.
If you could relive any sporting moment from your lifetime, what would it be and why?
Returning to Seve, his incredible win at St Andrews in 1984 and that matador like celebration on the 18th green. There has never been a more charismatic golfer in my view.