Hawks' Club Wine – "Leg Stump Please, Umpire"
We are delighted to announce our Hawks' Club Rosé is available on the Hawks' wine webpage. Given that the cricket season is upon us, we thought you'd appreciate the creativity of our non-existent marketing team. It is tremendous value at £13.85 a bottle (free delivery for 2 cases +)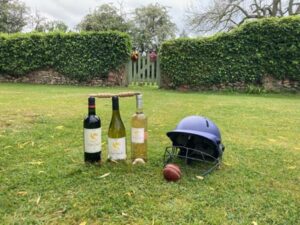 Indeed, the Hawks' Club have just held their first cricket fixture for about 120 years, with more fixtures to come. Here's the current team, who play better than they look ….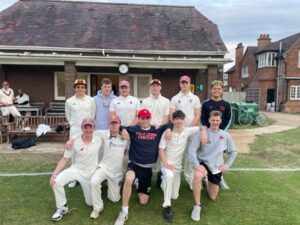 We only have 100 cases of the 2021 Saint Croix Rosé, and we expect strong demand. The Club Claret and Club Mâcon continue to sell well, so we'd advise stocking up to avoid disappointment. When they run out, we are unlikely to be able to get more, and will move on to something else.
We have responded to feedback and added more choice on our Bordeaux selection. You may enjoy John Casson's tasting notes on the Club Rosé and the St Emilion Grand Cru below. John's comments on both are in comparison to other wines he was asked to taste. I suspect he maybe ambitious when thinking that some Hawks' members would leave a bottle of Rosé "not out" overnight.
Click here to shop.
www.privatecellar.co.uk/hawksclub
For avoidance of doubt, our wine offer is run by volunteers, and a very small margin goes back into The Hawks' Company Ltd to help us run the Portugal Place Clubhouse (where all club wines are available to drink and take away). Why not get along and meet our new Club Manager Glen Horn?
We recognize that delivery charges, via the website, are too high for our Hawks in Scotland. If you live in Scotland and would like some wine, please call Peter McCalmont (on 07803 296 544) and we will see if we can work something out. 
New Selections (tasting notes from John Casson MW)
Sainte Croix Rosé, Côtes de Provence 2021 – £13.50
"I would really recommend that we go for the Côtes de Provence 2021 for the Hawks own label. The fruit quality was much better and more intense and the acidity in balance, giving the wine instant charm and appeal. Having allowed the two wines to warm up for an hour after the initial tasting it is the Côtes de Provence that has retained its initial quality. While one can be fairly certain that rosé in a restaurant setting will be drunk well chilled, as the Hawks wine is for home consumption it may well warm up before the bottle is finished or be kept for the following day (by then I hope that the first bottle has been consumed and it is the second that is kept) and the wine we have selected will be much better in these circumstances. If it could be priced at the same as the Mâcon at £15.76 that would be excellent, but it might well be slightly higher and that would be entirely acceptable." The price is £13.85 – well done to our partners at Private Cellar.
Ch Tour Baladoz St Emilion Grand Cru 2016 – £29.95
"Well, what a star wine and a real credit to the appellation of St Emilion Grand Cru that has a huge disparity among properties. I really enjoyed this and would far rather pay £29.95 for this than the £20.50 for a lesser wine. This is the one I would heartily recommend for the Hawks' selection, and sits well alongside our Club Claret."