Hawks' Newsletter Michaelmas 2021
Presidential Welcome

Gentlemen Hawks,
Welcome to the first bi-termly newsletter of this academic year, which will provide an update on sport at Cambridge, in addition to news about the Club and its members.
The year ahead presents an incredibly exciting opportunity to return to pre-COVID levels of activity and enjoyment. At the time of writing, term has just started and the Clubhouse has already hosted over thirty socials/functions and a further nine are booked in for the week ahead. The Clubhouse is a busy place. Plans are also being made for the Hawks' and Ospreys Halloween House Party (31st October), as well as a Darts Night in early 2022.
Outside the Clubhouse, residents are gearing up for an action-packed year of university sport. Many students have been in Cambridge for a number of weeks for pre-season training and tours. Assuming minimal COVID-related disruptions, this year should see a full calendar of Varsity Matches. We will be updating this page as Varsity Match dates are announced.
Please get in touch if you have any queries or would like to share some news for future newsletters. As always, please call in at the Clubhouse if you find yourself in Cambridge – it would be a pleasure to catch up whilst enjoying some of the most delicious and competitively priced beer in Cambridge.
GDBO,
Ed Hyde (Jesus, CUCC, CURC, CURTC, CURFC, CUAFL)
Hawks' Club President 2021-22


2021-22 Committee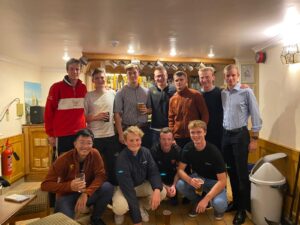 President: Ed Hyde (Jesus, CUCC, CURC, CURTC, CURFC, CUAFL)
Honorary Secretary: Luke Andrews (Gonville & Caius, CULRC, CUBC)
Vice-President: Alex Moen (Magdalene, CUCC, CUHC, CURC)
Treasurer: Elliott Stockdale (Queens', CURLFC)
Communications: Jeremy Dempsey (Girton, CUAC)
Events (Nightclubs): Ben Jackson (Pembroke, CURUFC)
Events (Hawks' Event): Tom Walton (St John's, CURUFC)
Merchandise: Calum MacKenzie (Emmanuel, CUGC)
Trading: Nick Sweeney (Darwin, CUAFC)
HOATS: Edward Tyler (Sidney Sussex, CUHC)


Rugby Fives Varsity
After two cancellations due to COVID, the Rugby Fives Varsity Match eventually took place at St Paul's School on Sunday 19th September. Two factors made the match particularly memorable. Firstly, no-one had played in months. This made for some entertaining rallies. Secondly, September delivered a scorcher of a day. This weather made the courts especially tropical, meaning that those players who had holidayed well were forced to take some lengthy breaks between rallies. Unfortunately, O*ford ran out winners in the Men's match – although the winning margin was considerably less than in previous years. However, the Women were comfortable winners in their match, thereby continuing their domination in the fixture. An enjoyable day and good to see a number of Hawks on court.
Ed Hyde 


Refurbishments and Reopening of Hawks'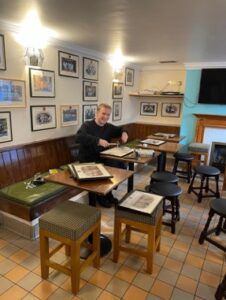 Nick Sweeney (Trading).
Over the course of two weeks a determined group of Hawks and Ospreys set about refurbishing the bar in time for its first pre-term engagement, hosting the victorious members of CUAC after their delayed Varsity dinner. Ceilings and walls were de-Tomahawked and painted, surfaces were re-varnished and eye-catching light fixtures were installed. After a slow start, a strong final effort saw everything completed in the nick of time. 
Many thanks to all those involved.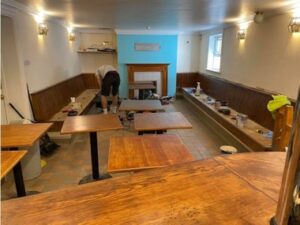 The bar, mid renovation.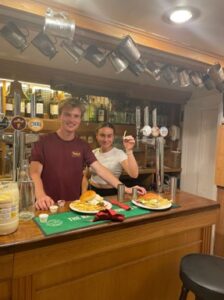 Alex Moen (Vice-President) and Lara Gueorguieva (Events).


New Steward
Gary Parker joined Hawks' as the new Front of House on Tuesday 12th October. Gary has a wealth of experience in the hospitality and catering industry, having previously worked in pubs, hotels, golf clubs, ski chalets, hotels, cafes and coffee bars in the UK and Europe. Please pop into the Clubhouse and say hello if you are in the area!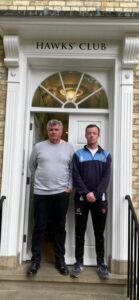 Gary Parker and Ed Hyde (President).


Golf Day Report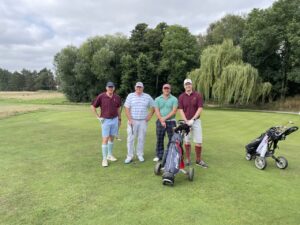 Left to Right: Mark Rosser (Queens', CURUFC, CUCC, 1971-4), Stephen Killick (Queens', CURUFC, 1977-79), Mark Denney (St. Edmund's, CURUFC, 1997-99) & James Boyle (CURUFC).
It is 20 years now since I gave myself permission, as Captain of Royal Worlington, to hold a Hawks' Club Golf Day at the club. Happily, my successors have followed suit and on September 3rd, having missed one COVID-plagued year, 32 Hawks of mixed golfing ability paraded at Worly. It should have been 36 as is normally the case to ensure a full course and dining room, but 7 'late drop outs' with a variety of excuses gave me no time to call up reserves.
"The helicopter needs servicing" (original and I guess meant to impress?)

"The wife reminds me it is our wedding anniversary" (the third year running)

"My wife is expecting our baby" (two of these and one would have thought they had at least 8 months' notice?)

"My boss won't give me the day off" (change jobs!).
We were delighted to have the recently elected President, Ed Hyde, join us for lunch and to present the prizes. He appears to have a blue at practically every other ball game except golf and gave us an encouraging report on the activities in hand and planned in Portugal Place. James Skelton gave us a concise and detailed summary of the new management and financial systems that, with great support of the resident members, he has installed at the club. He also appraised us of the current financial status of the club. All agreed that we owe an enormous debt to James for the vast amount of work, energy and expertise that he has put in to ensure the financial stability of the club.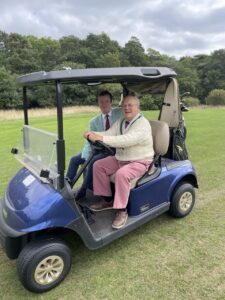 Ed Hyde and Roger Dalzell.
I took the opportunity to relay the findings of the University of Cambridge Sport and Academic Performance Report published in March 2019. Briefly, the report considered over 4000 Tripos results of undergraduates who had represented the University in their sport and gained a Blue, Half Blue or Club Colours (from 2005 to 2016). These were then compared to the Tripos results of the undergraduate population as a whole. In summary the undergraduates who participated in University level sport performed better academically than the undergraduate population as a whole. Furthermore, employers recognised the benefit of sport in developing career-advancing qualities with more than 94% identifying a clear link between participation in sport and valuable skills and strengths in potential employees.
I could have given some useful evidence to those conducting this research. For example, one of my great chums from my school days, thanks to vigorous participation in The Lady Margaret Boat Club and with the CUBC, after graduating landed one of the most intellectually challenging jobs, namely that of assistant deputy sales manager of Guinness in Dublin – almost certainly down to his excellent third in English. Or of the late Sir David Rowland, a keen member of Worlington, who a year after graduating from Trinity, was summoned to his boss' office to be told: "take this as a final warning, you are not spending nearly enough time on the golf course, you won't get any new business hanging around the City". David took this advice and finished up as a most distinguished Chairman of Lloyds.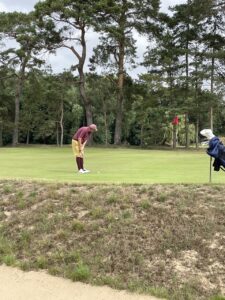 James Skelton (Trinity, CUGC, CUAFC, CUEFC, CUDC, 1986-89).
So to the results of the golf:
1st with 36 points: David Harmer (King's, CUHC, 1959-62) and David Yandell (Gonville and Caius, CUCC, CURUFC, 1962-67)
2nd with 35 points: Julian Watson (Trinity Hall, CUGC, 1970-73) and Lorne Williamson (Corpus Christi, CUGC (1961 Captain), 1959-62)
3rd with 34 points: James Skelton (Trinity, CUGC, CUAFC, CUEFC, CUDC, 1986-89) and Charles Harrison (Downing, CUGC (1970 Captain), 1968-71)
Nearest the pin on the 5th hole: Mark Denney (St Edmund's, CURUFC, 1997-99)
Longest drive on 8th hole: Charles Harrison.
If you could see the build and swing of these two, you would think this to be a printer's error, but it is not!
Like a lot of my contemporaries and dear friends, I too am going a bit dotty and my never-very-good IT skills are now deserting me almost completely, thus causing my neighbours to complain to the Vicar about my language as I delete a couple of hours typing in one swipe. Having given notice of my wish to stand down, I was nevertheless left overwhelmed and speechless by the enormously and totally unwarranted gift from Hawks' Club Golfers of the most generously inscribed Hawks' Club claret jug. A huge thank you to all of you. John May (Christ's, CURUFC, 1973-77) and Andrew McGahey (Fitzwilliam, CURUFC, 1978-82) will be taking over from me.
Next year's date is Friday September 2nd 2022. If any readers NOT currently on the mailing list would like to be, please contact John May at johnmay@johnmay.live. Over and out.
Roger Dalzell (Christ's, CUABC, CURUFC, 1959-62)


Karaoke Night Report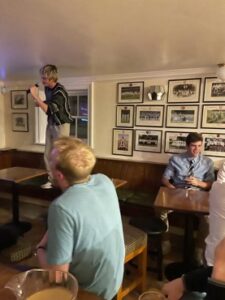 Sonny McPherson (CUAFC) captivating the audience in the bar.
On Saturday 16th October, the Clubhouse hosted an official karaoke night for members. A wide array of musical talent was on show, with representatives from a number of clubs taking part. Special mentions go to Nick Sweeney (CUAFC) for his passionate delivery of Jason Mraz's 'I'm Yours' and to Demi Obembe (CURUFC) for his faultless rendition of 'Where is the Love?' by the Black Eyed Peas. Thanks to Nick Sweeney (Trading) for organising the event, and to Tom Walton (Events) and Ben Jackson (Nightclubs) for acting as judges on the night. Karaoke night will be returning to the Clubhouse next term. 
New Members' Evening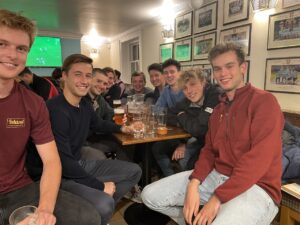 Some veteran Clubhouse users and newly elected members enjoying a jug of Hawks' Harrier
On Tuesday 19th October, the Clubhouse hosted an evening for recently elected members. Despite disruptions to Varsity Matches caused by COVID-19, approximately 60 new members from a variety of sports have been elected over the past two months. 


Hawks' Club Annual Dinner 2021
The Annual Dinner will take place on the 8th of December at The Savoy. Tickets are available from the link below:
https://www.hawksclub.co.uk/events/annual-london-dinner-at-the-savoy/.
We look forward to seeing as many current residents and alumni members as possible!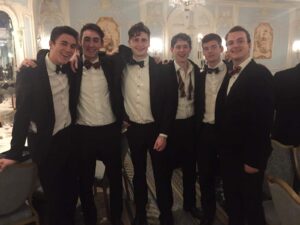 CUHC once again providing copious amounts of chat at the 2019 Annual Dinner


Where Are They Now?
This year, we will once again continue our 'Where Are They Now?' feature, which we know many Hawks, both alumni and residents alike, really enjoy reading. In this section, we ask alumni to reminisce about their sporting achievements and their time in Hawks'. In the absence of any face to face events, we feel communications like these are vital to maintaining the connection between alumni, old friends and the Club. We hope you enjoy reading!
We would love to hear from you and share your entries, which you can do here. Do also encourage any fellow Hawks to share their stories too – the best entry at the end of the year will win £50 of Hawks' merchandise! Last year we had many great entries, with the eventual winner being Russ Abel (Fitzwilliam, CUHC, 2000-04) and the runner-up John Taylor (Sidney Sussex, CUGC, CURFC, 1984-89). You can find all of our previous submissions here.
Our two most recent responses are both great, so many thanks to Martin and Matt:
Martin Ebert (Fitzwilliam, CUGC, 1985-88)
Matt Shaw (Homerton, CURTC, CURFC, CURC, CUSRC, 2014-18)
It would be great to hear from you so please take a few minutes to submit your entry!


Contact Us and Picture Submissions
Please do get in touch with us about anything at all Hawks' Club related! We particularly welcome photos of Hawks past and present which we will try to get up in the Clubhouse and on the website. It is also great to hear about the sporting or social activities of past Hawks – for example, anecdotes or brief thoughts on current affairs, or how we could improve the newsletter. We're very keen to get content in here that you as Hawks alumni want to read about! Do get in touch either at president@hawksclub.co.uk or secretary@hawksclub.co.uk.
You can also rapidly and easily keep up to date with all the latest Hawks' Club activities by following our social media accounts on Instagram, Facebook, Twitter and LinkedIn.
A reminder to keep your details up to date on the website (your username should be <SURNAME><INITIALS> e.g. MOENAJ for Alexander James Moen – send an email to secretary@hawksclub.co.uk if you have forgotten your username).
If you enjoyed this newsletter, you can also read all six of last years' newsletters here.
Newsletter compiled and edited by Alex Moen (Vice-President, Magdalene, CUCC, CUHC, CURC) and Jeremy Dempsey (Communications Officer, Girton, CUAC).