Hawks Newsletter October 2022
President's Introduction 
Gentlemen Hawks,
Welcome to the first newsletter of this academic year which will provide an update on the activities of the Club, the achievements of its members, and reports of sport in Cambridge.
I am honoured to be President of the Hawks' Club in a year that we reach a number of milestones. 150 years, 30 years in Portugal Place and our first member becoming a king. It was with sadness and an admiration for HM Queen Elizabeth II's lifelong passion for sport, that I sent a letter of condolence to HM Charles III on behalf of the Club.
 We can take huge pride in the direction of our Club and I believe that this year we will continue to go from strength to strength, not least thanks to the tireless work of our new manager, Glen Horn, and our outgoing and incoming Committees.
 We have already welcomed back our residents for preseason, with some of those being lucky enough to gain a ticket to the 'Hello H&O' House Party. The term calendar for the Clubhouse is already packed. Highlights include the 150th celebration / 30 year Clubhouse lunch and drinks receptions (details below), our second darts tournament, as well as welcoming a number of Old Hawks and corporate sponsors.
Outside the Clubhouse, we are working on increasing attendance between sports and aim to do this through the Harris T. Hawk Facebook page, helping to improve the community of Hawks' Club beyond individual sports teams. We will be updating this page as Varsity Matches dates are announced – alumni are always welcome!
Don't hesitate to contact me if you have any questions, or would like to submit something for the newsletter! It would be great to see you in the Clubhouse soon so that we can share a beer and you can see all the recent developments in Portugal Place.
GDBO,
Nicholas Sweeney (St Catharine's, CUAFC)
Hawks' Club President 2022-23
New Committee
The Hawks' Club thanks their outgoing committee for all their work and is pleased to announce the new committee for the coming academic year:
The Hawks' Club Committee 2022-23
Top Row left to right: Nick Sweeney, Owain Houghton, Felix Craig-McFeely, Jeremy Dempsey, George Crawley, Sonny McPherson, Ehren Agarwal
Bottom Row: Matt Hawthorn, Ben Jackson, Alex King
Not Pictured: Alfie Collins, Max Loveridge
With thanks to Nordin Catic for photography – nordincatic.com
Nick Sweeney (St Catharine's, CUAFC) – President
Owain Houghton (Queens', CUHC) – Honorary Secretary 
Felix Craig-McFeely (Fitzwilliam, CUBC) – Junior Treasurer
Jeremy Dempsey (Girton, CUH&H, CUAC) – Vice President
Ehren Agarwal (Emmanuel, CUCC) – HOATS 
George Crawley (Churchill, CUGC, CURFC) – Merchandise 
Alfie Collins (Girton, CUSWPC) – Merchandise 
Matt Hawthorn (Pembroke, CUAFC) – Hawks' Event 
Ben Jackson (Sidney Sussex, CURUFC) – Nightclubs
Sonny McPherson (Fitzwilliam, CUAFC) – Trading 
Alex King (St Catharine's, CURUFC) – Communications
Max Loveridge (Jesus, CURUFC) – Hawks' 150th 
Clubhouse Opening Hours and Club Renovations
As the new term draws near the club has begun regular opening hours again, As before The Clubhouse is open from 6pm daily (apart from Mondays), serving food and drink to any Resident, Member or their guests.
For those alumni who find themselves in Cambridge, please pop into the Clubhouse! It has been great to see a number of alumni call in at the Clubhouse over the past year.
The club has also had a few refurbishments over the summer, overseen by new Honorary Secretary Owain Houghton and Steward Glenn Horne. The dartboard has moved into the bar and there has been an overhaul of the furniture in the lounge.
Oxblood lounge furniture
 New dart board position
Upcoming: 
Saturday 29th October – Celebration of 150 years of the Hawks' Club and 30 years at Portugal Place
To celebrate our existence since 1872, and the opening of the Clubhouse at 18 Portugal Place 30 years ago (almost) to the date, there is an event being held in Club on Saturday 29th October 2022 (opening was on 30th October 1992). The dress code is suit and Hawks' tie (available here if you have not already got one). 
It is £30 for a three course meal – 13:00 start time with any Hawk being encouraged to attend! Limited availability on a first come first served basis lunch tickets are available here: https://www.hawksclub.co.uk/events/150th-anniversary-launch-event/. All are welcome for the drinks reception starting at 15:00.  
I look forward to seeing as many of you as possible! If you can't make it (I'm conscious it's only a few weeks away) then do come to the clubhouse when you can, and please watch this space for events to celebrate the 150th anniversary of the Hawks' Club.
Wednesday 7th December – London Dinner
Our annual dinner will be taking place on Wednesday 7th December at the Savoy. Tickets will be available here when they are released: https://www.hawksclub.co.uk/events/annual-dinner-at-the-savoy/ . Cobra and King Cobra are graciously being provided by Lord Bilimoria. As this is marking the 150th anniversary it is advised to bookmark this link as tickets will be gone quickly!
Harris T. Hawk and Cambridge communications
Harris pictured with close personal friend and outgoing President Ed Hyde
Harris T. Hawk will take a more active role in the club this year through his newly created Facebook page. Harris will help keep current residents informed of club news, Clubhouse events and hours and other useful information at https://www.facebook.com/harristhawk/ .
We are also starting an alumni Hawks in Cambridge email group to keep people informed of ongoing fixtures/events. Please email secretary@hawksclub.co.uk if you would like to be included on this so we do not miss you!
Hawk of the Year
Alex Moen
The club is proud to announce Alex Moen (Magdalene, CUCC, CUHC, CURC) as Hawk of the year. His nomination can be read below:
 I'm sure that many would agree that Alex has got his time at Cambridge pretty 'spot on'. Whilst avidly pursuing his academic interests in Geography & Management, Alex has invested an unrivalled amount of time in sport at the University, yielding some highly impressive results over his four years at Cambridge, but particularly during the 2021/22 academic year. Playing as an all-rounder during the 2022 season, Alex was the second leading run-scorer for the Blues Cricket XI (scoring 818 runs in 25 innings, averaging 36, scoring 8 fifties), whilst also taking 17 wickets and 13 catches. It should be noted that many of these runs scored and wickets taken were in the BUCS National Premier League (the highest level of university cricket in the UK), playing against many professional cricketers. Furthermore, Alex was also captain of the Blues Cricket XI, where his impressive leadership skills and tactical insights were valued highly by his teammates and noted by coaches, observers and alumni. Annoyingly, Alex is as, if not more, gifted with stick and ball as he is with bat and ball. He played for the Blues Hockey team in 2021/22, winning his Hockey Blue in the 2022 Varsity Match. Alex was a highly versatile member of the squad, operating in defence, midfield and attack. He combined his Cambridge hockey duties with playing for Holcombe Hockey Club in the England Hockey Men's Premier Division (the highest standard of club hockey in the UK). This means that Alex regularly plays with and against the top hockey players in the world – putting him firmly in the shop window for international honours and recognition in the future. If you think you were coming to the end of Alex's nomination for this year's HOTY award, you were wrong – there is more to come. In the 2021/22 season, Alex played for Cambridge University Rackets Club in the 2022 Varsity Match. Squeezing in training sessions in Hertfordshire, Kent and London between his cricket and hockey commitments, Alex won both his singles and doubles matches three games to love. His hand-eye, agility and calmness on court ensured that all his opponents from O*ford were dispatched with ease. Not only has Alex achieved a huge amount over the past year on the pitch, he has also devoted a significant amount of time and energy into his respective university sports clubs off the pitch. As mentioned previously, Alex was the Blues Cricket Captain (this involved organising training sessions, selecting teams, attending club events), the Hockey Club Captain (this involved organising the Hockey Varsity Match, sending out weekly match reports and overseeing physio sign ups), and the Blues Rackets Captain (this involved Registration No. 2216069 VAT No. 532 2314 88 overseeing the Club committee, organising training sessions and trial matches, and organising the annual Varsity Match). Alex has given a lot back to his respective clubs over the course of the year. In summary, Alex has had a remarkable year performance wise for his respective clubs – he regularly excels at national level in a number of different sports. Combining these highly impressive achievements with a significant level of dedication to his respective sports' clubs make Alex someone who you always want on your team and make him a worthy contender for the Hawks' Sportsman of the Year Award. 
Team of the Year
The team at University Parks in Oxford
Capping off an emphatic final year for our outgoing Vice-President, The Hawks' club is proud to present the Cambridge University Cricket Club Men's Blues as the Team of the Year:
CUCC emphatically defeated Oxford by 10 wickets in the T20 Varsity Match at Lord's. The victory was comprehensive – Oxford's total was chased down with 10 balls to spare. The win meant the Men's Blues have recorded back-to-back wins at Lord's (for the first time in over a decade) and it was a great way to round off the Varsity Matches at Lord's, as this year looks set to be the last time this historic fixture is held at the Home of Cricket. In addition to this resounding victory, the Men's Blues also retained their spot in the highly competitive BUCS National Premier League (the highest standard of university cricket in the UK), consisting of top sides who are able to draw from multiple universities. For instance, the Leeds' team is filled with players from four educational institutions (this is the case with many of the other sides in the National Premier League), meaning that Cambridge's opposition are able to select from a much larger pool of players. The Blues did well to compete at this high standard, with the opposition sides often full of current and aspiring professional and semi-professional cricketers. This success in both the Varsity T20 and BUCS illustrates what a strong season the Men's Blues have enjoyed under captain Alex Moen.
Hawks' Golf Day
Fore! The Hawks Golf Day 2022
They say the sun shines on the righteous but luck also has to play a part especially if it involves Hawks. And so it was that the sun shone down from a cloudless sky on The Sacred Nine, Royal Worlington and Newmarket Golf Club, the home of Cambridge University golf on the first Friday of September. 
What had started off as a full house for a shotgun start of 40 golfers (plus one or two more who were there for the company and excellent hospitality of Worlington) was reduced by the time the gun went off to a field of eight foursomes through a combination of some Hawks paying their respects to recently departed golfing colleagues and the seemingly inevitable slips and trips of advancing years and decrepitude.  That did not stop those attending enjoying themselves and dusting off their competitive sporting spirit. Congratulations go to the overall winners on the day, John Taylor and Ali Meadows.
John Taylor and Ali Meadows (seen receiving their prizes at lunch)
Other individual prizes went to David Shufflebotham for (a very) nearest the pin on the fifth, arguably the most testing par 3 in the country, and for the longest (by a country mile) drive to Lawrence Burton. 
As well as the chance to play golf on a fine golf course, the day is a great opportunity to catch up with fellow Hawks and the social dimension of the day is as important as the golf itself. This was evident from the night in the local pub beforehand where dinner was followed by a somewhat chaotic table tennis tournament kindly organised by our host Alex Clarke through to a leisurely but delicious lunch accompanied for the first time by Hawks club wine. There was also some friendly afternoon golf for those with the stamina to enjoy the courtesy of the course. And our thanks go to Mark Allcorn and all the friendly staff at Royal Worlington who do such a good job to look after us. 
The other notable feature of the day was the age range of participants from many who have been the mainstay of Hawks golf club days past (seen here on the sixth): 
through to debutants and younger faces and to the current president (Nick Sweeney) and immediate past president (Ed Hyde) who were on hand to give encouragement and run the pop-up shop of Hawks merchandise from which the prizes were selected. There was also plenty of Hawks livery worn with pride out on the course and in the dining room.  
All in all a wonderful day and a wonderful display of all the good things which make the Hawks one of the greatest clubs in the world. Next years's event will be on Friday, 1st September, 2023 so make sure to put the date in your diary, get in touch with hgd@hawksclub.co.uk if you would like to be on the Hawks Golf Day mailing list and pray that the sun will shine on us again. 
Andrew McGahey (Fitzwilliam 1978) and John May (Christ's 1976).
Andrew Mcgahey, Alex Clarke and Mark Denny
Brian Gegg and Chris Thomas enjoying the hawks club macon
Jeremy Caplan tucking into a pre-game bacon sandwich
Hawks' Club wine 
The club is expanding its range of wine offered by Private Cellar. These can be purchased from the clubhouse or through our online storefront, found here. There is currently a reduction on the Hawks' Rosé.
Secondly, having gained feedback from our members and discussed with our provider, Private Cellar have kindly put together a short description and list of wines that they recommend for Hawks, available on the above link, or email Peter McCalmont on peter@privatecellar.co.uk. 
As the seasons change, it is somewhat inevitable that our choices in wine change too; gone are the light whites and chillable reds, in with the more textured whites and structured reds, mirroring the changes in our menus from lighter to heavier foods. The wines we are offering here are a step up on our House labels, with some seriously good white Burgundy from Domaine Laurent Cognard and the Château de Meursault. Both are 100% Chardonnay and both matured in oak, but there the similarity ends. Laurent Cognard is an ex Rugby player and coach and his wines are like him – big, powerful and wonderfully full of life, bursting with fruit and joie de vivre. The wines from Château de Meursault are racier and more precise, beautifully stylish with real hint of class. For the reds, we have gone for a three reds which we think really merit a detour. The Coteaux Bourguignons from Domaine Truchetet is a blend of Pinot Noir and Gamay, made in the Burgundian style, and has to be one of the best value red Burgundies around. The Domaine consists of just 6.5 hectares of vines, making 12 different wines, and is run by brother and sister team, Morgan and Julie Truchetet. Light but warming, this is a wine to savour in the autumn and as the days get shorter and darker, it is time to turn to Claret. Château Cissac belongs to the Vialard family, who make a very serious, well-built wine with bags of fruit and more than a hint of Médoc graphite, in a very classic style. Château Grand Puy Lacoste is a perennial favourite in Pauillac so, unsurprisingly, we are great followers of its second wine – more affordable and it doesn't need to be kept for years! The 2017 Lacoste Borie isdrinking beautifully now and will keep for a few years too.
–
Montagny 1er Cru Les Bassets, Domaine Laurent Cognard 2018 Bots £28.85, Mags £62.00
Bourgogne Blanc, Clos du Chateau de Meursault 2018 £33.00
Coteaux Bourguignons Cuvée Hugo, Domaine Truchetet 2020 £22.50
Chateau Cissac, Haut Medoc 2017 bots £20.50, mags £44.00
Lacoste Borie, Pauillac 2017 £33.50
Top: Hawks' wine 
Bottom: Hawks at The Jockey Rooms, Newmarket
Hawk Completes Longest Unassisted Swim in Canada
Sean Nuttall
In early August the Club was contacted by Sean Nuttall (Kings, CUSWPC, 2004-2005) who informed us of his attempt to swim 100 kilometres in open water for charity. The full story about this incredible challenge and Sean's moving story can be found here.
We are now pleased to announce Sean successfully completed the swim at 8am on the dot on 14/08/22, completing 100.6km in 42h37 – congratulations Sean! Information on how to donate can be found in the link above.
Sean during his swim
Hawk completes LEJOG cycle
Old Hawk James Skelton is helping fundraise for COSMIC by cycling from Lands End to John O'Groats. Donations can be made here. Below is what James and his son have to say:
My Dad and I are fundraising in memory of John Miles, my Godfather and my Dad's close friend. John, known to us as "Big Milo" or "Milesy", was an amazing man with levels of enthusiasm second to none. He took life head?on every day. Big Milo completed the Lands End to John O'groats bike ride in March 2018, during the "beast from the east storm", a testament to his character. My parents knew Big Milo for over 30 years, and he was there on the day that they met. If you were to listen to the radio when Fulham were playing, you would be able to hear him cheering them on as he had a season ticket seat below the commentary box and a set of extremely powerful lungs. He was also a very keen cyclist and we were both lucky to share the cricket field with him.
The charity that we will be raising money for is COSMIC, the same charity Big Milo raised money on various long?haul bike rides. COSMIC supports children and neonatal intensive care units at St Mary's & Queen Charlotte's Hospital by helping patients and their families, and by enabling a dedicated team of nurses and doctors to treat hundreds of babies and children in intensive care. They purchase vital state of the art equipment, provide training for health professionals, fund a programme of groundbreaking research into life-threatening diseases and support families through some of the most difficult times in their lives with one to one support, advice, counselling and accommodation for parents.
We feel that it is important to continue Big Milo's good work, attempt this challenge and raise some money for COSMIC. We have played alot of cricket and golf together but have never attempted anything like this challenge before. We are going in with little experience but determined attitudes and it will test how well we work together as a team. We are going to cycle an average of 70 miles a day for two weeks from Britain's most South Westerly point "Lands End' to its most North Easterly point "John O'Groats". We aim to raise as much money as possible, so all donations are greatly appreciated!
James Skelton after a successful LEJOG
Prentice and Seabright Cups Victory
Over the long vacation Cambridge University Lawn Tennis Club and their Oxford counterparts toured Harvard and Yale and the men's team secured their first win in 14 years. With thanks to Jack Wilson-Smith for this report.
Players
Prentice Cup:
Jack Molloy
Michal Kaminski (Cap) (Hawk)
Ross Martin
Jack Wilson-Smith (Hawk)
Esah Hayat (Hawk)
Louis Manson
Seabright Cup:
Emily Arbuthnott
Izzy Marshall
Anna Chesca
Mandi Furaji
1)      What's the tour about + general details: The tour consists of separate men's and women's joint Oxford and Cambridge teams competing against joint Harvard and Yale teams. The tour occurs every other year and also alternates between home and away meaning we visit the US every 4 years involving a 5 week all paid-for tour of the northeast coast leading up to a final weekend of matches against the American team. The men's competition is named the Prentice Cup and consists of 3 Oxford and 3 Cambridge players while the women's is named the Seabright Cup and consists of 2 players from each university. We stayed in around 14 different places starting in the Hamptons on Long Island, New York and finishing in the Yale Club in New York City.
2)      Tour History: The Prentice cup is the oldest amateur international tennis competition which started in 1921 and since then the Harvard/Yale team has won the Prentice Cup 32 times while the Cambridge/Oxford team has only won 16 times. The last time the Cambridge and Oxford Prentice team won was in 2008 with a convincing 16-5 win. The women's Seabright cup started in 2004 and since then the American side lead the British side 6-2.    
3)      Best location visited: One of the best places we visited had to be Newport, Rhode Island where we stayed in a 23 bedroom mansion. While there we played at the International Tennis Hall of fame on probably the best grass courts we'd ever played on. At the same club we also were able to play some Real Tennis with one of the pros there while also getting to watch an exhibition match put on for us while we enjoyed a free bar. One of the coolest features of the hall of fame was seeing our Prentice jumper and a small exhibition on the Prentice Cup with all it's history. The team also enjoyed a booze cruise around the bay on the Rum Runner 2 which used to ship alcohol during the prohibition era. 
4)      Description/match highlights: Final results:
Prentice Cup (men's)- Brits won 11-10
Seabright Cup (women's)- Brits won 10-2
The girls pulled off a very convincing win, steamrolling the Harvard and Yale side dropping only 2 matches and had polished them off by midday on the last day. The men's however was a very different story and in the 100 years that the Prentice cup has been played for, provided one of the closest matches to date. Spreading over 3 days the Men took the lead on the first day taking 2 out of the 3 doubles, followed by a tough second day finishing tied at 6 matches each. Into the last day with one round of singles and doubles to play, each side managed to pull off 3 wins each for singles, with big 3 setter wins from Cambridge player Jack WS and Oxford player Louis Manson to keep the team in it. Heading in to the last round of doubles tied at 9-9 in matches, the Brits only needed 2 out of the three matches. Both the Oxbridge 2nd and 3rd pair were drawn at 1 set all which would normally proceed to a full final set with no tiebreak, however due to the excessive length of the singles we had very little time left due to light and so were forced to play a 10 point match tiebreak. The 3rd pair lost 10-4 in a gutting finish meaning both other doubles matches still playing were needed to win to take home the cup. Our 2nd pair managed to pull back the tiebreak from 7-5 down to win 10-7 with some unbelievable points played by both teams. This left the last match of doubles still playing to decide the victors. The boys finished off their match in a convincing fashion in straight sets to win the Cup for the first time since 2008.
 5)      Off court highlight: After our final weekend of matches we were invited to the Presidential box at the US open and got to watch Alcaraz play followed by Sinner. The team had an amazing time and riding the high off our win we took great advantage of the open bar, before heading back to central NYC for a night out. Another highlight of the trip was all tours we were given. While in Boston where we were given a backdoor tour of the baseball stadium Fenway Park where we got to go down on to the pitch and look around all the VIP sections and then in NYC we were given a full tour of the Goldman Sachs HQ. 
The victorious teams
Hawks' 150th Residents Photo
The whole club photo, taken at Hawks' Event this summer, is available to buy here.
Tim Lintott funeral
The Club is saddened to hear the news of the death of Tim Lintott (CURUFC). 
The funeral for Tim Lintott took place on Friday, September 2nd. Tim was elected to the club in 1973 having played (as a substitute) for CURUFC against the touring All Blacks the previous year at tight head. He went on to represent the University regularly, including on their 7 match undefeated tour of the then Rhodesia in 1974,ending as top try scorer. He won his Blue in the 1974 victory (16-15). He further toured with CURUFC and played against Japan in the summer of 1975, thus achieving the rare distinction of representing the Club in two major International fixtures.
 Tim was an all-rounder: he also won a half Blue for athletics in discus and shot and toured USA with The Achilles Club.
 He was a staunch Hawks man attending the Annual Dinner whenever he could – he was a generous benefactor to the recent Development Plan – among a wide range of charities he supported, particularly his college, Christ's, where he was made a Lady Margaret Beaufort Fellow, having been personally extremely generous to the College, focussing on the Spyrou Scholarship and the College's Outreach activity. On leaving Cambridge he joined Freshfields around the time they funded the Law Library at his college. Tim then moved to Baker McKenzie in Hong Kong and became an international expert in aircraft finance. He subsequently took this expertise back to UK and re-joined Freshfields.
 Seven Hawks attended the service, all in club ties: Jonathan Dickins, David Gunner, Michael Hodgson, Iain Murray, Sandy Pratt, Mark Rosser (CURUFC) and Kevin McCollum (CULTC). His coffin was adorned with his Blues cap. He leaves behind his wife Susie and three daughters, Katie, Rosie, and Lucy. 
Tim Lintott 
(submitted by Jonathan Dickens)
Where are they now?
This year, we will once again continue our 'Where Are They Now?' feature, which we know many Hawks, both alumni and residents alike, really enjoy reading. In this section, we ask alumni to reminisce about their sporting achievements and their time in Hawks'. We feel communications like these are vital to maintaining the connection between alumni, old friends and the Club. We hope you enjoy reading!
We would love to hear from you and share your entries, which you can do here. Do also encourage any fellow Hawks to share their stories too! 
All previous 'Where are They Now?' submissions can be found here.
Hawks on Tour and Sightings of the Club Colours
Neil Ganju in the Himalayas – n.ganju@me.com
Top dog in town
Cambridge University Hockey Club at the Clubhouse
Hawks at Lords
Hawks' Lunch at the RAC
Paddy Mortimer CUAFC (2018-2022) and Osprey Charlotte Milbank at Wimbledon  (CULTC, 2019-2022)
Toby Fairhurst at Buckingham Palace.
Tony Lewis' Hawks blazer at Lord's
Pictured below are four Hawks at Old Tonbridgian Cricket Week in August – John Gibbs was presented with a new Hawks' tie by Jono Arscott. John had lost his tie over the summer and was very anxious to get his hands on a new one asap.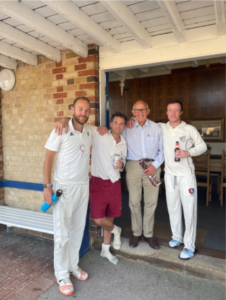 Left to right: Tom Elliott (Sidney Sussex, CUCC, CURC, CUHC, 2011-2014), Jono Arscott (Magdalene, CUCC, CUHC, 1989-1993), John Gibbs (Trinity Hall, CURUFC, 1974-1977), Ed Hyde (Jesus, CUCC, CURC, CURTC, CURFC, 2017-2021)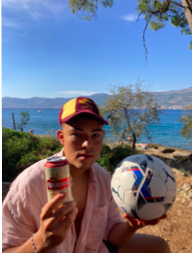 CUAFC Captain Matt Hawthorn making important preseason decisions in Split, Croatia
Hawks' Club spotted in ITV drama Professor T 
Our Clubhouse was spotted during a Professor T advert recently uploaded by Jesus College, available here: https://bit.ly/3e09mMa . The star of the show Ben Miller (Professor T) expressed his delight at being in the Clubhouse, saying that he always wondered what it was like during his time at St Catz!
Identify the photo
This photo was kindly submitted to us by a friend of old Hawk James Skelton. The Hawks' Club ball can be seen on the bottom row of the top shelf. First person who can recognise where this is taken will be rewarded with a free pint of Harrier!
Club discount at the Gonville Hotel
Club members are entitled to 15% off at the Gonville Hotel. All that needs to be done is to ring up and mention the Hawks' Club and we will do the rest!
Contact Us and Picture Submissions
Please do get in touch with us about anything at all Hawks' Club related! We particularly welcome photos of Hawks past and present which we will try to get up in the Clubhouse and on the website. It is also great to hear about the sporting or social activities of past Hawks – for example, anecdotes or brief thoughts on current affairs, or how we could improve the newsletter. We're very keen to get content in here that you as Hawks alumni want to read about! Do get in touch either at president@hawksclub.co.uk or secretary@hawksclub.co.uk.
You can also rapidly and easily keep up to date with all the latest Hawks' Club activities by following our social media accounts on Instagram, Facebook, Twitter and LinkedIn.
A reminder to keep your details up to date on the website (your username should be <SURNAME><INITIALS> e.g. MOENAJ for Alexander James Moen – send an email to secretary@hawksclub.co.uk if you have forgotten your username).
If you enjoyed this newsletter, you can also read all six of last years' newsletters here.
Newsletter compiled by Vice President Jeremy Dempsey and Communications Officer Alex King