A Boat Race Break Down with BBC Commentator Matthew Holland
We are waiting for the long promised invasion. So are the fishes.
The Cambridge VIII's pushed off from the landing stage, determined more than ever to defend their home water against invading forces. The stillness of the fens made for a stark contrast to the usual start line in Putney, no crowds to drown out the nervous breaths from behind, the sound of the cox from across the water, but in the light blue boat the focus was absolute. First were the women, relaxing out of the start and holding their nerve as Oxford started taking seats through the middle of the race. Several clashes of oars weren't enough to suppress their powerful rhythm, and a confident surge into the final 2 km saw them take a historic 4th consecutive victory on the Great Ouse, in the closest women's Boat Race for 7 years.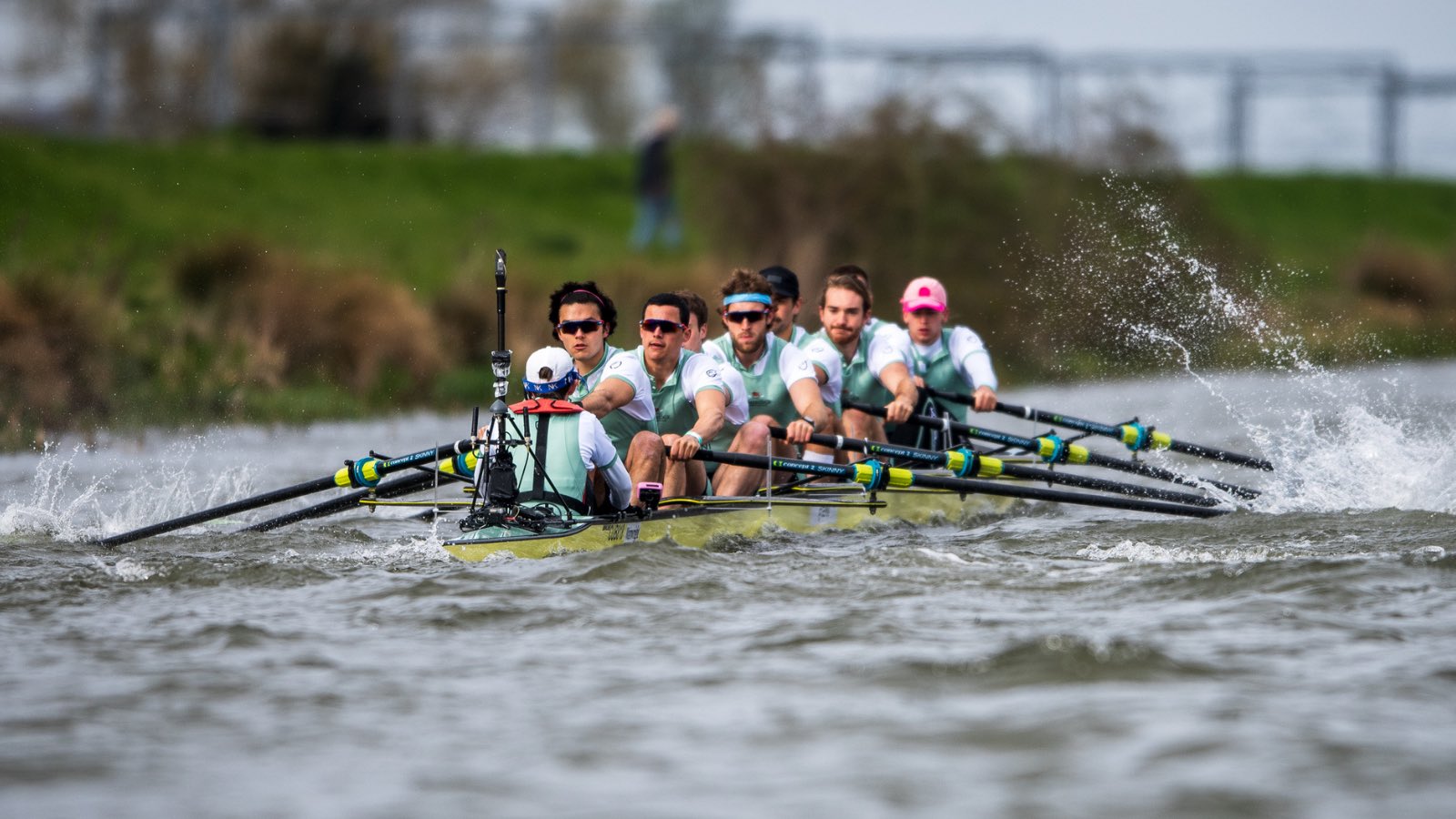 The relaxed, steely determination of the CUBC men as they sat on the start less than an hour later was palpable, and with ruthless efficiency they leapt out of the blocks, catching a favoured Oxford crew napping. Hawk Charlie Marcus steered a relentless line, keeping Cambridge in the faster water as Oxford tried and failed to reel back an unstoppable light blue boat. With 1.5 km till the finish Cambridge sat 1/2 a length up, the exquisite rhythm driven beautifully by Drew Taylor and President Callum Sullivan reinforced with a devastating attack by Oliver Parish. Every dark blue charge fell flat, and Cambridge crossed the line a length up. This was one of the bravest and most perfectly executed rows in the history of the Boat Race, and there certainly hasn't been a crew so deserving of victory in the past 25 years. We owe them each a pint of Toma.
Matthew Holland (Gonville & Caius, CUBC, 2016-20)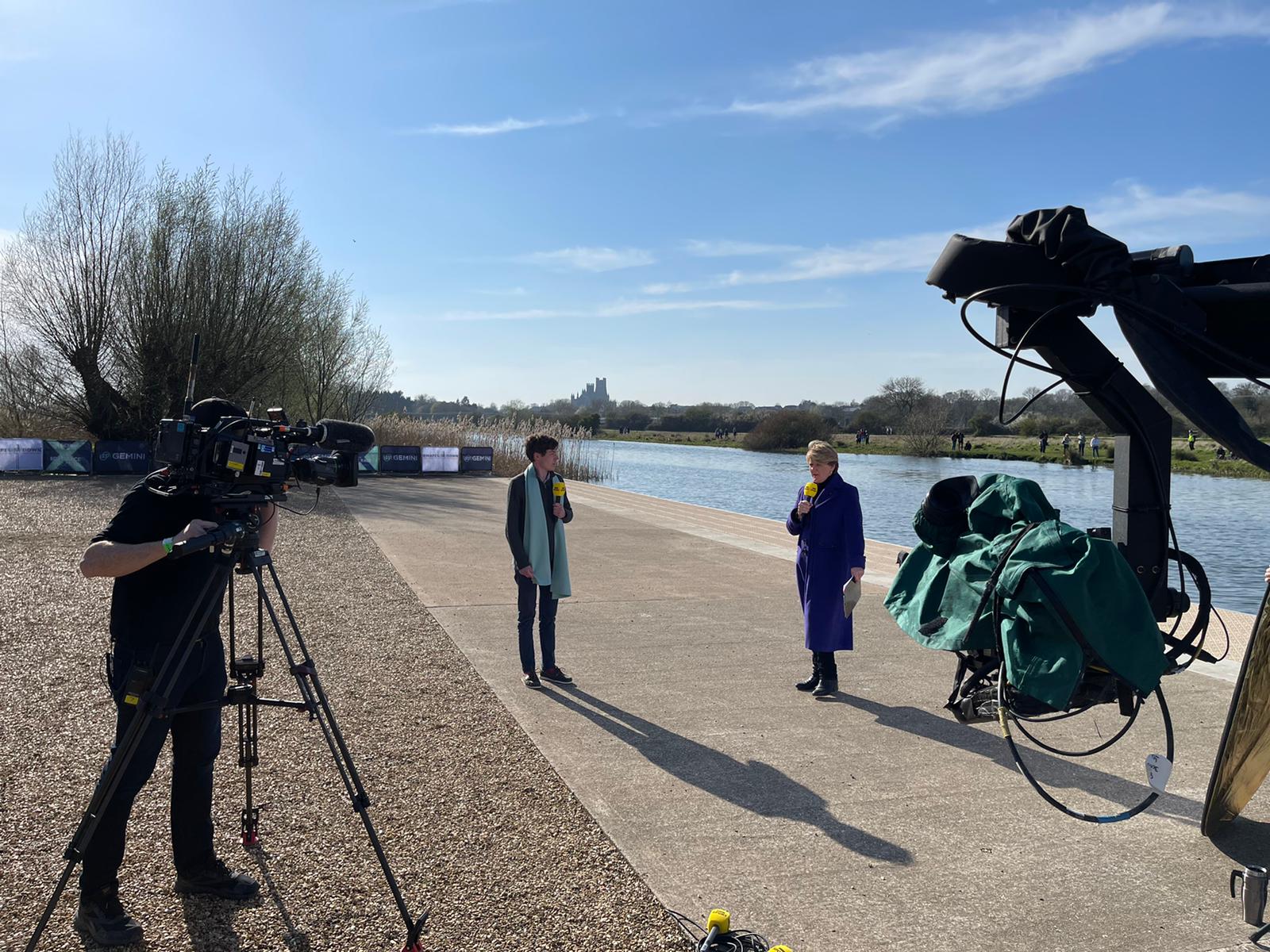 Editor's note: Now graduated, Matthew coxed Cambridge to victory in both the 2017 women's and 2019 men's Boat Races and was a valued member of the Hawk's Committee in 2019-20. Matthew was asked to commentate during the broadcast of this year's Boat Races on the BBC (pictured above with Clare Balding). He did a cracking job!

CUHC Men's Blues Promoted to National League
Last week, promotion to the England Hockey National League East Conference was confirmed, thanks to a 2nd place finish at the end of last season – 396 days ago. 
The 2019/20 season started off as many others had; six weeks of preseason and a tour to Nottingham. A few key players had moved on and a new crop of players had broken through. As Captain, I was hoping for a fast start to blow away the memory of the previous season's heartbreak (on the final day of the 2018/2019 season, Bedford had scored a last-minute winner against a 10-man Blues team, sealing their promotion and confining the Blues to another year in East Prem A). However, someone hadn't read my script. The Blues kicked off the season with a 10-1 loss at home to West Herts and went on to take just one win from their opening seven games. It looked like a surprise relegation scrap was on the cards. But just like Tyson Fury in the 12th round against Deontay Wilder, this was the beginning of a fairytale run to the promised land, although you'd never have guessed it at the time.
After a season-opening like this one, lesser coaches might have been tempted to tear up the playbook and revert to unimaginative, unadventurous, defensive hockey, cutting their losses and hoping for lucky results (see Sam Allardyce or the ex-chosen one, Jose Mourinho). But that isn't Charlie Bannister's (1975, CUCC) style. After a series of typically well-planned and targeted training sessions accompanied by the occasional "now, there is a reason for this" or "you'll make it work", things began to come together. It started with a gritty 2-2 battle in the Cambridge derby on the 2nd of November and, with belief in the process growing, the Blues went on a run of five straight wins to finish 2019, culminating in a decisive 4-3 win at West Herts, avenging the season opener as well a fairly gruesome injury dished out to our talismanic defender, Hantian Wang (Jesus, 2018) in the first half. 
All in all, since November 2nd 2019, the Men's Blues have lost just once in the league. Furthermore, three weeks before national lockdown 1.0 was announced last year they notched up a monumental 5-0 win in the 2020 Varsity March, the best result since the 7-2 thrashing of the Dark Blues in 1913 (just before the world turned upside down for a very different reason).
So there you have it, the 2019/20 season truly had it all, heartache, redemption, Varsity glory and now, due to the curtailment of this season, promotion. CUHC will once again be playing hockey in the National League, something that hasn't happened since 2007. It will be a stiff test, but, with Charlie at the helm, we can't go far wrong.
Play without fear and with freedom. Legs in the oven, head in the fridge. 
Ed Tyler (Sidney Sussex, CUHC President & '19-'20 Blues Captain)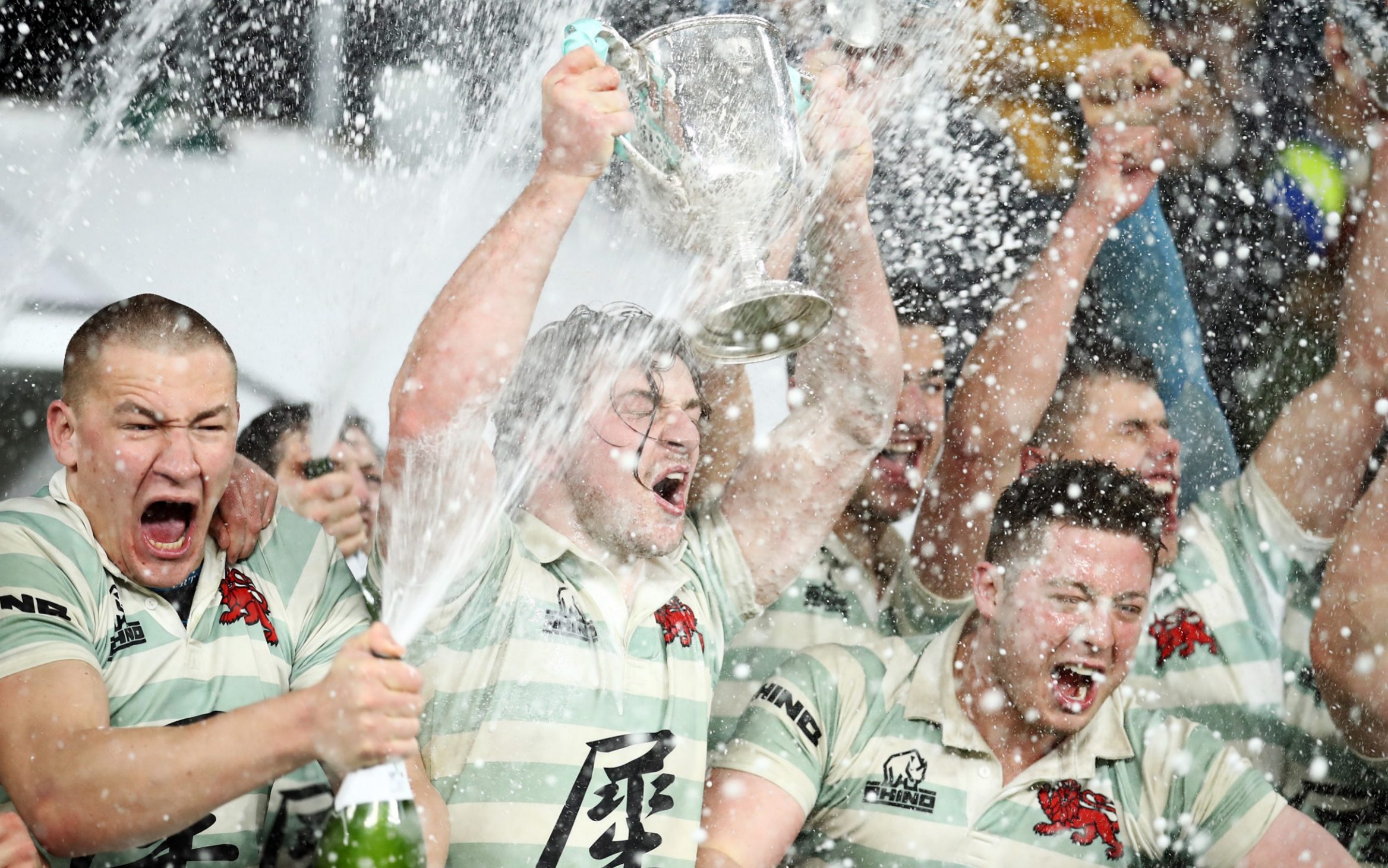 This year marks the 100th anniversary of the first men's Varsity Match played at Twickenham, which has sadly been unable to take place at the home of English rugby due to national lockdown restrictions.
Oxford and Cambridge University's four rugby captains, Fiona Kennedy and George Messum, and Elisha Clark and Stephen Leonard, are determined to avoid a second year without a Varsity Match, and have set a new date for the annual "Battle of the Blues" on Sunday 4th July 2021, to be held at the Mattioli Woods Welford Road Stadium in Leicester.
Stephen Leonard, who has been re-elected as CURUFC men's Blues captain for the second year in a row, tell us that:
"We, as a club, are unsurprisingly disappointed to not be able to play at Twickenham for the coming season as it is one of the greatest stadiums in the world. However, in the current climate, the move away from HQ was inevitable and we are absolutely delighted to have landed on Welford Road. Leicester is a rugby-crazed city and Welford Road provides another historic stadium for us to play the greatest amateur rugby match in the world. 
After over 12 months of preseason, which has consisted of an upsettingly large number of burpees in the back garden, the team is excited to get back into rugby training in the coming weeks. The preparation is drastically different to typical years, but I cannot overstate how impressed I have been with the level of sustained effort of players across the Blues and LXs squad. This work will undoubtedly serve us well in the coming months."
You can join the waitlist for tickets to the Varsity Matches here.

Prince Philip Tribute
It is with great sadness that we note the death of His Royal Highness The Prince Philip, Duke of Edinburgh, Honorary Hawk and an enthusiastic and talented polo player (handicap +5 goals).
As Chancellor of the University from 1976 to 2011, Prince Philip was heavily involved in Cambridge sport, through which he met many Hawks. As an Honorary member, the Prince would be sent loyal greetings from the Honorary Secretary of the London Dinner Committee on behalf of the Chairman on the occasion of the Club's Annual Dinner, to which the Prince would respond by giving thanks to the Club for the kind message and wishing members a most enjoyable evening at the Savoy. He also gave us the honour of opening the Clubhouse at 18 Portugal Place on the 30th of October 1992. The below picture shows then-President Jonathan Arscott gifting Prince Philip the Hawks' tie, with Lord Butterfield in the background.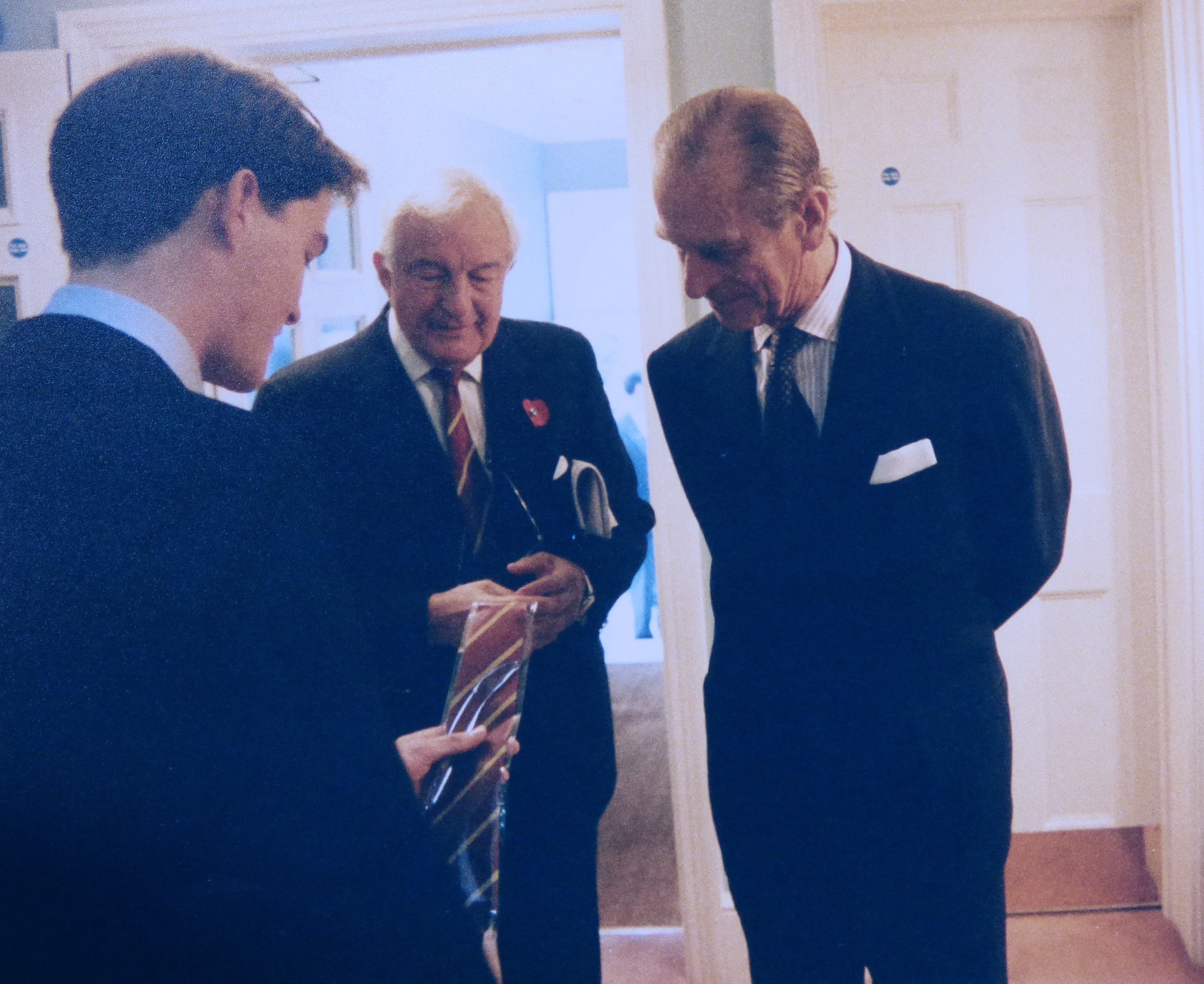 John Pritchard (Hawks' President '84-'85, Robinson, CUBC, 1983-86): "I met him a few times in the mid-'80s and he sent me a congrats telegram when we won the Boat Race in 1986 – the only win in 17 years. Interestingly, the address read "from HRH The Prince Philip, Windsor Castle, Windsor". I like the idea that I might have confused it with another Windsor castle…"
Jonathan Dickins (Corpus Christi, CURUFC, 1971-74): "I shook Prince Philip's hand at Twickenham before the 1972 Varsity Match and do not recall anything untoward, though I do vaguely recall being told not to get stuck into Her Majesty in the handshaking ritual… Some of the pack were ready to tear lumps out of the opposition and were a bit overwrought. A word of restraint was a good move… She very sensibly wore brown gloves; I wore no gloves at all; didn't even carry any."
More pictures of Prince Philip and his involvement with Hawks' and Cambridge sport can be found here. If you have any Cambridge sport or Hawk related stories of Prince Philip, please do email us!

Hawk's Re-opening
We are delighted to announce that as of Friday 16th April the Clubhouse is open for takeaway beverages each weekend – staggering distance from Jesus Green! The opening weekend was a roaring success and the residents drank the Clubhouse near dry. The Committee, Directors and Trustees are working hard to make sure that the Clubhouse is ready for the 17th of May when we will be open for table service.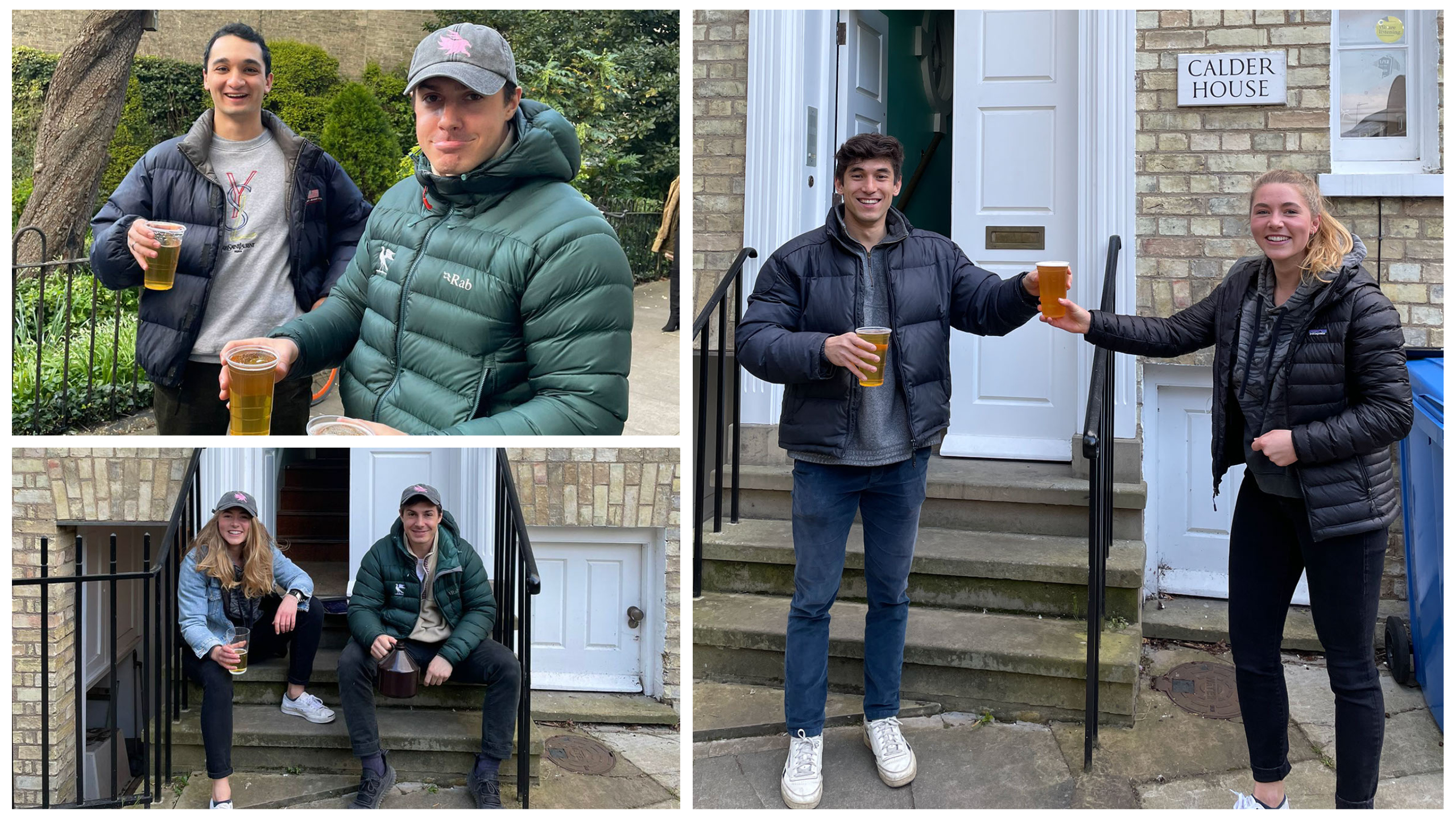 Top left: Matyas Molnar (Hawks' President, Fitzwilliam, CURLFC) serving happy customers some refreshing takeaway pints of Pilsner. Bottom left: Isabel Austin (Ospreys Committee, CUHC, CUSSC) and Matyas, both stalwarts of the Clubhouse, manning the fort. Right: The first customer of 2021, Kieran Gilmore (St Catharine's, CUHC), who has "been waiting for this moment for months!"

Life After Cindies – Vive la Révolution! 
"Tomorrow to fresh woods, and pastures new" concludes John Milton's Lycidas, a pastoral elegy written for Edward King, the poet's friend from his time at Cambridge who tragically drowned when his ship sank in the Irish Sea in August 1637. Following the closure of Cindies (if you'll excuse the allegory) – a nightclub with whom Hawks' had a promotional partnership for over a decade – there were many who doubted that we would ever reach 'fresh woods, and pastures new'. However, over the last two months, members from the Hawks' and Ospreys Committees have been working hard to fill this void and have secured a deal with Revolution, which will be the new venue for our Wednesday sports night. We are confident it will be a roaring success – both financially and in terms of lagers – and are excited for the first night in late June.
GDBO 
Tommy Bilclough (Nightclubs, Magdalene, CURUFC, CUGC)
In 'Where Are They Now?', we ask alumni to reminisce about their sporting achievements and their time in Hawks'. In the absence of any face to face events, we feel communications like these are vital to maintaining the connection between alumni, old friends and the Club. We hope you enjoy reading! Many thanks to all who have participated so far. To read their responses please click the links below:
Sebastian Cheli (Girton, CUAC, CUHC, 2014-18)
Simon Cooper (Jesus, CURUFC, 1986-89)
Oliver Melvill (Homerton, CUPC, CUCC, 2014-18)
James Skelton (Trinity, CUAFC, CUGC, CUCC, CUEFC, CUDC, 1986-89)
John Taylor (Sidney Sussex, CUGC, CURFC, 1984-89)
We would like to hear from more of you, so please submit your entry here by the 1st of July for a chance to win £50 of Hawks' merchandise!

Best Dressed Competition
We are delighted to be running the "Best Dressed" competition. Send your Best Dressed pictures to president@hawksclub.co.uk – the best submission by the 1st July 2021 will receive £50 of Hawks' merchandise! You can view the current entries here.
As an example (and a current contender for the grand prize!), we present the submission for a very smart Donald Steel (Hawks' President '59-60, Christ's, CUGC, CUCC, 1957-60) below.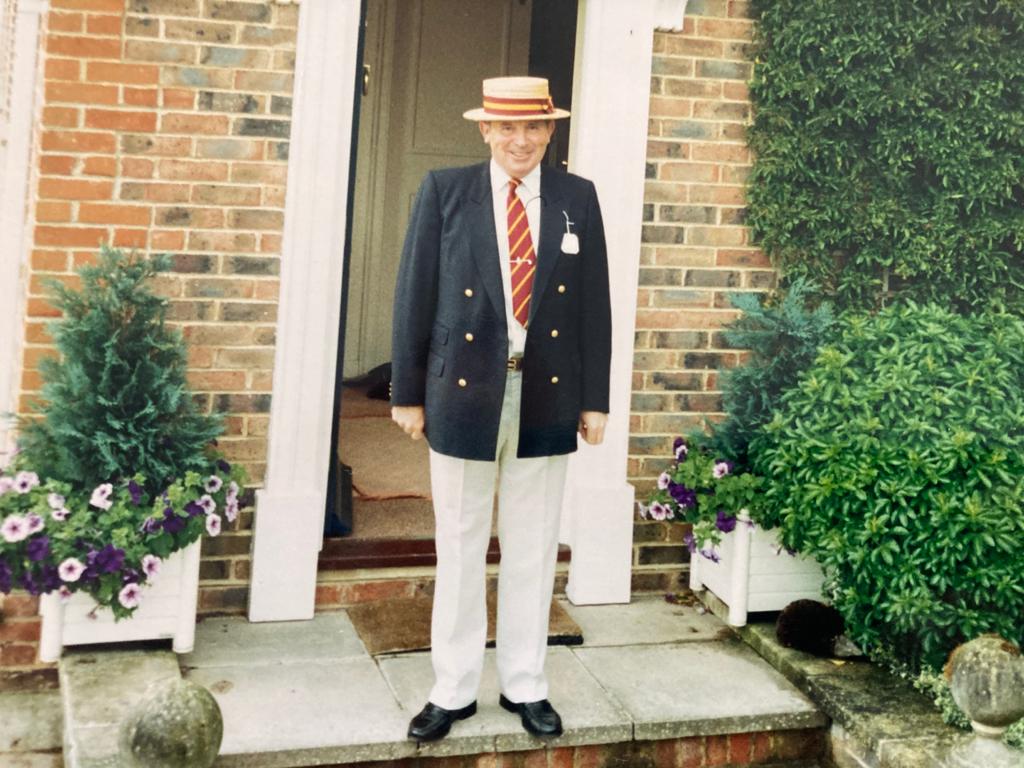 We are pleased to say that Holly Tasker (Gonville & Caius, CUWCC) and Jonathan Vibhishanan, this year's Hawks and Ospreys Access to Sport (HOATS) officers, are continuing to release their podcast, Hawk Talk. Hawk Talk aims to highlight the link between academic and sporting success, and to also improve the accessibility of the University by breaking down some of the stereotypes surrounding it. They have been interviewing current and past Cantabs about their experiences of sport at Cambridge, their different journeys, and how sport has fit in with and complemented their academic life. Since our last newsletter, Hawk Talk has released two new standard episodes:
Episode 10 welcomes Alastair Hignell (Higgy), of international rugby, county cricket, and broadcasting fame, who we showcased in our last newsletter. Higgy discusses his time at Cambridge, his professional sporting career, and his broadcasting career. He also very honestly discusses what it was like being diagnosed with MS, what it's been like to live with the condition, and the wealth of charity work that he's become involved in since then. This is one of our favourite episodes, so be sure to give it a listen when you get the chance.
Episode 11 welcomes multi-Blue athlete and professional musician, Joy Lisney. Joy discusses her experience in multiple Blues sports, ranging from lacrosse and cricket to cycling and athletics, including what transferable skills can be found, and how Blues squads can learn lessons from each other's sports in terms of their training. She also discusses the multitude of transferable skills that can be found between pursuing music and sport.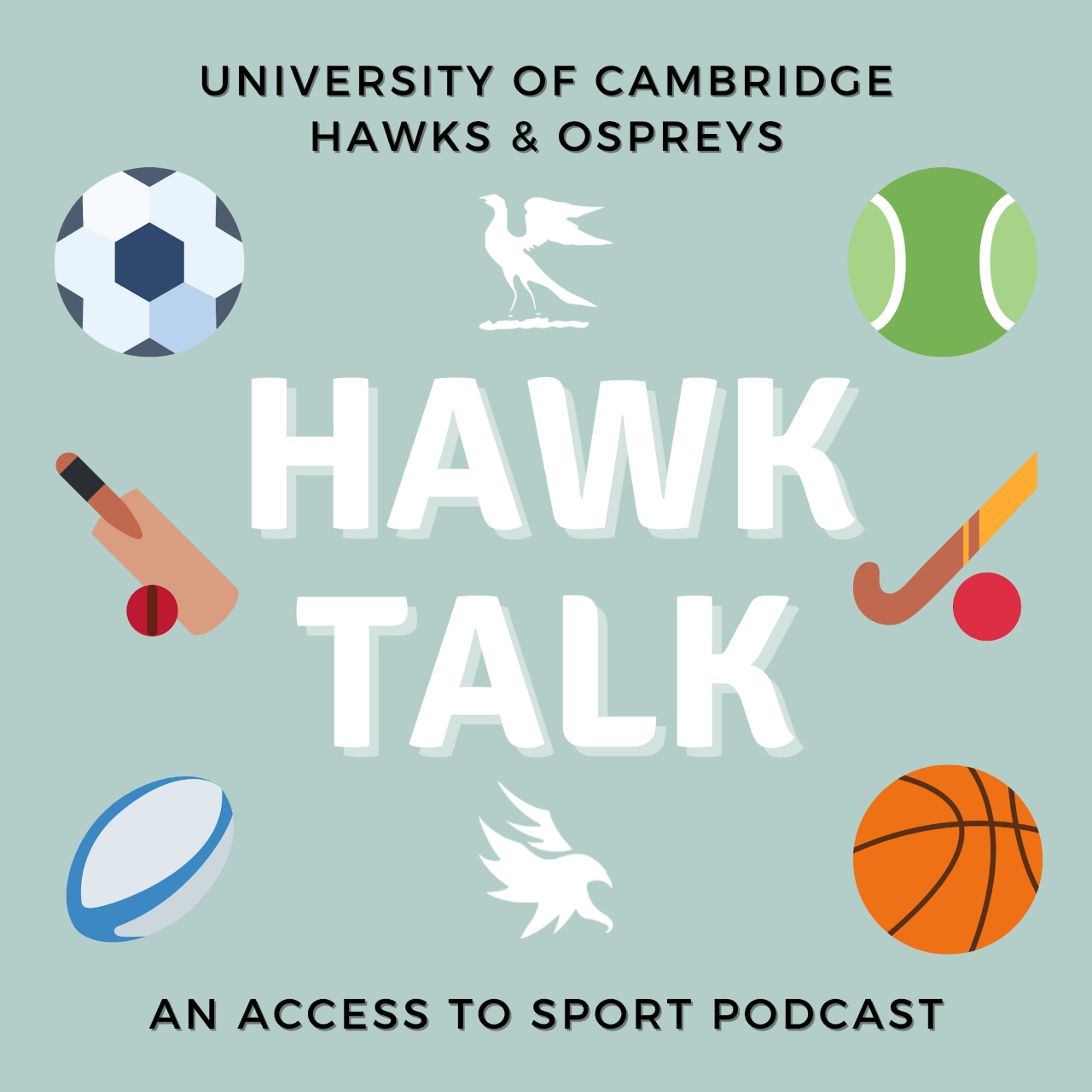 Hawk Talk is available on both Apple Podcasts and Spotify, as well as any other podcast platforms that you might prefer. Be sure to give the channel a follow so you do not miss out on future episodes. If you would like to share your sporting story, please don't hesitate to get in touch with Jonathan at jsv25@cam.ac.uk!
Jonathan Vibhishanan (HOATS Officer, Pembroke, CUBC)
The Easter term sees the return of live sport to Cambridge as lockdown restrictions continue to ease. This means The Blue Bird finally has some action to report on. It all kicked off on Easter weekend with the CUCC Men's Blues in action. Skipper Nick Taylor and his squad started with a victory over local club Burwell, and have since continued on a regular schedule of fixtures – a win over Essex 2nd XI the highlight so far. 
The Boat Races presented a unique opportunity for our coverage since we were not given accreditation to go to Ely, instead reporting off the TV. Head of University Reporting Charlotte Cutter and Head of Social Media Jonathan Andrews experimented with our content, offering build-up, predictions and reactions on Instagram Live, with live commentary of the races on Twitter. The traditional post-race report was also written and went up on our website. In the weeks leading up to the races, we conducted video interviews for IGTV, racking up thousands of views. The success of our coverage and the reaction from our audience gives us strong hope that we can continue to use and expand this format and use it as a template for other sports going forward. Of course, it was a pleasure reporting on two light blue victories. 
Speaking of, we expect it to be a busy term of Varsities, given how most have had to be postponed for obvious reasons. The rugby union Varsity Matches have been rearranged for early July at Welford Road, home of the Leicester Tigers. We very much plan on being there to report, while arrangements are also being looked at to cover live hockey, cricket, football, rugby league and countless others when their fixtures against the other place come around. 
Alongside our live sport action, the new podcast started last term, The Lion's Den, has continued with success. After Mike Atherton came on The Lion's Den as a guest, we have added Alistair Brownlee, Cath Bishop and Phylis Agbo to that list, amongst others, while we were also delighted to be asked by the Union to present their live panel event featuring James Cracknell, Flip Van der Merwe and James Horwill. 
We, like many, have had to be creative with what we put together for our audience during the pandemic, but now we finally have Cambridge sport to be able to report on. All of us at The Blue Bird are beyond excited to finally do our jobs as live sports reporters, and we hope you will all join us for all the light blue sport you need. As ever, find us on Facebook, Twitter and Instagram to keep up to date with all we do.
Nathan Johns (Blue Bird Editor, Homerton, CUCC)

The Hawks' Event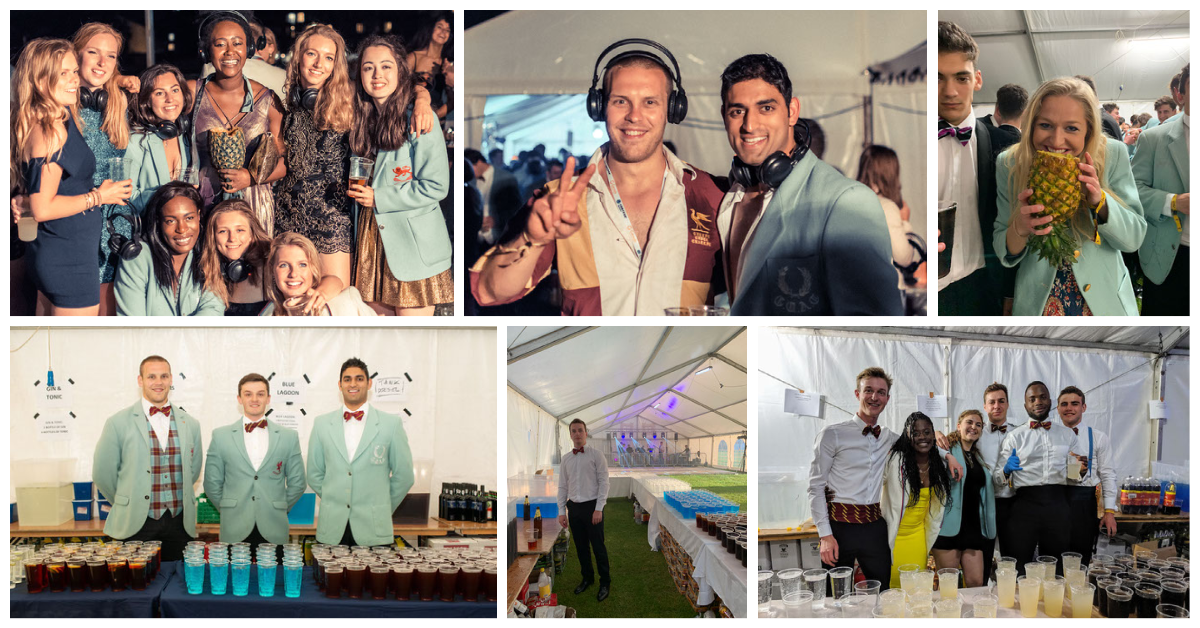 On February 22nd 2020+1, Boris Johnson stood in front of MPs and outlined his plans for the unlocking of England. Many will have noticed a perfectly timed roadmap, begging for a June Event. We do not believe this to be a coincidence. Therefore, on the 26th of June, we are bringing back the timeless combination of food, inflatables, bottomless drinks and banging tunes for the Hawks' Event 2020+1.
If this sounds like the dream, look out for ticket updates in the coming months, as we gain a better understanding of the ease of lockdown restrictions. Sadly, any further set back in the government roadmap will see the Event postponed until next academic year.
Ever yours with a Toma on order,
The 2020-21 Hawks' Committee

Upcoming Varsity Fixtures
You can keep track of upcoming Varsity fixtures on our website here: https://www.hawksclub.co.uk/varsity-fixtures/. We note that many of these dates are provisional, and are subject to sporting regulations. This is by no means a comprehensive list, with every other sport also working hard to get some form of Varsity fixture played; we are working with the Sports Service to update this list in the coming weeks.

Merchandise Update
Last month's alumni merchandise order was hugely successful, with over 150 orders placed! We aim to fulfil most orders by mid-May. We, unfortunately, have delays in the larger sizes of the Glenbrae sweater and Rhino sportswear; we will keep you updated about these. The webshop will reopen in the autumn for the next round of orders.
Look good, be proud, GDBO.

Contact Us and Picture Submissions
We know this was mentioned in the previous newsletter too, but we would love to hear from you regarding anything Hawks' Club related! In particular, we are looking for photos of Hawks, both social and sporting, and it would be great to have as wide a range as possible. We will endeavour to get some up in the Clubhouse as well as on our redeveloped website – get in touch at president@hawksclub.co.uk if you have any worthy snaps!
We also very much welcome anything about sporting or social activities of past Hawks – for example, anecdotes or brief thoughts on current affairs, or how we could improve the newsletter. We're very keen to get content in here that you as Hawks alumni want to read about! Do get in touch either at president@hawksclub.co.uk or secretary@hawksclub.co.uk.
Finally, do follow our social media accounts on Instagram, Facebook, Twitter and LinkedIn to rapidly and easily keep up to date with all the latest Hawks' Club activities.
A reminder to keep your details up to date on the website (your username should be <SURNAME><INITIALS> e.g. MOLNARMD for Matyas David Molnar – send an email to secretary@hawksclub.co.uk if you have forgotten your username).
If you enjoyed this newsletter, you can also read the previous newsletter here.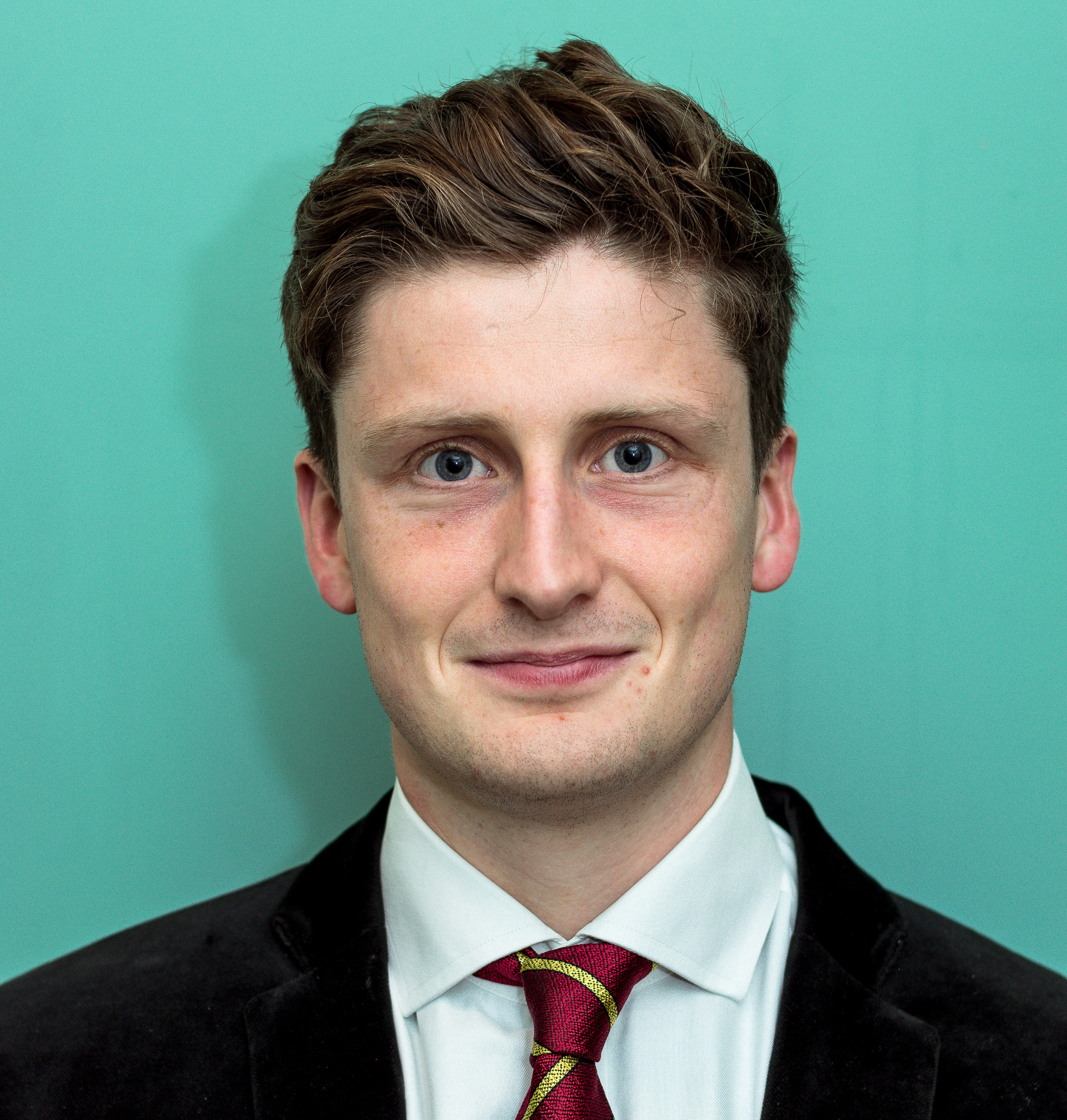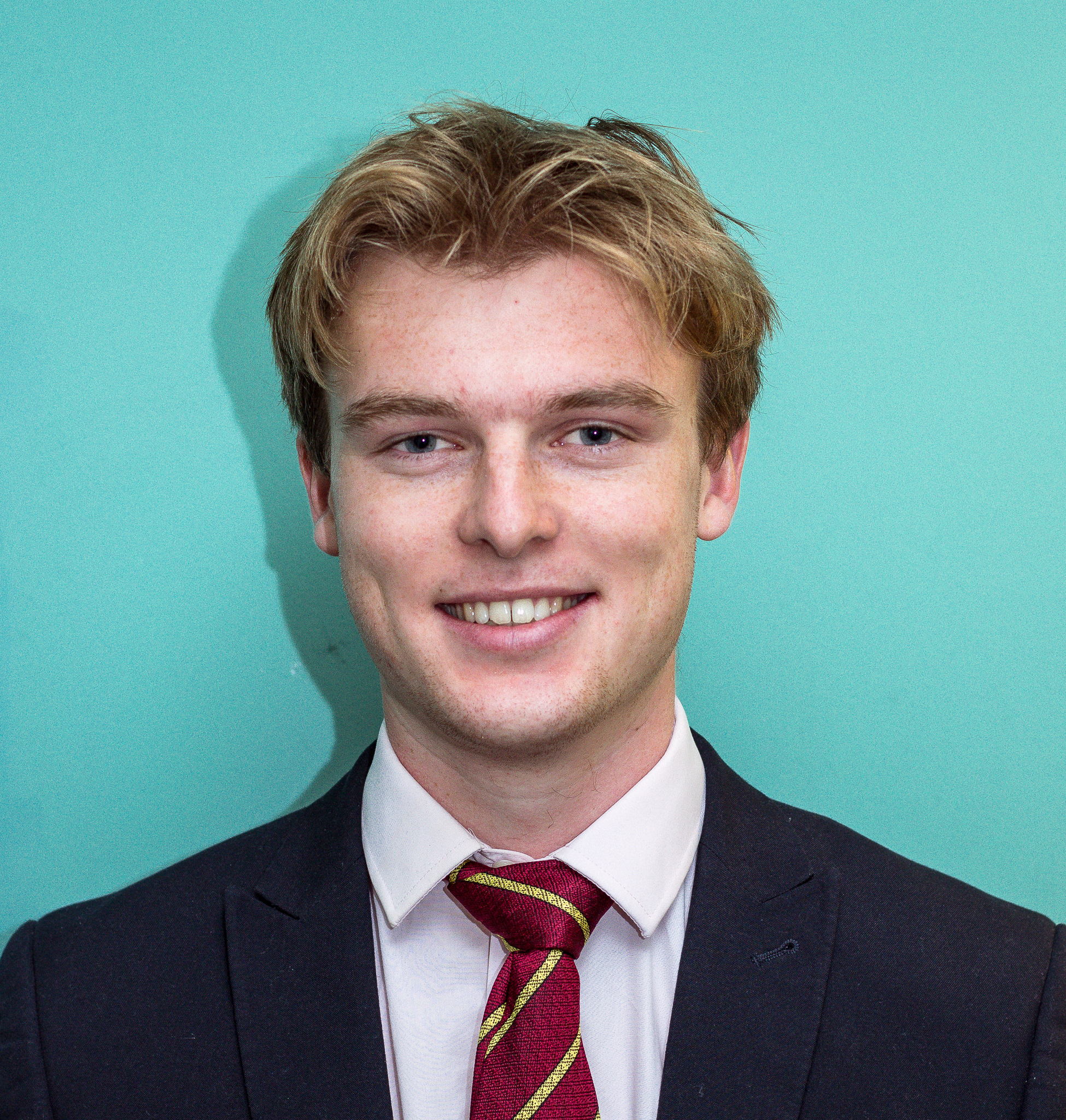 Newsletter compiled and edited by:
Johnny Staunton Sykes (Vice-President, Jesus, CUHC, CUPC)
&
Alex Moen (Communications Officer, Magdalene, CUCC, CURC, CUHC).