View from the Clubhouse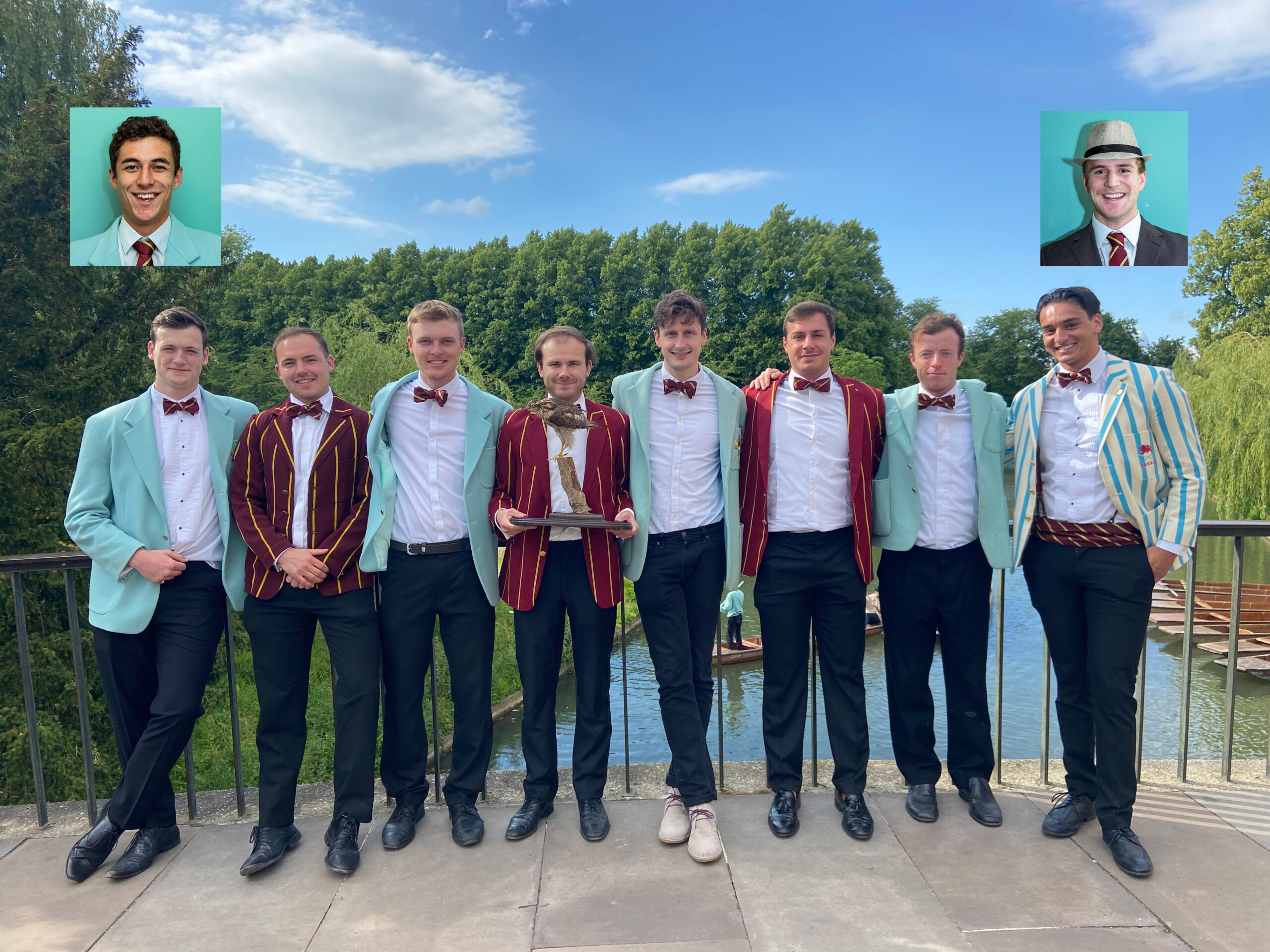 The 2020-21 Hawks' Club Committee: [left to right] Sean Gilmore (Honorary Secretary), Joey Gatus (Treasurer), Tommy Bilclough (Nightclubs), Alex Moen (Communications), Niels van Fraassen (Merchandise), Johnny Staunton Sykes (Vice President), Matyas Molnar (President), Ed Hyde (Trading), Jon Vibhishanan (HOATS), Will Scrivens (Hawks' Event). More information about them can be found
here
.

The Hawks' Committee 2020-21 would like to thank you, both resident and alumni Hawks, for your patience and support this year. It's been a difficult period for everyone and we look forward to the opportunities of next year, with some normality restored. 
We'd like to take this opportunity to thank Matyas (President), James Skelton and the rest of the Trustees and Directors for their tireless efforts and constant guidance, which have enabled the Club to successfully roll with the punches this year. Furthermore, we are extremely thankful to those who have read and contributed to this newsletter. These newsletters would not have worked without your enthusiastic engagement and the numerous positive emails we have received in response have made this project a pleasure to be involved in.
We are also delighted to introduce the 2021-22 Committee as follows:
President: Ed Hyde (Jesus, CUCC, CUSRC, CURC, CURTC, CURFC)
Treasurer: Elliott Stockdale (Queens', CURLFC)
Honorary Secretary: Luke Andrews (Gonville and Caius, CUBC, CULRC)
Vice President: Alex Moen (Magdalene, CUCC, CUHC, CURC)
Hawks' Event: Tom Walton (St John's, CURUFC)
Nightclubs: Ben Jackson (Sidney Sussex, CURUFC)
Merchandise: Calum Mackenzie (Emmanuel, CUGC)
Trading: Nick Sweeney (Jesus, CUAFC)
HOATS: Ed Tyler (Sidney Sussex, CUHC)
Communications: Jeremy Dempsey (Girton, CUAC)


Save the Date – London Savoy Dinner
The Hawks' Annual Dinner at the Savoy will be taking place on Wednesday 8th December 2021. Please save the date – we look forward to seeing as many of you there as possible! More communications to follow in September.


Donations
We would like to express our sincere gratitude to all those who have made one-off or annual donations to the Club; your continued support is very much appreciated. If you haven't got round to it yet, we are still a little shy of our target. More information and instructions on how to donate can be found here.
Hawks' Committee 2020-21 signing off. It's been class.
GDBO


Tokyo Olympics
Congratulations to those from Cambridge who participated in the delayed Tokyo 2020 Olympics, including:
Imogen Grant – Great Britain, Rowing
Imogen noviced whilst in her first year at Trinity and later went on to row in both the winning LWT boat and Blondie in 2016, before moving into the Blue Boat in 2017 and 2018 where she was successful in both years. In 2018, Imogen rowed as part of the GB U23 LW1x which dominated the World Championship and went on to win bronze in the LW2x as part of the GB senior team in 2019, qualifying her boat for the Tokyo Olympics in the process. Imogen Grant and her partner Emily Craig were denied an Olympic medal by 0.01 seconds in an epic double skulls final, which you can read about here. Imogen is currently intermitting and will return to complete her medical degree after competition at Tokyo.
Dara Alizadeh – Bermuda, Rowing
In 2017, Dara left Winchester where he had been an economics teacher and rowing coach, to study for a degree in education. During his time at Cambridge, Dara has rowed in the winning 2018 and 2019 Boat Race crews and was CUBC President in 2019. Dara qualified to represent Bermuda at the Tokyo Olympics at the South American Olympic Qualification Regatta. CUBC Men's Chief Coach Rob Baker will be travelling to Tokyo as Dara's coach.
Henry Fieldman – GB, Rowing
Henry graduated with an MPhil in Education from Homerton in 2013. During his time at Cambridge, he coxed the Men's Blue Boat and later moved to the GB rowing team as a full-time athlete. Since graduating he has worked with the Cambridge's Boat Race coxes passing on his extensive knowledge of the Tideway. Henry has coxed medal-winning boats for GB at every world championship since 2013. Henry appears on the Lion's Den podcast here, fresh off of winning a bronze medal in the Men's 8 at Tokyo!
Olivia Coffee – USA, Rowing
Olivia completed her MBA in 2018 whilst continuing to row on the USA team and was world champion in the W8+ in 2018 and 3rd place in the W8+ in 2019. After her graduation from Harvard in 2011, Olivia has worked as a consultant with OneEquity Partners, a capital management firm owned by CUBC alumnus Dick Cashin. 
Ida Gortz Jacobsen – Denmark, Rowing
Ida earned a distinction in her European and Latin American Comparative Literature MPhil in 2019 just a few months after rowing in the winning 2019 Women's Boat Race. Ida qualified with the W4- Danish boat at the 2019 World Championships and has also started an MSc in Security and Risk Management at the University of Copenhagen.
De Renae Domaschenz – Australia, Rowing at the Paralympics
De Renae completed a PhD at Cambridge University in molecular oncology before taking up a Research Fellow position in the Department of Genomes Sciences of the Australian National University. During her time at Cambridge, she coxed in the Boat Race and has been selected as coxswain of the Australian Mixed Coxed Four at the Paralympics. 
Husein Alireza – Saudi Arabia, Rowing
Husein Alireza picked up rowing for the first time in 2016 during his degree at Hughes Hall and has been selected to represent Saudi Arabia. 
Louise Shanahan – Ireland, 800m
Louise is currently studying for a PhD in Physics and is one of the students on the University of Cambridge Athlete Performance Programme (UCAPP). Lousie was granted an elite athlete exemption to train throughout the lockdown periods with strict COVID-secure protocols in place. The Blue Bird article about Louise's Olympic selection can be found here. She also features on the Lion's Den podcast here.
Anna Kiesenhofer – Austria, Women's Cycling
Anna was awarded a Masters in maths in 2012 and competed for both the Cambridge University Cycling Club and Cambridge University Triathlon Club, winning a BUCS medal in the time trial. Anna went on to become the Austrian Time Trial Champion in 2019 and 2020, as well as Road Race Champion in 2019.
What a pleasure it was to be able to follow the successes of Cambridge students, both past and present! More information on the Cambridge students who went to the Olympics can be found on the Cambridge University Sport website here.
Varsity Results Summary
Massive congratulations once again to all who donned the light blue amid the difficult conditions this year. Sadly not many events were allowed spectators and so the usual support for many events was certainly diminished. As such, we have made a concerted effort to include some selected Varsity Match reports and the results of all other known varsities in our newsletters. This newsletter contains reports for rugby union, athletics, golf and rackets.
The list below contains only those Varsity results that have not been reported either as match reports or in tabular form in previous newsletters. This list is therefore not exhaustive – a full list of Varsity fixtures and results for the 2020-21 academic year can be found on the Cambridge Sport website here. Alternatively, you can view the reports contained in our last newsletter again here. Do also get in touch if we have missed any sports!
Sport

Date
Location
Result

American Football

26/06/21

Tilsley Park

Oxford 36 – 0

Athletics – Men

04/07/21

Lee Valley

Cambridge 123 – 85

Athletics – Women

04/07/21

Lee Valley

Cambridge 107.5 – 95.5

Baseball

19/06/21

Horspath

Oxford 20 – 0

Croquet

28/06/21

Hurlingham Club

Oxford 7 – 2

Gliding

22-24/06/21

Gransden Lodge Airfield

Cambridge 333 – 279

Golf – Blues

Stymies

06-07/07/21

14/07/21

Aldeburgh GC, Suffolk

Thorpeness GC, Suffolk

Draw 7.5 – 7.5

Oxford 10.5 – 4.5

Ice Hockey

26/06/21

Oxford Ice Rink

Cambridge 3 – 3 (2-1 on penalties)

Lawn Tennis – Men

26-27/06/21

Moor Park Golf Club

Oxford 11 – 10

Lawn Tennis – Women

26-27/06/21

Moor Park Golf Club

Cambridge 17 – 4

Rackets

14/07/21

Queen's Club

Cambridge 4 – 2

Real Tennis – Men

03/07/21

Lord's Cricket Ground

Oxford 4 – 3

Real Tennis – Women

03/07/21

Lord's Cricket Ground

Oxford 6 – 0

Rugby Union – Men

04/07/21

Welford Road

Oxford 34 – 7

Rugby Union – Women

04/07/21

Welford Road

Cambridge 10 – 5 

Swimming (Channel Relay)

24-28/06/21

The Channel (Dover to France)

Oxford 9hrs 13mins – 9hrs 58mins

Ultimate – Men

26/06/21

Cambridge

Cambridge 10 – 5

Ultimate – Women

26/06/21

Cambridge

Cambridge 11 – 1

Ultimate – Mixed

26/06/21

Cambridge

Cambridge 12 – 2


Hawk & Team of the Year 2020-21
Congratulations to Robert Harris (Pembroke, CUBC) and Cambridge University Rugby League Football Club who are the 2020-21 Hawk and Team of the Year!
Rob has been an exceptional leader and brilliant athlete throughout his entire four years at Cambridge. Few others match up to his sporting prowess and friendly personality, according to his CUBC teammates. He is particularly worthy of his HOTY award due to his exemplary leadership of the victorious Goldie crew of 2021 (his second time as a winning Goldie captain and his third as a winning Goldie), which "absolutely dominated" Isis to win by six lengths, despite only being allowed on the water four weeks beforehand!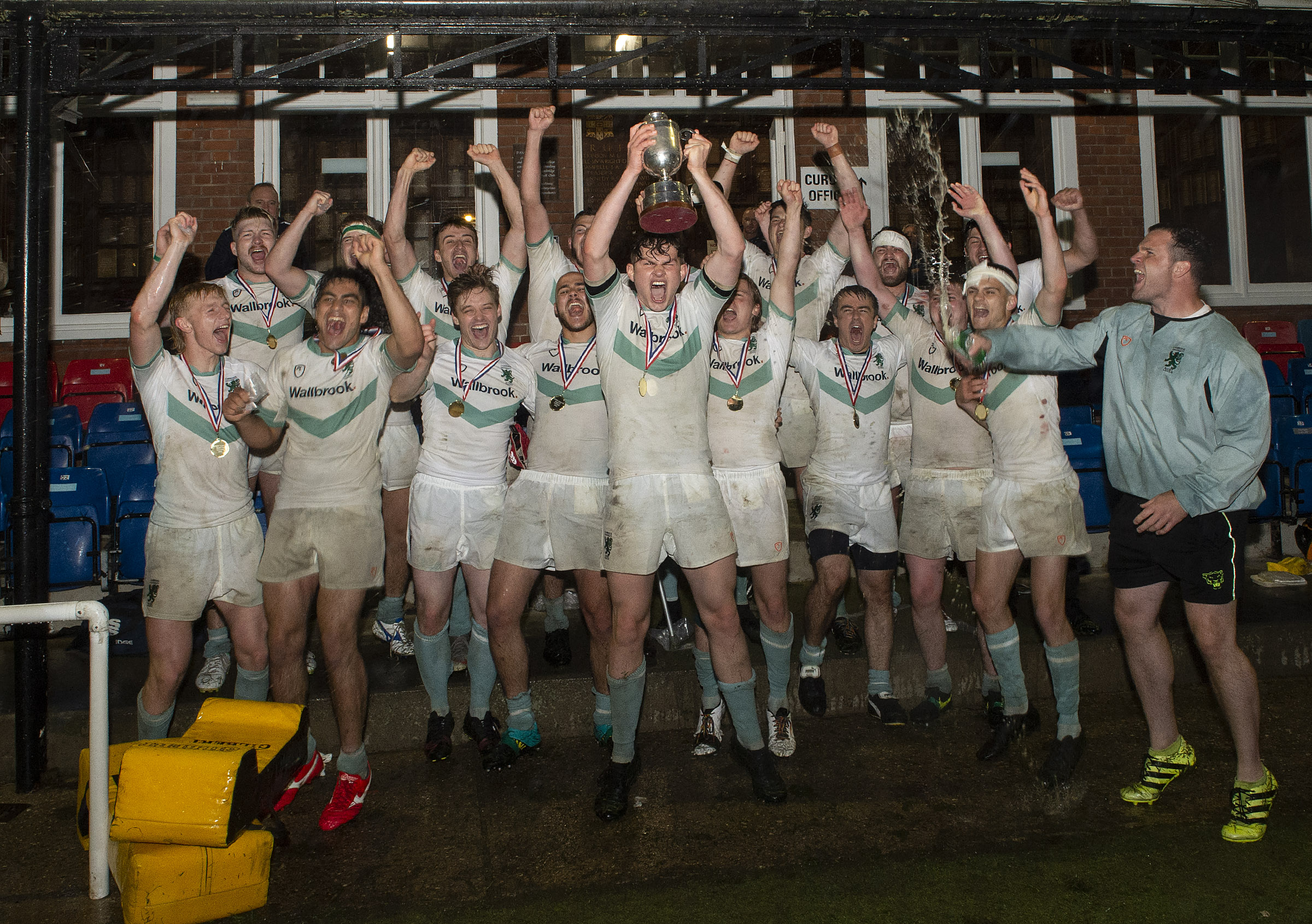 Captain Max Holcroft (St John's) reclaims the RL Varsity Match trophy.

After 12 years of Varsity heartache (many featuring humiliating scorelines), CURLFC overcame the odds this year and ended their barren run at Varsity. On Friday 18th June, they finally defeated the other place 14-8 at Grange Road in one of the most thrilling Varsities of the year. Don't keep us waiting that long again, boys!
May the winners have their name / Club eternally engraved on the illustrious H&TOTY board in the James H Van Alen room of the Clubhouse. The full nominations for the winners can be found here.


Honours Even as Cambridge Win Women's But Lose Men's Rugby Union Varsity Matches
In the first Varsity Matches to be played away from Twickenham Stadium since the Second World War, Cambridge took on O*ford at the Mattioli Woods Welford Road in Leicester with the usual preparations and fanfare distinctly interrupted by the pandemic.
Cambridge were victorious 10-5 in the women's game after coming from behind to control the second half, but O*ford avenged their 2019 defeat in the 139th Men's Varsity Rugby match, overpowering their Cambridge opponents to secure a comfortable 34-7 victory despite a very early try from Cambridge's Joey Gatus (Corpus Christi; pictured below) and having to play much of the second half down to 14 men.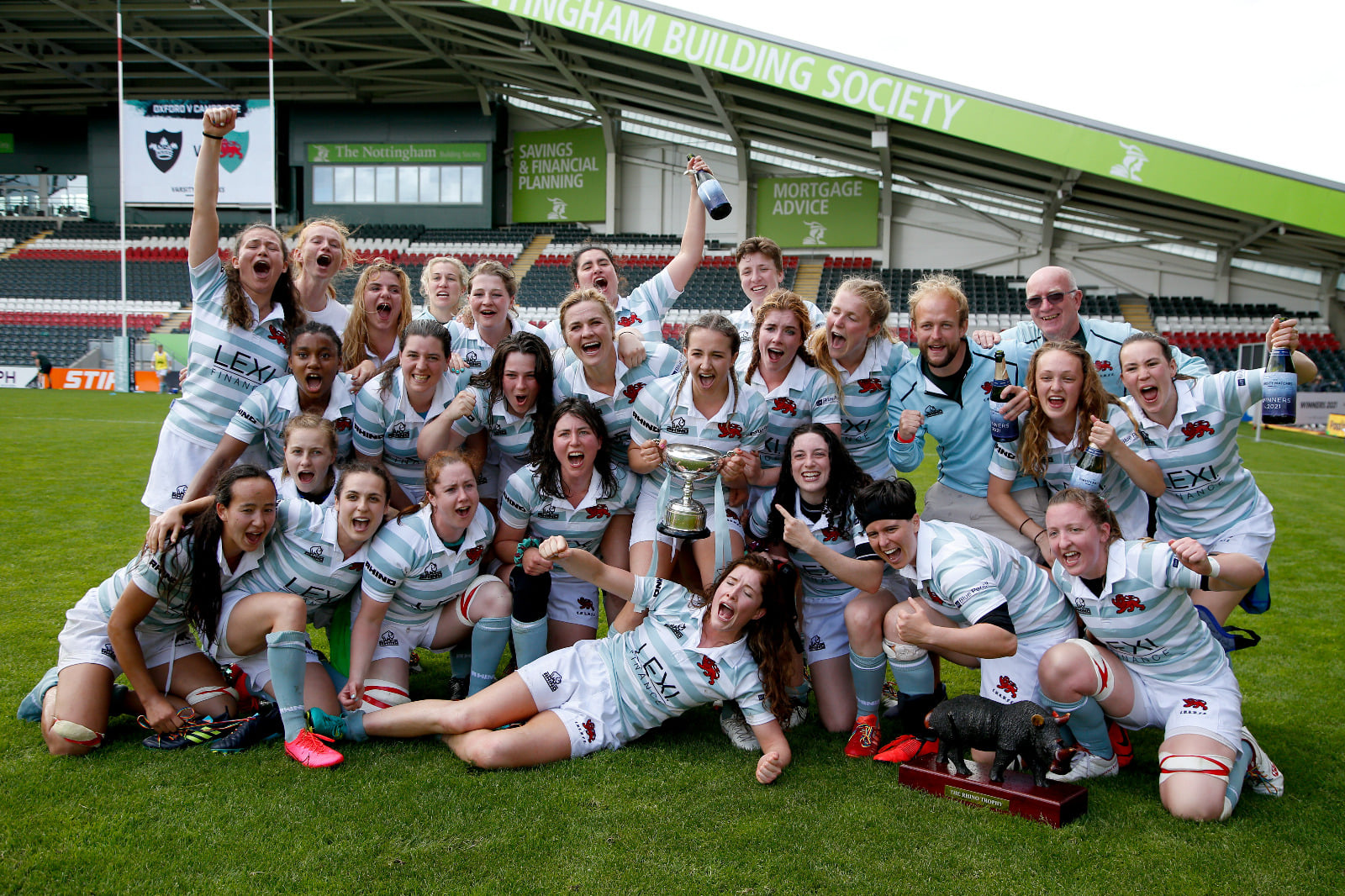 Cambridge celebrate their fourth consecutive Varsity win.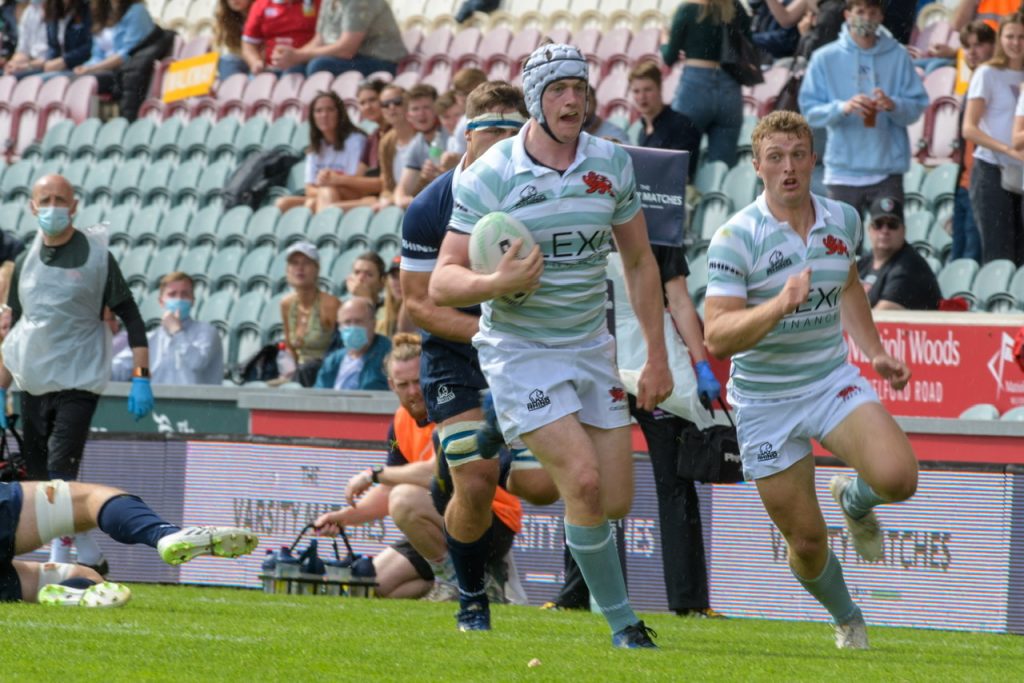 Joey Gatus (Corpus Christi), supported by Fergus Jemphrey (Homerton), sprints in for Cambridge's early opener.

You can read the full match reports here (women's) and here (men's), courtesy of the Blue Bird.


70th Stymies vs Divots Varsity at Thorpeness GC
The Stymies arrived in Thorpeness, two miles down the road from Aldeburgh where the Blues had secured a 7.5 / 7.5 tie against O*ford the previous week, and immediately settled in at the bar, ordering lagers and lamenting Southgate's penalty tactics from the night before. On the opposite side of the room were our opponents: ten Divots sipping on tap water and nursing bowls of vegetable soup. Halfway through our lunchtime game of 'I Can Drink The Beer', we suspected that we were better blokes than them. Having established this crucial detail, we made our way to the first tee.
'Keep it on the short stuff' read the course motto on a bench next to the tee box, and we quickly learned why. The combination of wind (around 15mph) and thick rough was punishing: a long iron (or Grandpa John's Big Bertha 5 wood) was the play off the tee. Sam Davies had lost 12 fluorescent orange Callaways by the fourth hole (which was a blessing for his playing partner), and we were all hacking around in the fescue at some point during the day. It began to rain late on in the round, just as the Divots were heading out onto the back nine, and we walked back to our wonderful house in the village (cheers GWal) with smiles on our faces in the knowledge that the lads in dark blue had a 40-minute bus ride back to Ipswich. William Hotham, our resident left-handed Yorkshireman, fired up the BBQ and George Crawley provided absolutely no help whatsoever (silly fresh). Over a few more beers, we had a team meeting to discuss our work ons from the practice round: skipper Ed Kneale had learned that smoking 2 cigarettes per hole was probably not sustainable; Elliot Barker had learned that his miss in the Suffolk wind had doubled from 2 yards to 4, Roly McFall had learned that he could juggle an investment banking internship and Stymies Varsity by only playing three holes, Roberts had not learned how that train ran. We put these into practice on the second day, before a pub meal at the Dolphin Inn and shirt presentation which consisted of Ollie Worrall showing us his 1 million foot putt at Aldeburgh on repeat to the sound of Lose Yourself by Eminem, and we rocked up at 8 am the next morning fired up for the foursomes.
Bilclough and Kneale share a well-earned wigman on the 18th under the supervision of caddie Moen after a not particularly hard-fought 36 holes.

First out were Barker and Crawley: "A par on the 1st, with Barker having striped his drive down the middle in front of both teams and their various supporters, was the highlight of the front nine. The Cambridge pair's usual consistency was compromised by a succession of chunked irons from Crawley, leaving a lot of ground to make up against a strong Divots duo at the turn. A spirited comeback was initiated following a holed 25ft par putt for a half on the 10th, though, with the two Stymies clawing the match back to 2dn thru 16. However, a gritty performance on the back nine was ultimately in vain, as a wayward tee shot on the 16th saw the match end 3&2." 
Kneale and Wallace: "A scintillating up and down tussle from Wallace and Kneale lead them to 2-down with 2 to play. Life support was kept on with a 40-yard chip-in from Wallace on 17 and a stiff bunker shot from Kneale on 18, only for Wallace to miss a clutch left-to-right putt (sitter) necessary to halve the match." 
Roberts and Hotham: "Highlights would be winning a chipping competition on the 3rd hole after O*ford had conceded the hole. Lovely camaraderie. O*ford managed to sink some great putts and we were unlucky with some narrow misses. Overall, the match was a very tough arc, with very few holes halved, and we finished 4&2 down." 
Taunton and McFall: "A tough but enjoyable match for star partnership Roland and me against two single-handicappers who played well together and won it on the 16th green. Highlights included a well-fought par for us on the difficult fourth, a ruling from the bushes off the 12th green, and a classy bump 'n' run with a driver off the deck from Roland on the 15th to help eke out the match a hole further."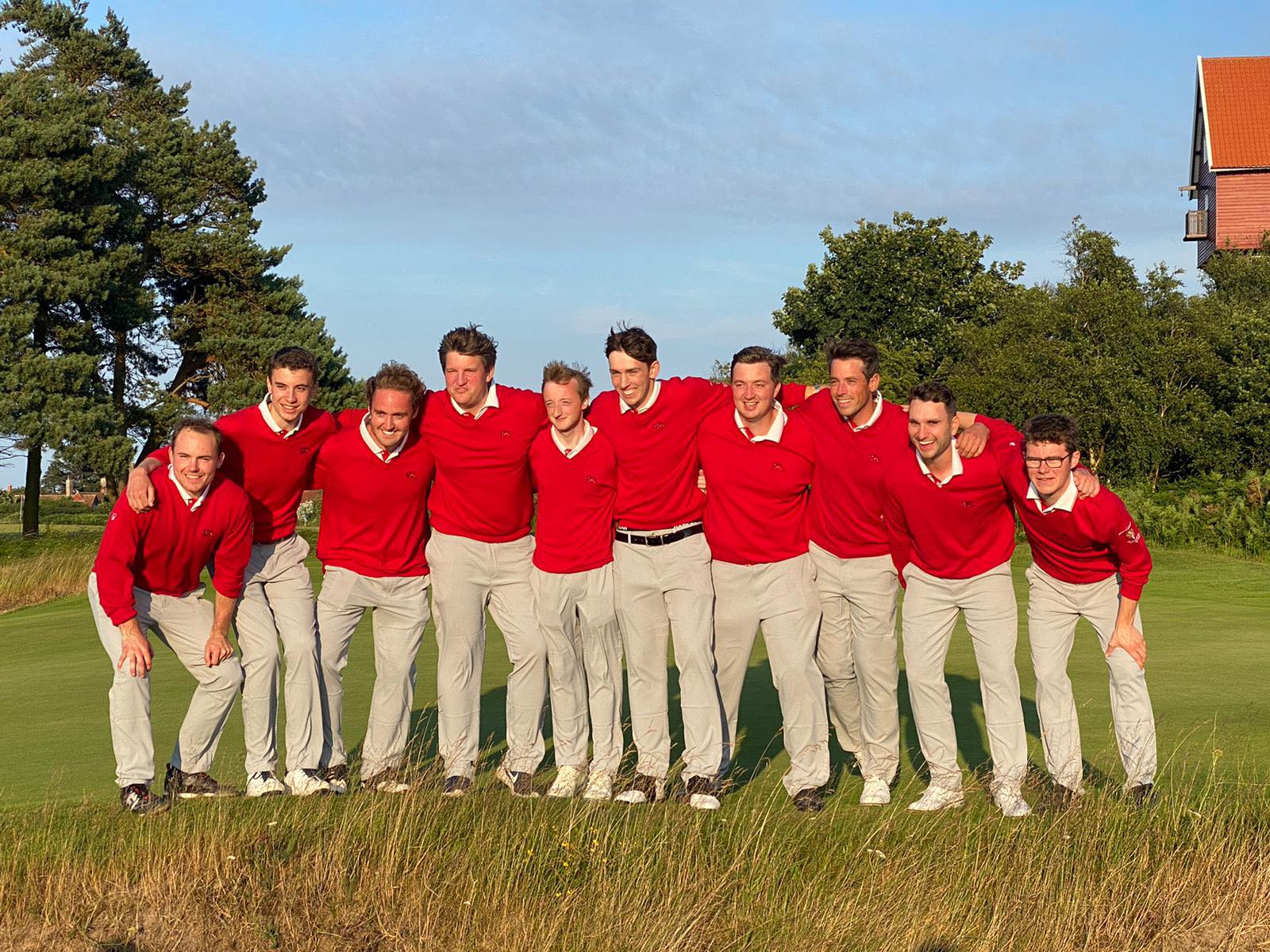 The Stymies certainly won on the fashion and drinking, if not golfing, fronts.

Davies and Bilclough: Sam and I knew after three holes that our match was going to go the distance. After halving the first 6 holes, we had our first opportunity on the 7th: a short par 3 over the course's only water feature. Having watched the Divots Captain slice one into the greenside bunker, yours truly stuck it to five feet for our first W of the day. We built on this momentum and were 3 up by the 11th. Two shaky holes (lost balls, swearing, cigarettes to calm the nerves) and we were only 1 up on the 16th. After some miraculous putting, we went into the 17th 2 up, and they conceded when Davies stiffed it from 100 yards. Having played some of the golf of our careers, Sam and I walked into the clubhouse for sandwiches and pints and learned that we were 4-1 down going into the singles. 
Although we were on the back foot, Kneale and Barker went out with an angry look in their eyes and a thirst for dingo dollars. Both lads won their singles 6&5, leaving the Divots captain with a victory but no points on the scoreboard. Nothing separated Roberts from a man called Giles as they were A/S after 18, whilst a couple of matches in the middle (Crawley and Hotham) were narrow losses. Having missed a sitter in the morning, Guy had exactly the same putt in the afternoon to win his match 1 up. Having been 3 up after 9, I let my opponent back into the game and sliced one into the woods in front of all the blues on the 17th and lost 1 down on the last (still keeps me awake at night). Taunton also took his opponent all the way to the last green where the famous Thorpeness hut on stilts towers over the signature hole, losing 1 down. There were a few matches that could have gone either way (some that definitely couldn't have gone either way: Roly and Davies losing on the 13th).
My dad said we looked like a Val Doonican appreciation society in our red jumpers and so we got changed into black tie for the dinner. It was a wonderful evening where we made up for the loss on the course by beating them in the bar. We shared some (drunken, but heartfelt) words on the balcony of the hotel about what the Stymies had meant to us in this very strange year (someone did an hour-long speech which nearly sent everyone to sleep). As I was sat on Aldeburgh beach the next morning, drinking coffee and dreading the 8-hour drive back to Northumberland in a VW Crafter (great van for transportation purposes and chat up lines, not great for small sea-side towns in Suffolk), I thought about what an unforgettable few days it had been with a wonderful group of lads. Special thanks must go to Alex Moen and all the other caddies, and to Alan Shearer for scoring 206 for the Toon. 
UP THE STYMIES.
Tommy Bilclough (Nightclubs, Magdalene, CURUFC, CUGC)


Tennis
Despite tricky on-court conditions, the Women's Blues lifted this year's Varsity trophy with an incredible 17-4 victory sparked by a quick and convincing 6-0 6-1 win from captain Anna Chesca. Unfortunately, it was a tough loss for the Men's Blues as they were edged out by the dark blues 11-10 in a nail-biting finish. You can read the full match report here thanks to CULTC.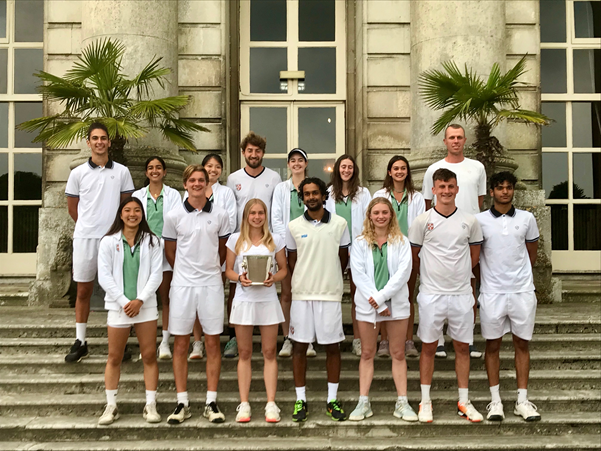 The 2020-21 CULTC Blues, captained by Anna Chesca (Murray Edwards) & Salil Navapurkar (Robinson).


Cambridge Triumph in Athletics Varsity at Lee Valley Despite Varsity Match Doubt
The tide turned at Lee Valley Athletics Track on July 4th. It marked the end of the hiatus in Varsity competitions between both clubs. It marked the end of a challenging year for many who had to train alone throughout so much of it. Most importantly, it marked the end of O*ford's Varsity winning streak in a glorious fashion.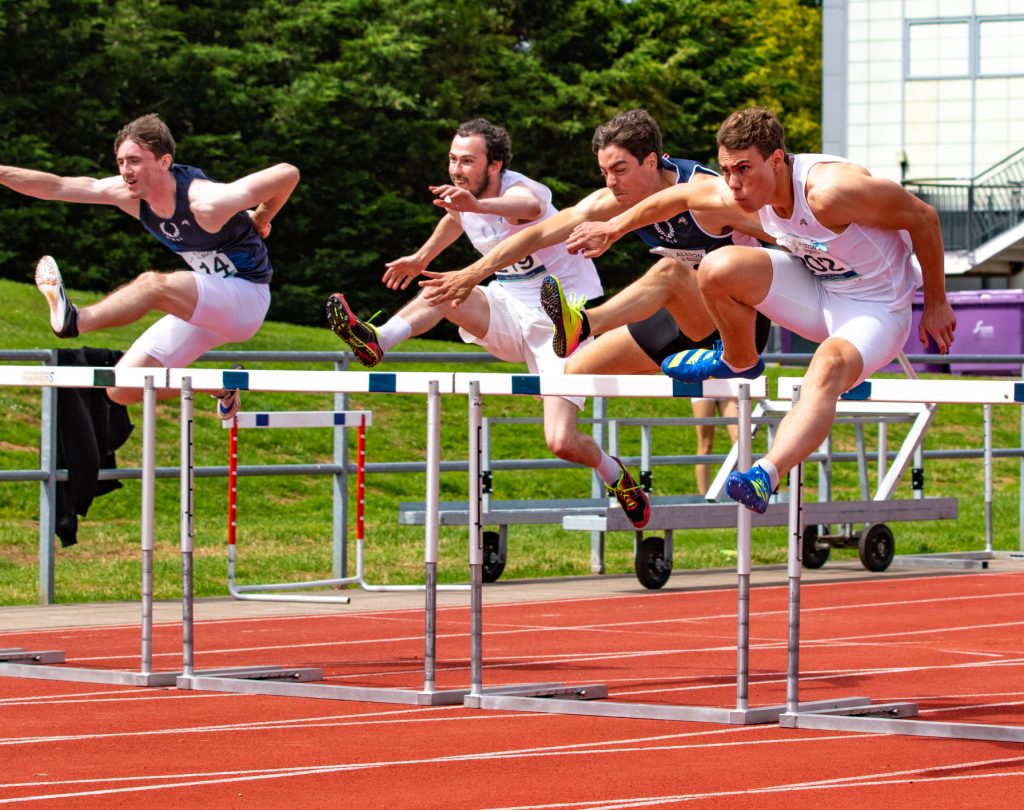 Both Blues matches ended with a Cambridge win, the men dominating their match (123-85) and the women more narrowly snatching the victory (107.5-95.5). The second team match, scored on wins, saw a big win for the Cambridge women's side (16-2), with a tougher battle resulting in a draw for the men (10-10) after O*ford's second team was severely depleted.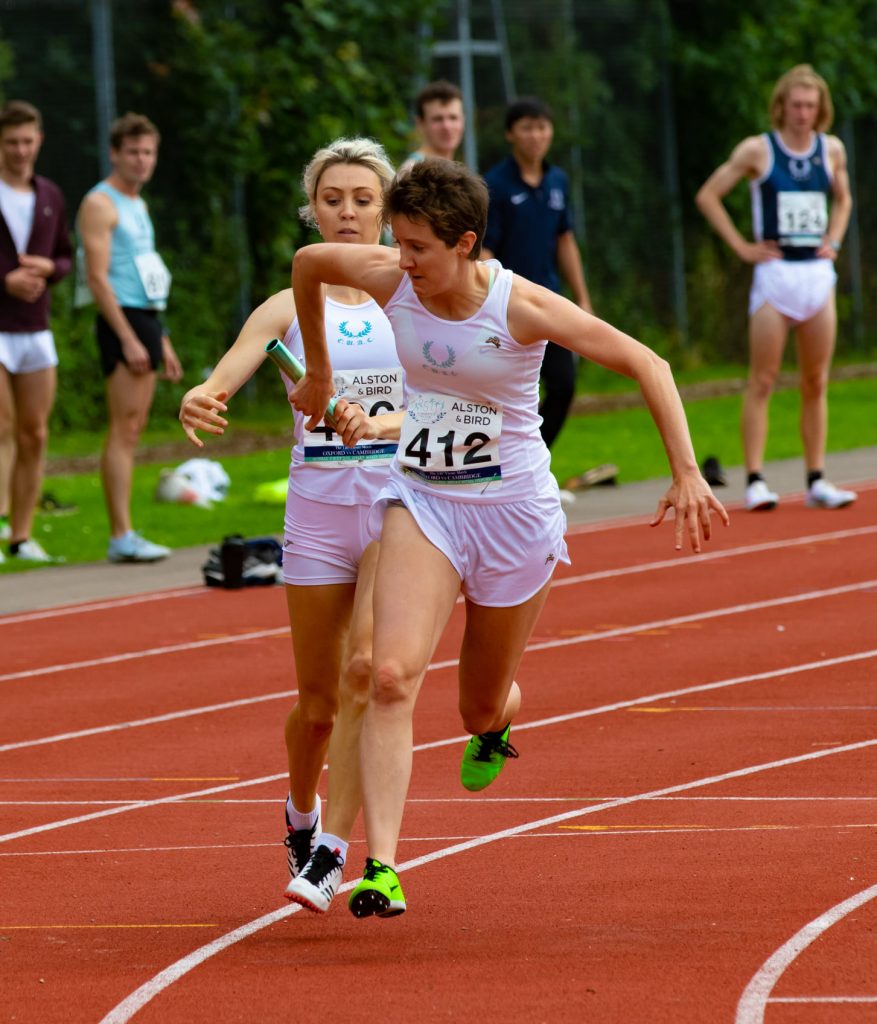 You can read the full match report here courtesy of the Blue Bird.


Rackets
Rackets is said to be the second-fastest sport in the world, with the ball often travelling above 200mph (unless you are a constituent member of the O*ford University Team, who are pleased to merely make contact with their strings on the ball). In the middle of July, Cambridge took on O*ford in the 166th Rackets Varsity Match, played at the Queen's Club in London. The fixture was tightly contested, but the Cambridge team played impressively to end up winning by 4 rubbers to 2 to retain the trophy that they had won the year before.
Captain Ivo Macdonald (Magdalene) and Salil Navapurkar (Robinson) both played majestically in their singles, cruising past talented but inferior opposition to take an early 2-0 lead in the Varsity fixture. In a match that would prove pivotal, newcomer Patrick Smart (Churchill) played fabulously to fight back from an early deficit to bring home Cambridge's third victory on the trot. Particularly impressive was his demonstration of rock-hard clutch when saving a game ball at 1 game all, before eventually taking the game 16/15 and proceeding to ferociously rattle off 10 consecutive points on serve in the final game to secure Cambridge an all-important rubber, leaving them needing only one victory from the final three fixtures to retain the Varsity trophy. Ed Hyde (Jesus) then went neck-and-neck in the 1st singles and was unfortunate not to get at least a game. Nevertheless, Macdonald and Navapurkar proceeded to professionally dispatch the O*ford 2nd pair, duly bringing the trophy home. What followed, the 1st pair doubles, was the closest match of the day. It contained a number of stonking rallies in what was an exhibition of rackets of the highest standard. This, alongside Cambridge's domination of the off-court proceedings, was a fitting way to round off a fantastic day of sport.
Ivo Macdonald (Magdalene, CURC, CURTC)
In 'Where Are They Now?', we asked alumni to reminisce about their sporting achievements and their time in Hawks'. In the absence of any face to face events, we feel communications like these are vital to maintaining the connection between alumni, old friends and the Club. This year's competition has now concluded, and we are delighted to announce the results:
Winner: Russ Abel (Fitzwilliam, CUHC, 2000-04)
Runner-up: John Taylor (Sidney Sussex, CUGC, CURFC, 1984-89)
We encourage you to view all the entries here, they are very good! 
Thank you to everyone that submitted an entry, your contributions made this competition possible. If you'd like to participate, you can get in early for next year's competition; please send your "Where Are They Now" submissions here.


Best Dressed Competition – Winners
Thank you to everyone that submitted a photo, yet again your engagement really made this segment work. You can view all the entries here and I'm sure you will agree it is hard to pick a winner, but pick a winner we did!
Winner: Trevor Cave "The Phantom Bantam of 1973" (Churchill, 71-74, CUABC)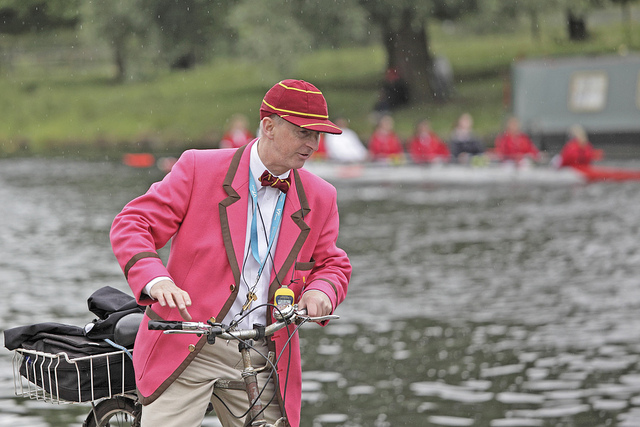 Trevor in a Churchill blazer with Hawks' cap and tie, talking to a crew that has just rowed over in 2011 Mays.
Runner-up: Angus Pollock (Trinity, CUAFC, CUCC, 1981-84)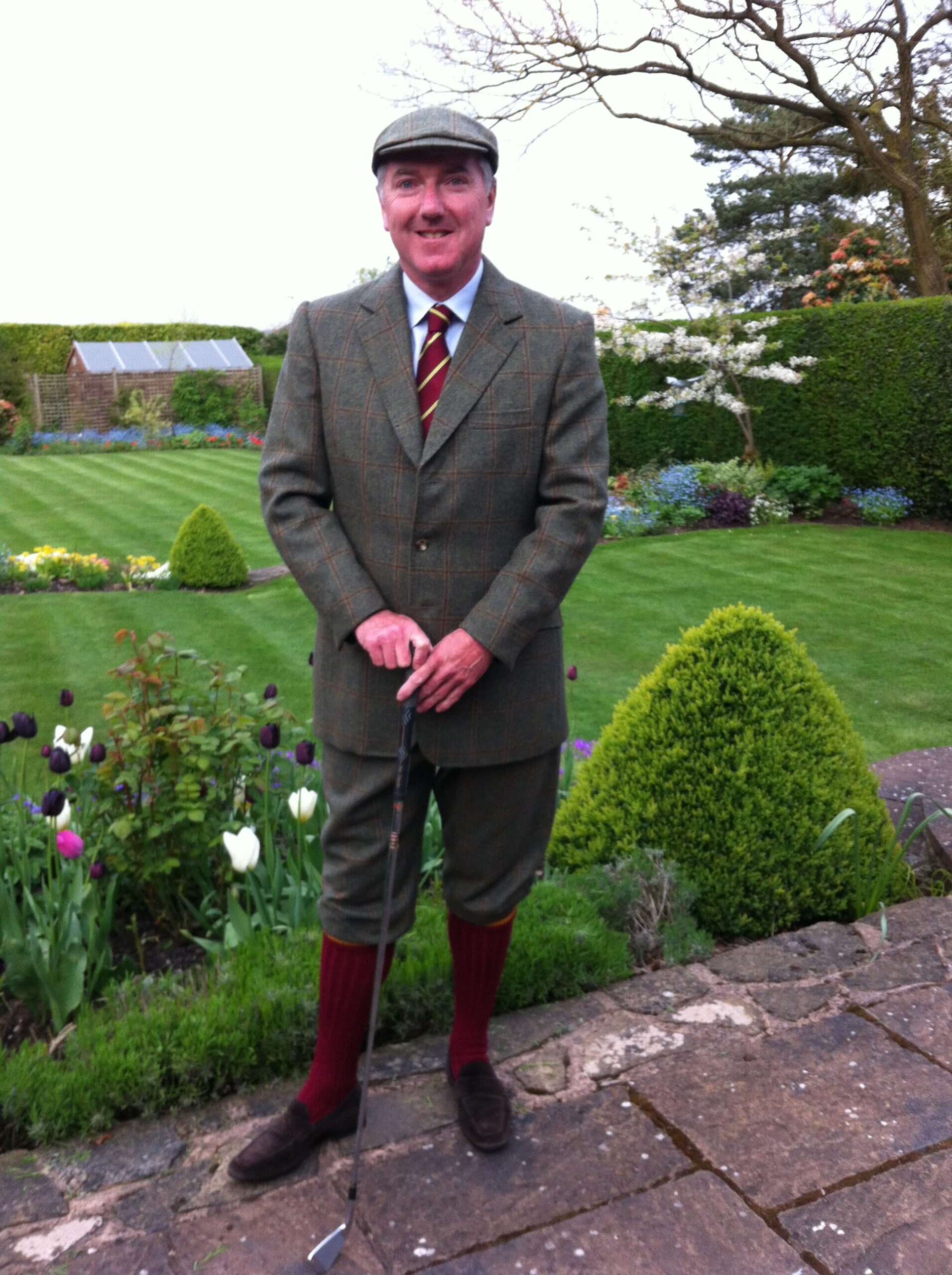 Wearing a Hawks' cap, Hawks' jacket, Hawks' tie, Hawks' Plus 3s, Hawks' socks & Hawks' cufflinks.
Notable Mentions: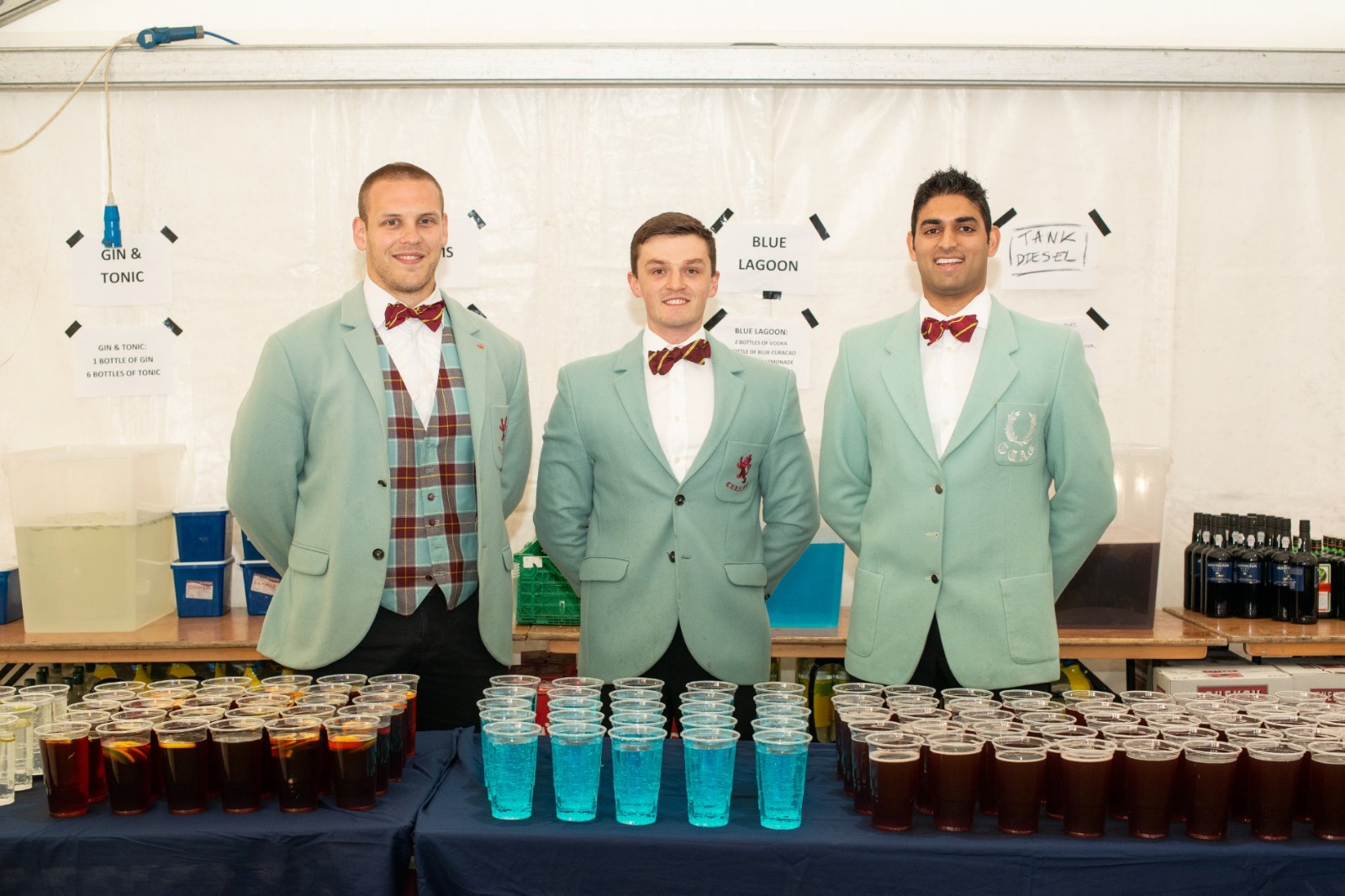 Three Presidents at the 2018 Hawks' Event – (from the left) Frank Sanders (2014-15, Magdalene, CURUFC, CUPLC, CURLFC, CUAC), Seb Tullie (2017-18, Emmanuel, CURUFC) & Zaamin Hussain (2015-16, Jesus, CUAC).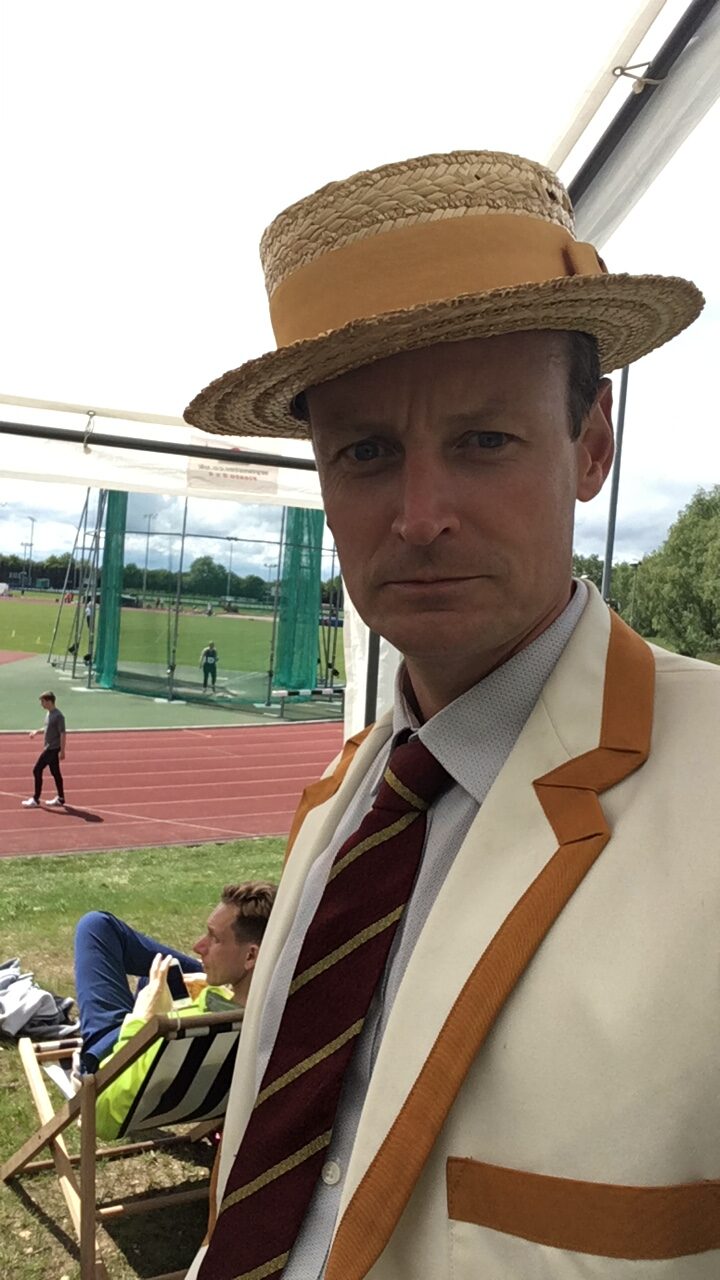 Matthew Buck (Homerton, CUAC, CUBbC, 1997-98), wearing his Achilles Club Boater and Tour Blazer.


Contact Us and Picture Submissions
Please do feel free to continue to get in touch with us about anything Hawks' Club related! We particularly welcome photos of Hawks past and present which we will try to get up in the Clubhouse and on the website. It is also great to hear about the sporting or social activities of past Hawks – for example, anecdotes or brief thoughts on current affairs, or how we could improve the newsletter. We're very keen to get content in here that you as Hawks alumni want to read about! Do get in touch either at president@hawksclub.co.uk or secretary@hawksclub.co.uk.
You can also rapidly and easily keep up to date with all the latest Hawks' Club activities by following our social media accounts on Instagram, Facebook, Twitter and LinkedIn.
A reminder to keep your details up to date on the website (your username should be <SURNAME><INITIALS> e.g. MOLNARMD for Matyas David Molnar – send an email to secretary@hawksclub.co.uk if you have forgotten your username).
If you enjoyed this newsletter, you can also read previous newsletters here.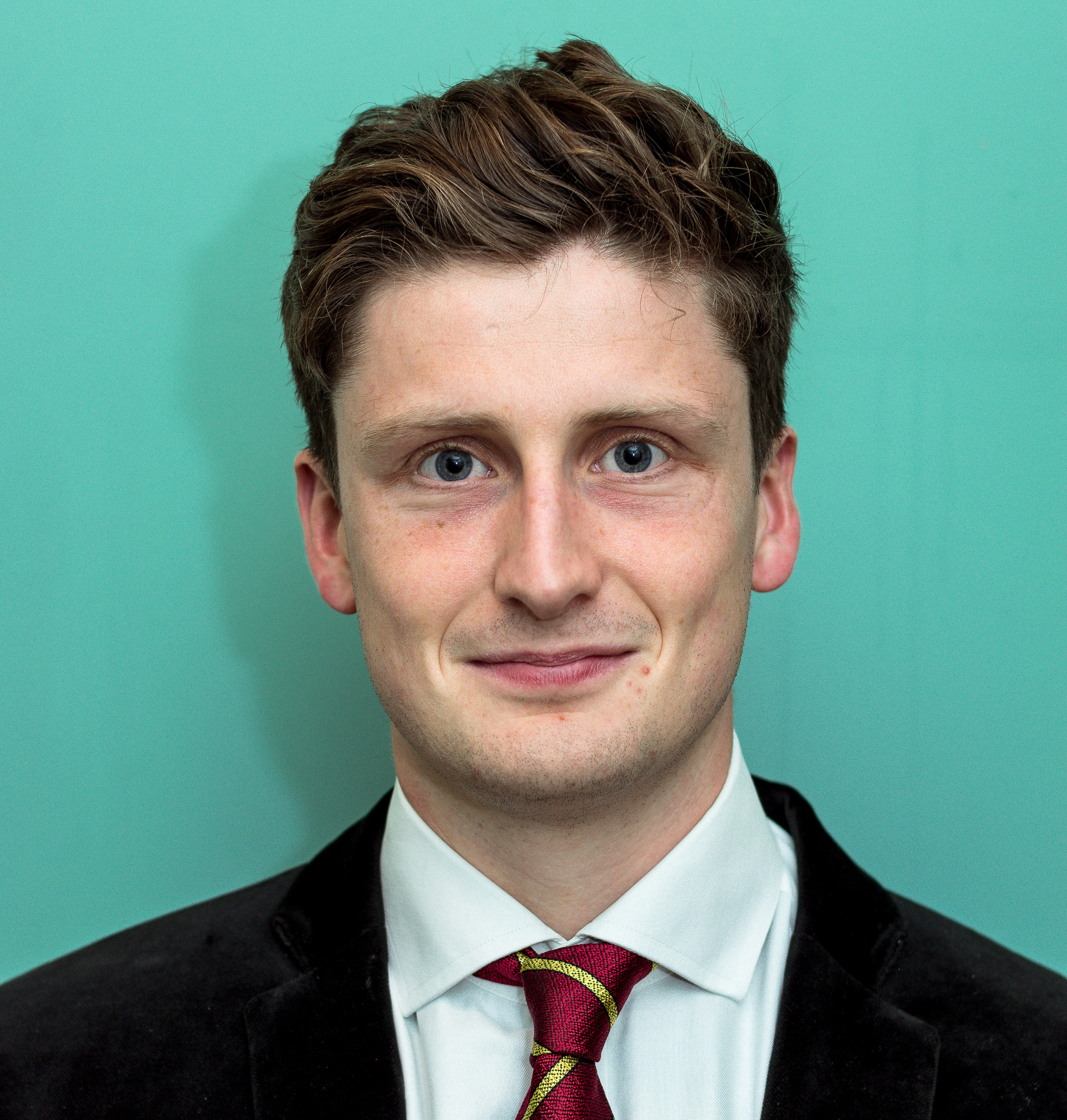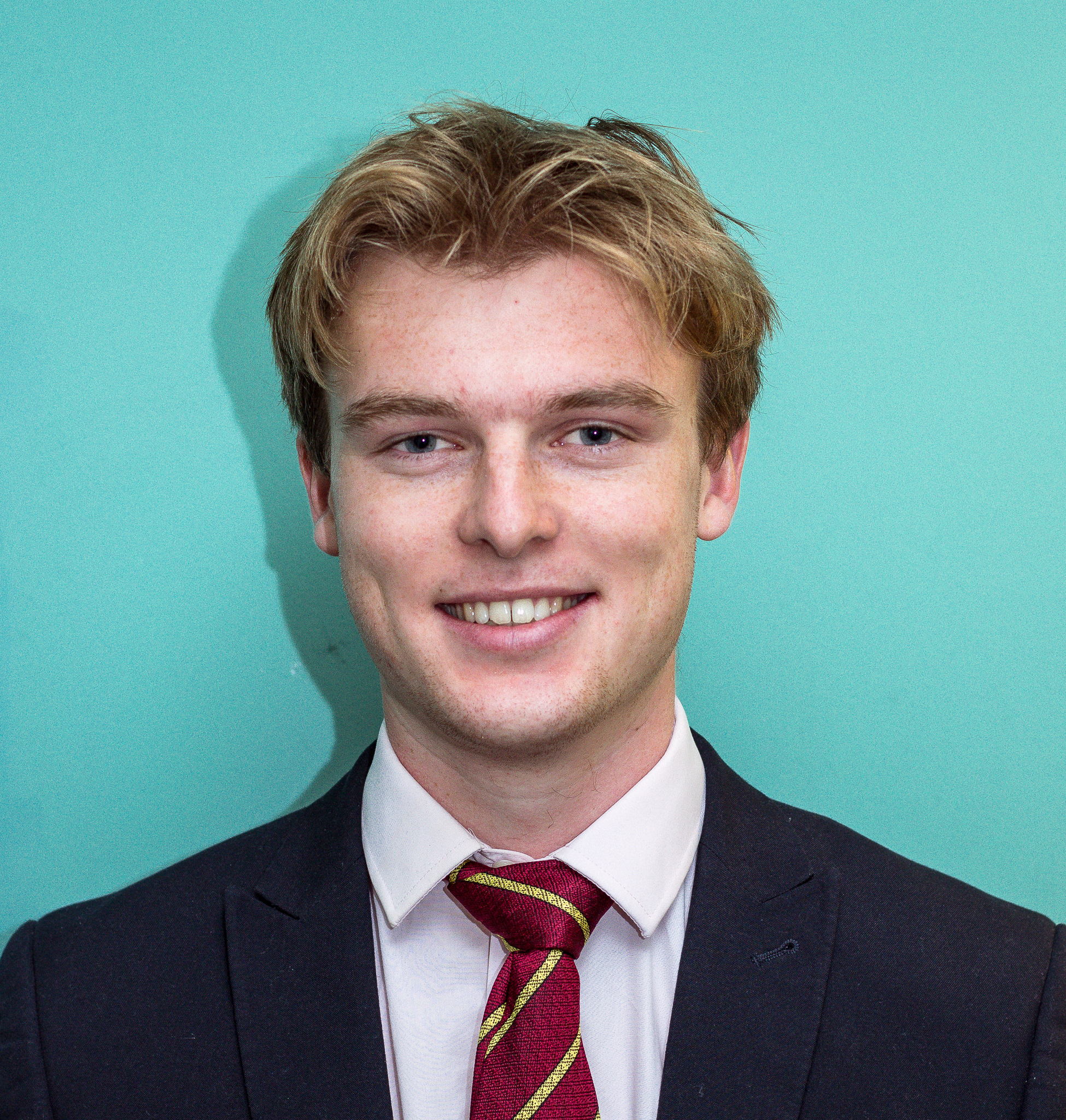 Newsletter compiled and edited by:
Johnny Staunton Sykes (Vice-President, Jesus, CUHC, CUPC)
&
Alex Moen (Communications Officer, Magdalene, CUCC, CURC, CUHC).