Hawks' February Newsletter – Bring on 2020+1!
Upcoming Varsity dates
When the third national lockdown came into force on January 5th, inevitably many original and rearranged Varsity Matches across a range of sports had to be postponed. However, there are still a few dates that are provisionally confirmed for 2020-21 Varsities – these are listed below so we can have some form of Cambridge Sport to look forward to! This is by no means a comprehensive list, with every other sport also working hard to get some form of Varsity fixture played.
The Boat Race: Ely, Cambridgeshire, Sunday 4th April
Cricket:
T20 Matches at Fenner's, Friday 14th May
One-Day University Match at Lord's, date TBC
One-Day Women's Varsity Match at Wormsley, Monday 28th June
Four-Day University Match at The University Parks, Oxford, Monday 5th – Thursday 8th July
Cross Country: Wimbledon Common, London, Saturday 20th March
Football: Friday 18th June, location TBC
Golf: Aldeburgh GC, Suffolk, Monday 5th – Wednesday 7th July
Hockey: Southgate HC, date TBC (June)
Rackets: Queen's Club, London, date TBC (June/July)
Rugby League: Cambridge, Saturday 1st May
Rugby Union: Twickenham Stadium, date TBC (June/July)
Sailing: Royal Harwich Yacht Club on the River Orwell, 28-30th June
Tennis: Moor Park, Hertfordshire, Monday 28th June

Where are they now?
In 'Where are they now?', we ask alumni to reminisce about their sporting achievements and their time in Hawks'. In the absence of any face to face events, we feel communications like these are vital to maintaining the connection between alumni, old friends and the Club. We hope you enjoy reading! Many thanks to all who have participated so far, to read their responses please click the links below:
Nick Parkes (Jesus, CUHC, 2008-12)
Michael Anthony Sweeney (St John's, CUBC, 1963-66)
Tom Elliott (Sidney Sussex, CUCC, CUHC, CURC, 2011-14)
Russ Abel (Fitzwilliam, CUHC, 2000-04)
Jonathan Shinton (Magdalene, CUGC, CUDC, 1987-90)
Jonathan Arscott (Magdalene, CUCC, CUHC, 1989-93)
The 20/21 Committee are delighted to announce 'Where are they now?' will be a regular feature in the newsletter and on the club website. At the end of the academic year, the Committee will be awarding £100 worth of Hawks' stash to the best entry. Extra points will be awarded for accompanying photos sent in of members wearing their Hawks tie in unexpected places, be that abroad, work or sporting related!
Hearing such wonderful past memories of Cambridge and the Hawks' Club really makes it clear just how much we miss the Club now, and perhaps have taken it for granted previously. If you would also like to share any experiences or thoughts, do of course get in touch – we'd love to hear them! Here's hoping we can reconvene once again in the Clubhouse as soon as is safely possible.

An Interview with Dr Andy Richards (Trinity, CUSWPC, 1952-55)
Dr Andy Richards graduated in 1955, having joined Trinity College in 1952 to study medicine. At Cambridge, Andy was a keen and successful member of the University swimming club (now CUSWPC), racing in his first Varsity match as a Fresher, and breaking the 200 yd breaststroke record in the process. He went on to become Captain of Swimming in 1955. Andy went on to represent Great Britain at the World University Games in both Dortmund, Germany (1953) and in San Sebastián, Spain (1955) but narrowly missed out on going to the Empire Games in Vancouver in 1954. Although now retired, Andy has had a successful medical career as an ophthalmologist, having qualified at Guys Hospital, trained at Moorfields Eye Hospital, and worked as a consultant at the Royal Berkshire Hospital. He's worked in the UK and volunteered for global charities focussing on eye healthcare provision, including Sight Savers International (Formerly the Royal Commonwealth Society for the Blind). For this work, he was awarded an OBE. Please click here to read the full interview.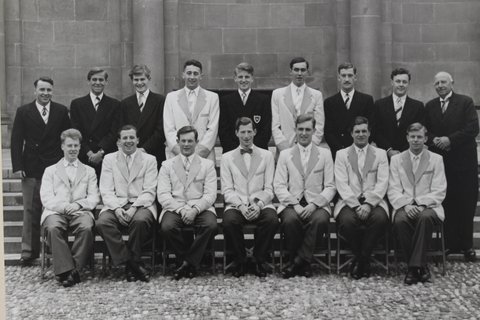 Cambridge University Swimming and Water Polo Team 1955
Andy (President) bottom, middle
"Ronny on my right, John Rae on my left. As you probably know, John went on to teach at Harrow and later was H'master of Westminster school, published author of novels, radio and TV 'pundit'. Peter Head 4th from L standing in C U blazer. Olympic swimmer. John invited me to Sidney Sussex to introduce me to the great
Dennis Silk
the president as a preliminary to proposing me for election to the Hawks' Club. I was speechless at meeting The Great Man! Couldn't wait to wear THE tie!
Happy Days!
Long live The Hawks and thanks for all you are doing to perpetuate it."
Andy in an email to James Skelton, October 2020.

Higgy
Having spent the past few months rooting through the numerous photos which lay forgotten in the cupboards of the Alan Burrough Room, I have become fascinated by the biographies and experiences of Hawks. As a full-time cricket anorak, my fascination reached new heights when I was forwarded the above image of Alastair Hignell CBE (Fitzwilliam, CURUFC, CUCC, 1974-77).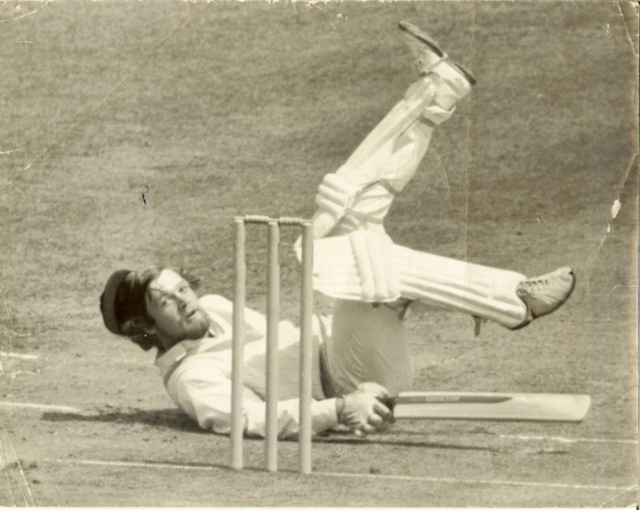 The action shot shows Hignell evading a vicious bouncer from Imran Khan (OUCC, future World Cup-winning captain and current Prime Minister of Pakistan) during the 1975 University Match at Lord's. Despite having listened to Alastair commentating on BBC Radio 5 Live, researching Alastair's time at Cambridge made me realise how completely unaware I was of his accomplishments as a student. At the end of his first year, Alastair made his England rugby debut in Australia, played for Gloucestershire County Cricket Club and represented Cambridge in the University Match at Lord's – all within a few weeks of each other. Alastair would go on to captain Cambridge at both rugby and cricket (only the second person to do so), whilst also squeezing in some games for 'The Prawns' (Fitzwilliam College Football Club 4th XI). Without wishing to underplay the enormity of such achievements, Alastair's time at Cambridge illustrates how one can keep numerous plates spinning at the same time (all whilst churning out the odd essay) – perhaps a timely lesson especially when the frequency of excuses such as "I don't have time" or "I just couldn't do my degree AND university javelin" seem to be increasing. The photo above of Alastair will take pride of place in the James H Van Alen room. 
You can listen to Higgy reflect on his time at Fitzwilliam, his formidable sporting career at Cambridge, his career as a teacher and journalist, and his diagnosis with multiple sclerosis and subsequent charity work here.
Ed Hyde (Trading, Jesus, CUCC, CURC, CURTC, CURFC)

Hawk Talk Podcast
We are pleased to say that Holly Tasker (Gonville & Caius, CUWCC) and Jonathan Vibhishanan, this year's Hawks and Ospreys Access to Sport (HOATS) officers, are continuing to release their podcast, Hawk Talk. Hawk Talk aims to highlight the link between academic and sporting success, and to also improve the accessibility of the University by breaking down some of the stereotypes surrounding it. They have been interviewing current and past Cantabs about their experiences of sport at Cambridge, their different journeys, and how sport has fit in with and complemented their academic life.
In this episode, Holly and Jonathan are very pleased to be joined by the wonderful Ollie Fox! Ollie recaps his experience of representing GB in Cross Country, before sharing his tips on balancing sport and academics – highlighting the importance of UCAPP. He also takes the time to explain why he chose to hang up his running shoes and channel his sporting energy into cycling.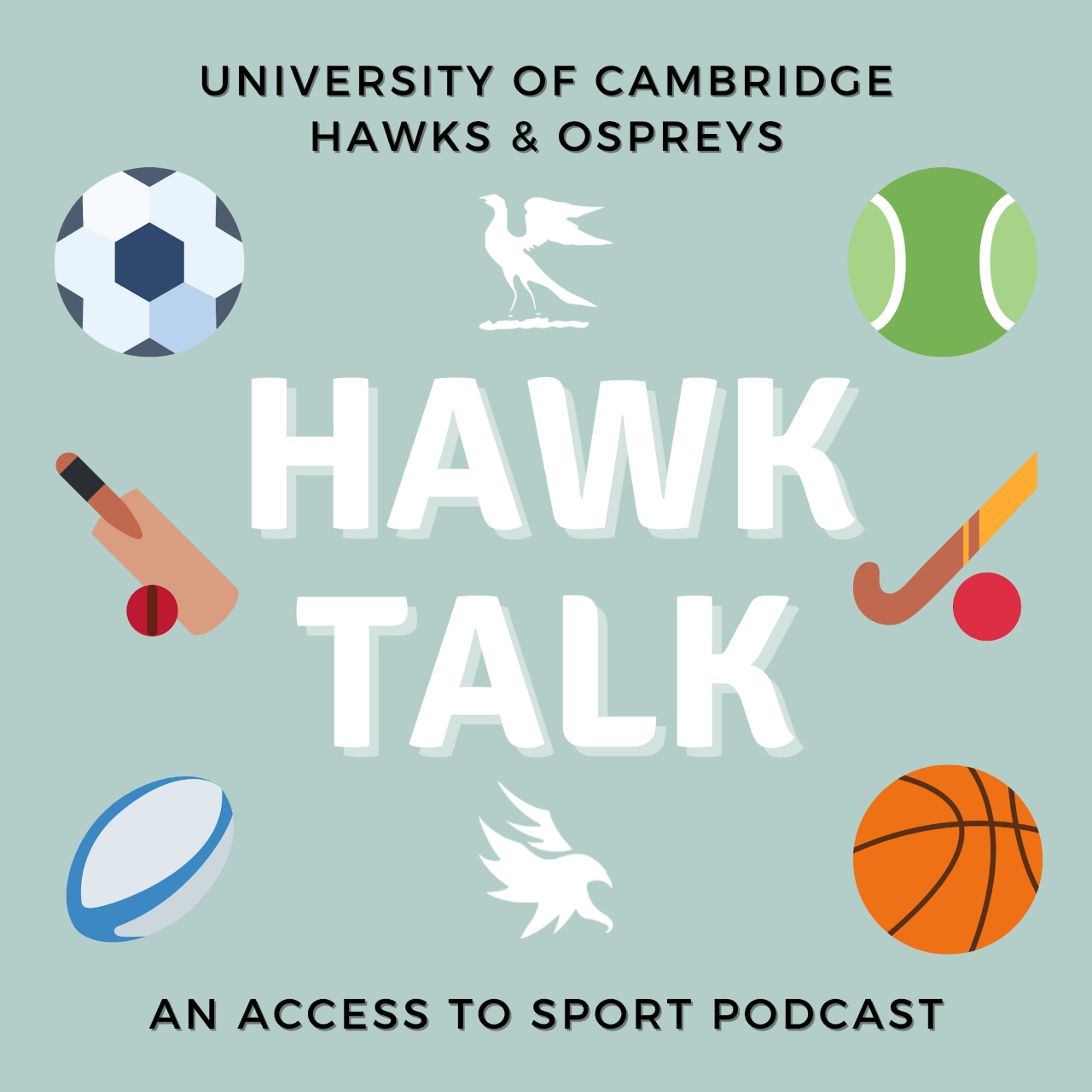 Hawk Talk is available on both Apple Podcasts and Spotify, as well as any other podcast platforms that you might prefer. Be sure to give the channel a follow so you do not miss out on future episodes. If you would like to share your sporting story, please don't hesitate to get in touch with Jonathan at jsv25@cam.ac.uk!
Jonathan Vibhishanan (HOATS officer, Pembroke, CULRC [now CUBC])
In addition to the Hawks' Club's very own Hawk Talk podcast, the Blue Bird has also released the first episode of its new podcast, The Lion's Den. The first four episodes of The Lion's Den are out now on Apple, Breaker, Google Podcasts, Pocket Casts, RadioPublic and Spotify – the Spotify link can be found here. Highlights so far include Episode 1, which features 2016 Rio Olympic Gold Medallist and former Boat Club rower Tom Ransley (Hughes Hall, 2007-09), while Episode 4 features a chat with former England Cricket captain Michael Atherton (Downing, 1986-89) about the impact of COVID-19 on cricket in general, the year ahead for the current England team, and his time at Cambridge studying History.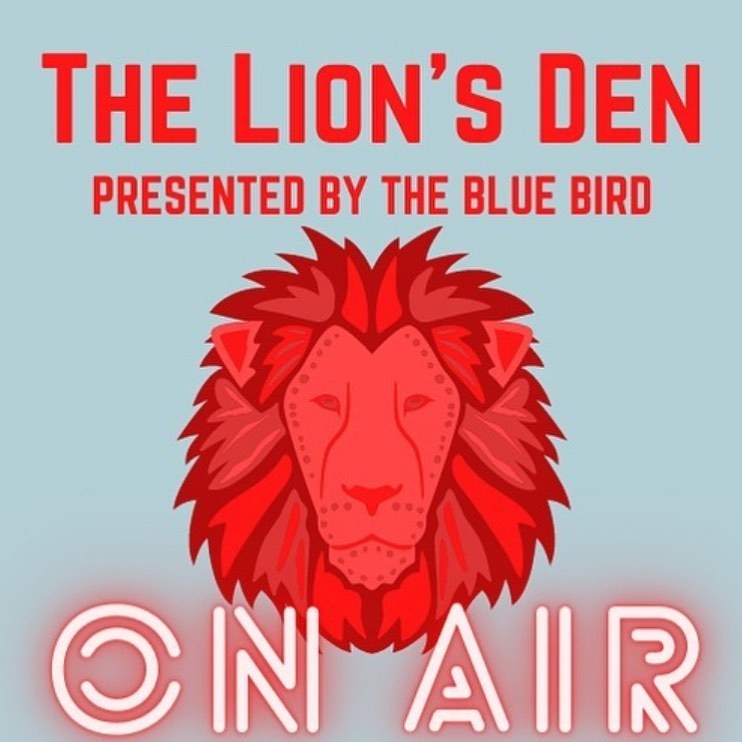 Make sure you follow the Blue Bird on Facebook, Twitter and Instagram to access all of the fantastic content that they are putting out there. As ever, the Blue Bird remains the one destination for all things Cambridge sport.

Fitness and health blog
Dr Hugh Bethell (St John's, CUABC, 1960-63) has been using exercise as prevention and treatment for disease (mainly heart disease) for 45 years. In partial retirement, he writes a weekly blog which can be found at https://exercisefitnessandhealth.info/. Hawks may not need prompting to exercise but may be interested in the long-term benefits – and the importance of maintaining their healthy lifestyle!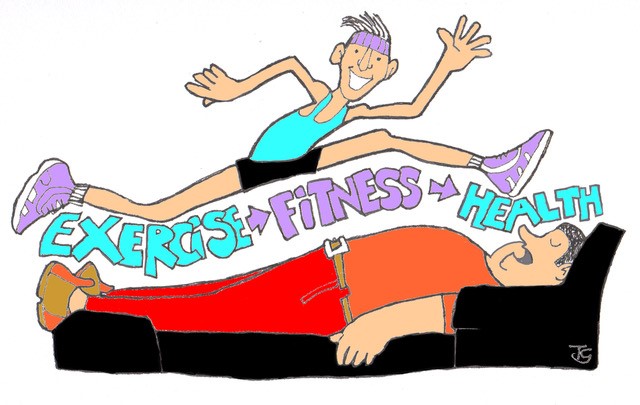 And finally, a Hawks' Residents Tour teaser…
You are lying on the floor of a hostel dorm in Eastern Europe. It certainly looks like the room you checked into yesterday before the beers started. You sit up and see your good friend Alex Moen passed out on the bunk bed next to you. He is wearing boxer shorts, an alcohol-stained dress shirt, and his Hawks' tie is wrapped firmly around his head (classic). He's sleep-talking about hockey which doesn't help the fact that your mouth is drier than the Atacama desert. Chalkdust hovers in the light which drifts through a gap in the blinds as you pat down your trouser pockets to find some evidence of what happened last night. Your wallet is in there, though it has been completely emptied of euros. You find a receipt for one million lagers which generates a vague memory of standing in a dingy basement chanting GDBO to the rhythm of Basshunter's 'Now You're Gone'. Sounds plausible. In your other pocket is your phone which is not only out of battery but cracked beyond recognition. Jonathan is rowing in his sleep while Jean and Sean are spooning on the top bunk. Everyone in the room is rudely awakened when Ed Hyde, Hawk of the Year 2020, bursts into the room with a toothbrush and a packet of sherbet lemons, declaring that 'last night was a bit of a grueller babyyy'. You would love some gruel right now. He is followed into the dorm by Matyas who is wearing a bucket hat and some Tron Legacy sunglasses to combat the sunshine. He heralds the disappearance of Scrivens and Niels – the consensus is that they are probably in hospital or jail. Joey has managed to drunkenly fly himself home to see his girlfriend but has promised to return for the afternoon. You have a reservation for beers in ten minutes.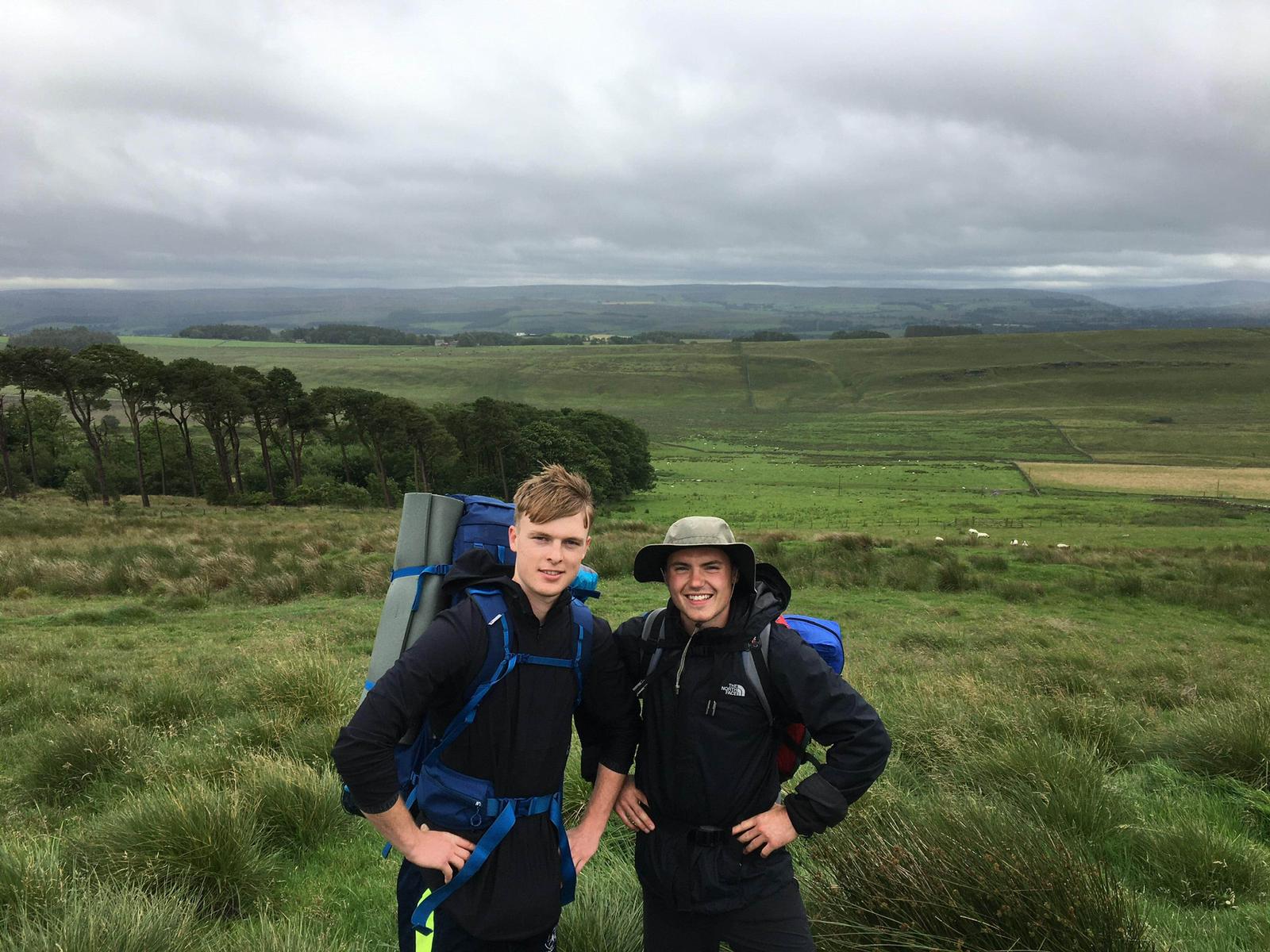 "Are we in Paris yet?" Alex Moen (left) and Tommy Bilclough (right) planning out the 2020+1 Hawks' Tour. P.S. Much like his older brother George, Tommy "f*cking loves the Squandies".
This is how I imagine it will feel waking up after the first night of the Hawks' Tour, which is scheduled to take place this summer (COVID-19 permitting). After a photo of the 1990 Hawks' tour to Paris was put up in the Clubhouse recently, our hankering for continental lagers just skyrocketed. I was asked to provide an itinerary but, truth be told, there isn't one. The Committee will meet at a pub in Cambridge (probably the Pickerel) before getting the train to Stansted and flying out to a destination TBC. It will be cultural, it will be educational, it will most certainly be a bit of a grueller. What could possibly go wrong?
Tommy Bilclough (Nightclubs, Magdalene, CURUFC, CUGC)


Contact us, and picture submissions
We know this was mentioned in the previous newsletter too, but we would absolutely love to hear from you regarding anything Hawks' Club related! In particular, we are looking for photos of Hawks, both social and sporting, and it would be great to have as wide a range as possible. We will endeavour to get some up in the Clubhouse as well as on our redeveloped website – get in touch at president@hawksclub.co.uk if you have any worthy snaps!
We also very much welcome anything about sporting or social activities of past Hawks – for example, anecdotes or brief thoughts on current affairs, or how we could improve the newsletter. We're very keen to get content in here that you as Hawks alumni want to read about! Do get in touch either at president@hawksclub.co.uk or secretary@hawksclub.co.uk.
Finally, do follow our social media accounts on Instagram, Facebook, Twitter and LinkedIn to rapidly and easily keep up to date with all the latest Hawks' Club activities.
A reminder to keep your details up to date on the website (your username should be <SURNAME><INITIALS> e.g. MOLNARMD for Matyas David Molnar – send an email to secretary@hawksclub.co.uk if you have forgotten your username).
If you enjoyed this newsletter, you can also read the previous newsletter here.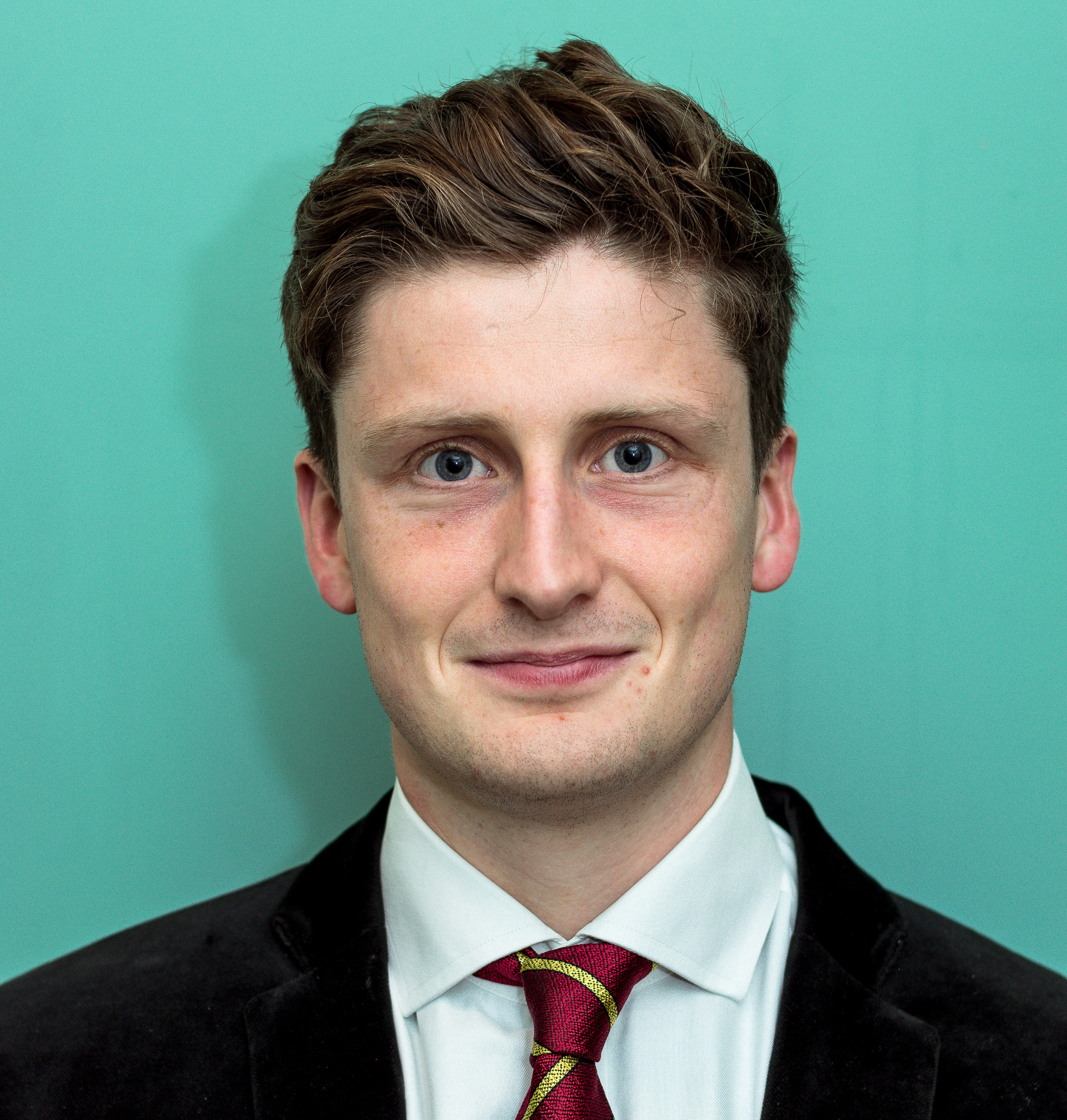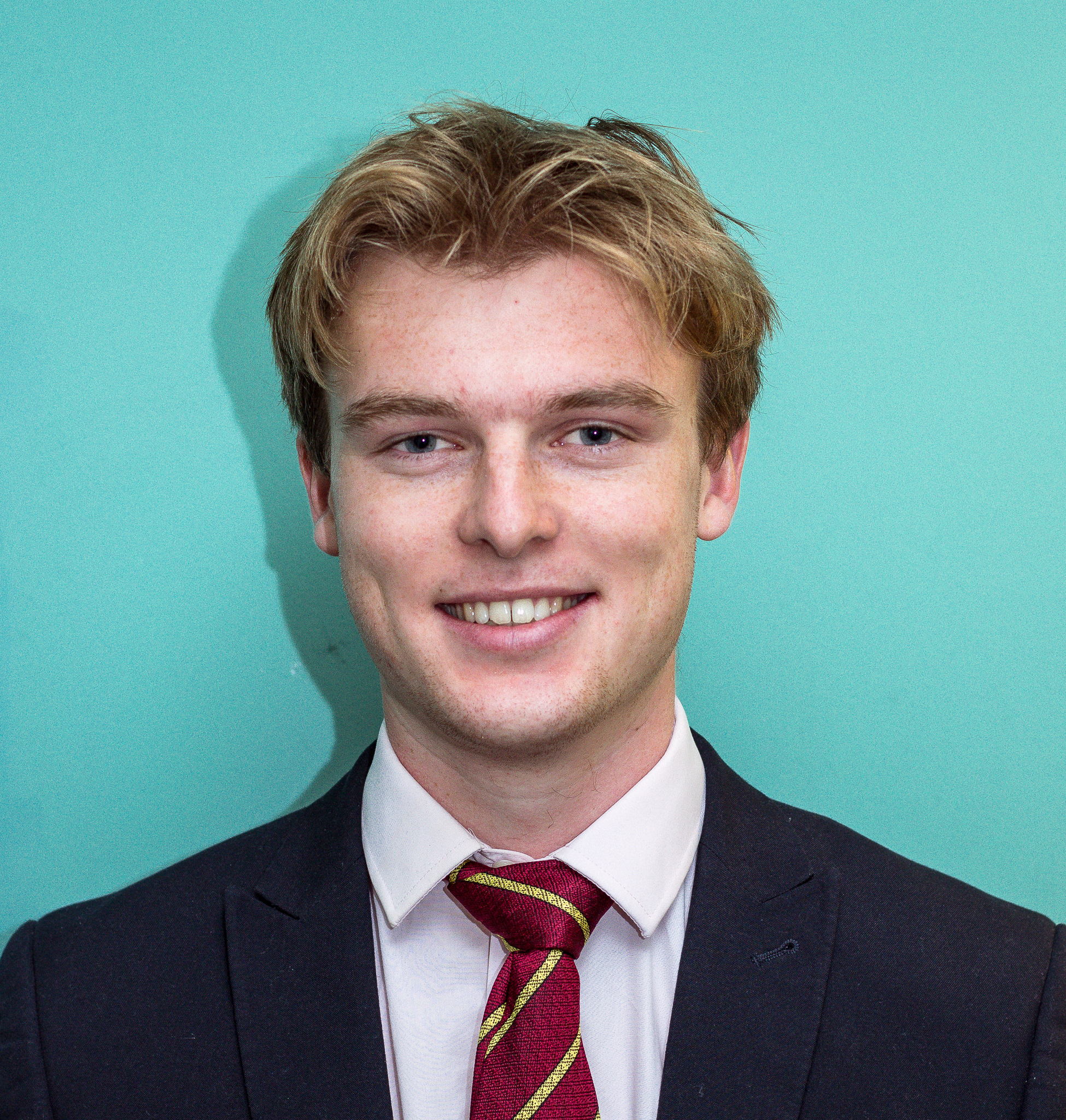 Newsletter compiled and edited by:
Johnny Staunton Sykes (Vice-President, Jesus, CUHC, CUPC)
&
Alex Moen (Communications Officer, Magdalene, CUCC, CURC, CUHC).