Hawks' Newsletter March 2022
Hawk as Chair of Commonwealth Games England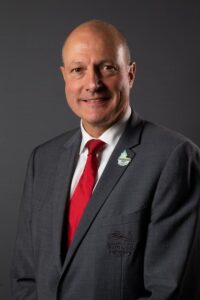 Ian Metcalfe (St Catharine's, CURUFC, 1977-1980) is currently Chair of Commonwealth Games England. Ian talks University, sport and working for the Commonwealth Games with Hawks' Communications officer, Jeremy Dempsey.
Q: Let's begin with your time at Cambridge, what sports did you play?
A: I played rugby, cricket and a bit of football both at university and college level while I was at Cambridge. I read Law at Catz, which was a very sporty college. Of course, that was back in the days when afternoons were for sport and mornings were for lectures!
We had a strong college rugby team, winning two Cuppers finals against Fitz and Magdalene. I also played in three cuppers cricket finals and was goalkeeper for the college football team. For the university, I played in, and eventually captained, the Blues rugby team. We won in 1978 and lost in 1979. I played alongside some very good players such as John Robbie as captain at scrum half and Eddie Butler to name a few.
Q: What are your fondest memories of Cambridge sport?
A: Number one has to be winning the '78 varsity match for CURUFC. We played a very good game that year, eventually winning 25-7. That was also the year we played the All Blacks on their 1978 tour. Can you imagine playing on Grange Road against the All Blacks? Every seat was packed, and every tree was full. People were standing on roofs to the point that we thought they might collapse! While we lost 32-12, there was a point when we were 24-12 and coming back! Dick Tyler, a talented fresher scored an excellent try.
A very close second was winning rugby Cuppers against Fitz. I have a crystal clear memory of that day. The tradition was everyone came to watch, including the teaching body, and everyone would start at college and wheel in on a low loader. Running out with your entire college there is an amazing experience. We always used to have our rugby dinner on the night of cuppers final, so we went back to college, got changed and when we entered the Hall it was The Master at the door, standing up and serving us champagne!
Finally, I would have to say competing in the final for Cuppers cricket against Magdalene in my final year. I remember hitting it for 6 out into the car park and our senior tutor, A.A.L. Caesar (Augustus Caesar believe it or not), who had interviewed us all and used to walk with a stick, was running with his stick faster to the middle than I was walking out to congratulate me! I didn't realise it then but that turned out to be my last proper day in Cambridge as a student due to a nasty bout of glandular fever that followed.
Q: It seems, from what you've said, that you have a real fondness for college sport?
A: I think it's just fantastic! I came from a small and sporty college at a time where I would say almost everyone there played college or university sport to some degree, and I would say we were better for it! Being a small college, you would get to know everyone. Many of us would play in the afternoon, meet for supper and then drift off to do some work before reuniting in the college bar for drinks at 10. It was a very special time.
Q: What do you miss most about Hawks?
A: I was not very involved during my undergraduate, that said I attended many great cocktail parties as in those days the post rugby match hospitality was hosted at the Club. I remember greeting clubs like Harlequins at Hawks. Our own clubhouse opened in 1978.
I have since become much more involved, and for me it's all about the connections with like-minded sports people. Going to events such as our Annual London Dinner is a real highlight and I've attended regularly.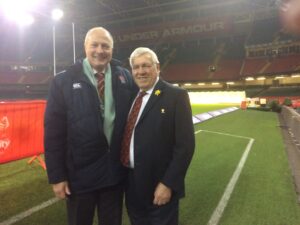 Ian alongside Denis Gethin (Selwyn, CURUFC, 1963-1967)
Q: What are your favourite sporting memories outside of university?
A: After university I continued with rugby and one of my favourite experiences must be playing for England in Auckland in 1985. Another one came as a spectator, watching us win the World Cup in 2003. I was watching it live in the stadium in Australia with my brother. Another date that sticks in my mind is the 15th April 2018. By that point I was chairman of Commonwealth Games England and I was out in the Gold Coast at the games. That was the day that England won the netball, beating the favourites and reigning World Champions Australia with a last second goal. The atmosphere was just extraordinary. The togetherness of the team, it was just meant to be.
Q: After University you worked as a lawyer?
A: I read a three year law degree before taking my professional exams at Chester College of Law. While I was out there, I played a year for Sale and Cheshire. When I came back home, I went to play for a local rugby club, Mosley. They would have been in the premiership if there was one in those days; obviously it was a completely amateur sport back then.
At that time, I worked for a very small practice in Birmingham that dealt with legal aid criminal law. After a year defending, I spent three years on the other side as a prosecutor in the magistrates court for CPS. During this time, I was lucky enough to play for England Bs, under 23s, and the final squad in '85. Because of how the sessions were, I could always get away from the courts to train and to play, which made it a perfect balance.
Sadly, my rugby career ended quite abruptly on 12th September 1987. I was hit in the air by two men while playing against Swansea. Doctors didn't realise it initially, but I had perforated my bowel. Luckily, I survived, but that was the last day I played rugby. By then I had a six month old son, and after a fractured ethmoid in a face on face collision previously I wasn't ready to do it all again. That being said, this prompted my career change to corporate law. I joined Wragge & Co in Birmingham and became a Corporate Partner for 13 years, and eventually Managing Partner for another 8. This was very enjoyable and rewarding.
At this time, I also got involved in amateur sport administration. I represented CURUFC on the rugby union council and spent years on various committees such as 2015 Rugby World Cup Committee (rather more successful off than on the field) and three Rugby World Cup reviews. But after 8 years as Managing Partner I was tired – I've heard it said that the job is like 'herding cats'. So I stepped down and began what might now be called a 'portfolio career'. It was then that I was proposed as the Chairman of Commonwealth Games England. Not quite sure how I got it but here we are!
Q: What does your work as director of CWG England entail?
A: I chair what is a largely volunteer board of incredible people from across the sporting and business world. We fund and prepare the England Team to get to the games, and when they're at the games to perform to their very best. We help set the selection policies with sporting federations, manage the team in the villages, provide kit and do the logistics. When it was in the Gold Coast in 2018 we spent over £1,000,000 on air fares alone! We provide extra social spaces, ice baths, massage tables, everything that elite sports people would expect in a modern professional environment.
We're funded by the private sector and about half of our funding comes from Sport England alongside the National Lottery. In a home cycle we sell our commercial rights to the organising committee. Alongside this role, as is customary for the home federation chair, I also sit on the other committees for the organisation and delivery of Birmingham 2022. I have been working with and meeting people from around the sporting world to do so.
Q: What do you think we should look out for in Birmingham?
A: It's Birmingham's time in the sun, an opportunity to show the world what we can do! I grew up in Birmingham and it really is an extraordinary responsibility and opportunity to chair a home games in my own city. I live 400 yards from where the rugby will be played and 800 from the hockey! The games have a highly diverse mix of able bodied and para sports in a fully integrated programme as well as a diverse and dynamic team with competitors from age 15 (two twin gymnastics) to over 70 (para bowls). We are the largest and most diverse sports team to compete anywhere in the world.
Overall, I think this is a hugely exciting time! With the pandemic easing and millions of tickets sold already we're hoping for full crowds, and I think people are looking forward to a real party with some of the best athletes in the world. There are still some tickets left if you can get down there! If I could pick out one, our opening day has two young talents going for gold in the triathlon. Both Alex Yee and Georgia Taylor-Brown are fresh from Tokyo medal success, and I think they'll do well round the challenging course we've laid in and around Sutton Park.
Q: Finally, you've managed high performance sport at university and during a high performance career, what do you think about mixing the two?
A: I would say that the two are absolutely intertwined. Having been involved with business and sport, I believe sport feeds into teamwork, openness and honesty. It affects the way you deal with people. There are just so many similarities between the two. Sport has given me a sense of purpose, loyalty and determination. I think sport also gives you a sense of 'belonging'. I would definitely recommend a book on this subject by Owen Eastwood – 'Belonging'. If you feel a part of something, then you perform that much better, and I think sport can really give you this.
Many thanks to Ian for giving up his time to tell us about what has been a very interesting life so far, and best of luck to him over the coming years, but particularly in Birmingham this Summer.
Hawks' Dart Tournament – Curtain Raiser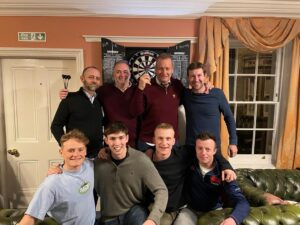 Top row (left to right): David Shufflebotham (Magdalene, CUCC, CURUFC, 1987-1991), Jon Shinton (Magdalene, CUGC, 1987-1990), James Skelton (CUGC, CUEFC, CUAFC, CUCC, CUDC, 1986-1989), Martin Dannhauser (Homerton, CUGC, 2002-2006). Bottom row (left to right): Callum Mackenzie (Emmanuel, CUGC), George Crawley (Churchill, CUGC, CURFC), Nick Sweeney (Darwin, CUAFC), Ed Hyde (Jesus, CUCC, CURC, CURTC, CURFC).
For Hawks looking for another reason not to spend time in libraries/labs, the installation of a dartboard in the Clubhouse was welcomed with open arms. This term has seen the start of the Hawks' Darts Tournament (expertly organised by Tom Walton), with over twenty teams entering. On 27th January, a curtain raiser match took place between a Hawks' Resident IV and a Hawks' Alumni IV. In a tense encounter, the Alumni IV claimed a 3-1 victory, whilst alumni skipper, James Skelton (ex-University Darts Champion), was victorious in the 'around the world' challenge. Rivalries were put aside after the fixture, as Hawks' burgers, brownies and Tomahawk were enjoyed by both players and spectators. Great to see James Skelton, Martin Dannhauser, David Shufflebotham and Jon Shinton at the Clubhouse!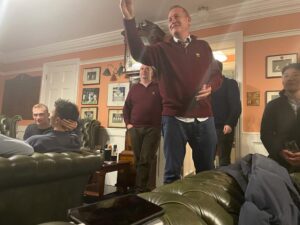 James 'Skelly' Skelton takes aim. Jon Shinton looks on ominously…
Internationals/Olympians Update
Thank you to those who got in touch with the Club after the December newsletter to help update our records of Cambridge Internationals and Olympians. We have now got around 80 additional names to add to our records, moving our total up towards 1060 names. Thank you! You can find this information in the Olympians and Internationals section of the website, while the Hawks' Club Olympians and Internationals' booklet can be found here.
The Hawks' Cricket Club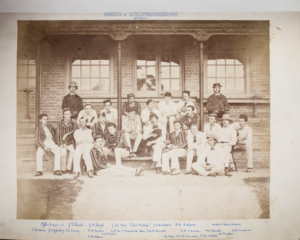 Hawks' Club vs Inexpressibles 1875 at St John's. Hawks' Club President, S.C. Boulter, front right with moustache and floppy hat (photo courtesy of St John's College, Cambridge)
We are told that the Hawks' was originally a cricket club that emerged from St John's Eagles in 1872 when the Eagles refused to admit members from outside St John's.  This was at a time when cricket was buoyant in Cambridge; college cricket was not enough to feed the demand, despite college games extending over two days. Hence there was demand for new student cricket clubs to fill the gaps between college or university games.
In response to this healthy demand, new student cricket clubs emerged.  These included: Crusaders, Chaffinches, Magpies, Wagtails, Tom Tits, Perambulators, Etceteras, Peripatetics, Mayflies, KTLs, Quidnuncs, Athanaeum, Inexpressibles, Footlights, Hawks' and a few more.  These clubs provided students with an opportunity to play cricket on top of their college first or second XI matches.
So what cricket did the Hawks' Club play?  The records show that there were regular matches in May and June from when the club was formed, but these started to dwindle from the 1890s as the Hawks' Club, started to broaden from more than just a cricket club.  There was also a proliferation of club leagues and so Cambridge students were very much in demand to play in those at weekends.
The earliest records showed that the Hawks' played a mixture of local clubs, usually where there was a country house setting and probably a slap up feed.  These included Whittlesford, Ashley and Bottisham.  The Hawks' were also instrumental in helping establish the Non-Collegiates for whom there was no college team and so helped to fill a gap left for students who could not afford to attend one of the colleges. In addition, fixtures against Crusaders, Magpies and Inexpressibles (see photo) became a regular part of the season, usually in two-day format.
The Hawks had also established regular fixtures against the colleges. Not just against the stronger colleges with their own grounds: Jesus, St. John's, Trinity, Caius, King's and Clare.  Hawks' also played the colleges that had to make use of the Amalgamation ground, such as Pembroke and  Emmanuel. The records show that a number of these games were also played on Trinity Old Field which was clearly a favourite. It is also worth a mention that at this time there was significant ground congestion during May and June and so fixture lists were published in the newspapers before the season started showing how tiresome exams had been carefully slotted between matches or timed to finish before cricket started after luncheon: no whining in those days about being too busy to play sport. There was also a healthy mixture of formats: two-day games against the stronger sides and then one day games, either in two innings or one innings formats. The two innings, one day games were strange arrangements, usually dominated by the side batting first who, in some cases, just batted once for the duration.
As is usually the case, as a 'market' develops, a pecking order emerges and the stronger clubs were also seen playing after term ended, usually in the more established cricket weeks around the country.  In particular, the Crusaders and Quidnuncs had become the most prolific Cambridge clubs, playing throughout the summer at cricket weeks in places such as Streatham, Leatherhead and Stoke Poges.  Most notably, the Crusaders started to take part in the Westmorland cricket week in August 1898, organised by the Northern Nomads.  Not only is this symbolic because it was held in the most important part of the country, but it was where the Crusaders first engaged with the Oxford University Authentics.  Gradually, Crusaders became an unofficial Cambridge University second XI and in 1983, became part of CUCC with annual fixtures against the 'Tics' played in three day and one day formats.  Similarly, Quidnuncs became a club for past CUCC players with the popularity of matches fuelled by a Quidnuncs cocktail?  Quidnuncs continued to play a healthy fixture list around the country throughout the season, including three day matches against the services and regular overseas summer tours.
So a Hawk in the second half of the 19th Century could look forward to playing college cricket two to three days per week as well as Hawks' or club fixtures each week with the local paper at hand to remind them if they needed to pop out for a few overs to register in some dreary, and probably pointless, Tripos exam.
What can we learn from this for the current and future Hawks?  Firstly, that current Hawks do not play enough cricket as college cricket has virtually died out and whilst some students play club cricket in the summer, it is rare.  Secondly we can see that whilst university cricketers, spent their summers playing for their County club, college cricketers were well prepared to go down at the end of term to bolster club leagues clubs around the country.  Today, our cricket clubs can no longer rely on this as there seems to be an obsession with spending term time certificate hunting and the summer hols in dreary office internships rather than supporting their local cricket clubs.
Anthony Hyde (Girton, CUPLC, CUAC, CUCC, 1986-91)
Hawks Lunch Announcement
We are delighted to announce that the Clubhouse Lunches, a regular feature of our social calendar until recently, are back. The first one is scheduled for Thursday 26th May. The price for a 3-course meal with wines and prosecco to start with will be £45 and can be booked via the Events page of the website here.
Our Guest Speaker will be two time Olympian and silver medallist oarsman, former Club President, John Pritchard (Robinson, CUBC, 1983-86). He is the only man in history to row the entire Mississippi River from ditch to delta. He achieved this magnificent feat – the Mississippi Million – in aid of his sports charity, Right to Play. Did he reach that magic seven-figure sum? And who accompanied him? Well, book up and come along to find out.
Hawks' Worldwide Branches
We currently have five Hawks' branches spread across the globe, see the website here for a full list. In this newsletter, Vinícius (Vini) Alvarez (St Edmund's, CUGC, 2019-20) – head of the Hawks' Brazil branch – provides some useful information for anyone travelling to Brazil. Please don't hesitate to get in touch with Vini or any of the other Hawks listed as branch contacts on the website. In addition, please email the Hon Sec (secretary@hawksclub.co.uk) if you'd like to establish a new branch!
Which was your College at Cambridge?
St. Edmund's College
What sport did you play at Cambridge?
I played mainly Golf for the CUGC Stymies. However, I also played a bit of squash and one football match for St. Edmund's College.
When were you a resident student at Cambridge?
I was a resident between 2019/2020 until the beginning of the lockdown.
Where are you currently living?
Rio de Janeiro, Brazil.
Why are you living in your current location?
Rio de Janeiro is my hometown and I have lived here most of my life, so, after Cambridge I came back home and started a new position at a top tier law firm.
What are your recommendations (sporting venues, bars, restaurants) for any Hawks visiting your current location?
For sports fans, Rio is a great city. For Football fans, we have 2 large stadiums, Nilton Santos Stadium (the Olympic stadium in 2016) and the famous Maracanã. A visit to both is really nice, especially if there is a derby between the 4 big clubs (Botafogo, Fluminense, Vasco and Flamengo) in Rio.
The beaches (mainly Ipanema, Leblon, Copacabana and Barra) are where you can relax and have some nice caipirinhas or a cold beer, but also play all kinds of sports, such as volleyball, beach football, beach tennis, surf, kite surf, or simply go for a jog, walk or swim.
Cycling is also quite a big sport, with lots of people biking all the way to the "Chinese view" viewpoint and the Recreio reserve.
With 3 golf clubs inside town (including the Rio Olympic Golf Course), all of them within 30 minutes from each other, you can also play some very nice golf.
Rio is one of the main tourist destinations in Brazil for a reason. There are loads of bars, restaurants, parties and lots of other stuff. If any Hawks members are ever in Rio, don´t hesitate to contact me and I would love to show you around town.
Hawks' Club Wine
We are very pleased to announce the launch of our Hawks' Club Mâcon to sit alongside our Hawks' Club Claret, which went on sale in December. The Mâcon has the blessing of John Casson, our in-house Master of Wine. The website has been updated, and please click on the link below to order:
https://www.privatecellar.co.uk/selection.asp?id=25&utm_campaign=Hawks-Club.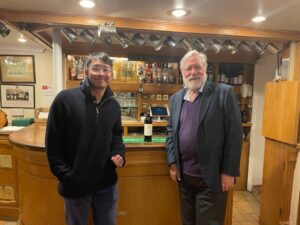 Tommy Zhao (Jesus, CUGC) and John Casson (Jesus, CUGC, 1970-73) about to tuck into a bottle of the Club Claret.
Hawks' and Ospreys' Access to Sport (HOATS) Report
Throughout February, Frankie Harley and I as HOATS Officers have been working together to put together a presentation promoting sport at Cambridge for the Cambridge Students' Union Shadowing Scheme. The scheme itself is aimed at students with little family history of attending university, who go to schools where few people progress to university. Due to ongoing COVID concerns, the presentation was held remotely, so Frankie and I ran a talk followed by a Q&A session from the Hawks' Clubhouse. The session focused not only on the many opportunities to play sport at Cambridge, at both College and University levels (and the financial support that the Hawks and Ospreys can give for this), but also the general benefits of sport for anyone studying at university, a perspective that we hope will be useful for the school children at any university they may attend.
Ed Tyler (HOATS Officer, Sidney Sussex, CUHC)
CUAFC Blues secure BUCS promotion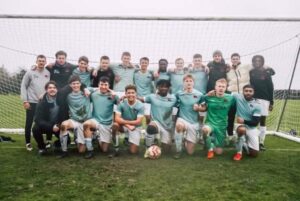 Congratulations to CUAFC Blues on winning their BUCS league title and securing promotion to Midlands Division 1 for next season!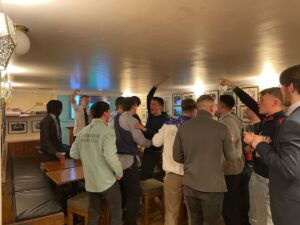 CUAFC celebrations in the Clubhouse hours after securing the title and promotion.
CUAFC Falcons' Varsity Match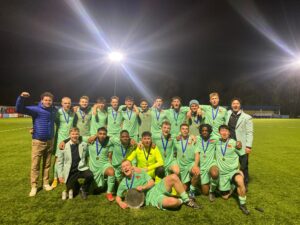 Oxford Centaurs 1-3 Cambridge Falcons
The 5pm KO could not have come quicker for the Falcons who had met at 8am that morning to travel to Oxford City, supporting the Kestrels and Eagles throughout the day. Finally, the stage was set for a Saturday Night Lights extravaganza with Cambridge starting strongly, and (incoming Hawk) Joey Dalton bagging two goals just before half time. To say that Joey had the game of his life would be an understatement, with his disbelief belying his Shearer-esque finishes. Oxford started the second half strong, and had Cambridge on the ropes, pulling a goal back to make it 2-1. Fortunately, the dynamic managing duo comprised of Hawks Ryan Hoffman and Nick Gallagher made some excellent impact substitutions, with JP's fast feet and composure under pressure earning a penalty that he cooly converted. Special mention must go to another incoming Hawk, Thomas Edmonson, who literally waved goodbye to the Oxford left back, having sent the poor soul sliding the wrong way off the pitch with a piece of skill. The Falcs returned back to the Hawks' Clubhouse after being dropped off on Chesterton Road to continue their (heavily karaoke-dominated) celebrations and then on to sample the pleasures of Revolutions Bar in the centre of town.
Nick Sweeney (Darwin, CUAFC)
Hawks' Event 2022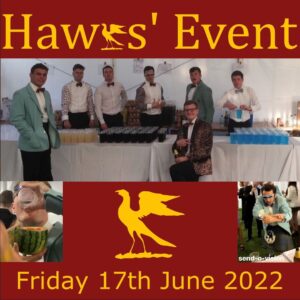 The Hawks' Event returns from its slumber in 2022 to be bigger and better than ever before. Expect plenty of food, TomaHawk, inflatables and music for an unforgettable night of celebration with Cambridge's elite sportsmen and women. We encourage recent alumni to return and partake in an event following the past years of not running. Tickets for alumni will be under the general release and I encourage you not to put off purchasing as they will disappear quickly. For further ticket announcements including price and release date please join the Facebook event page: Hawks' Event 2022. We look forward to seeing many of you there.
Tom Walton (Events Officer, St John's, CURUFC)
Rackets Varsity Match
Cambridge University Rackets Club secured a 4-2 victory over their O*ford counterparts at the Queen's Club on Wednesday 23rd February. Skipper Alex Moen (Magdalene) set the tone early on with a gruelling 3-0 victory in the 3rd string singles, whilst Patrick Smart (Churchill) came back from 2-0 down to win 3-2 in the 1st singles to effectively seal victory for a third consecutive year. Following the Pol Roger reception, dinner was enjoyed with OURC before the team raced back to Hawks for one or two jugs of Tomahawk.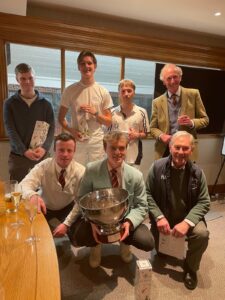 Top row (left-right): Arthur Adams (Trinity), Patrick Smart (Churchill), Louis Dessalles (Robinson), William Maltby. Bottom row (left-right): Ed Hyde (Jesus), Alex Moen (Magdalene), Howard Angus (St John's, CURC, CURTC, CUSRC)
CULTC BUCS Season Summary
The Lawn Tennis Men's and Ladies Blues Captains have prepared the following reports summarising  BUCS seasons to date. Dates for your diary:
The Varsity Matches are due to take place at Moor Park on 25th and 26th June where alumni are welcome both to attend as spectators and to attend the match dinner on the evening of Sunday 26th June.
The Club's biennial tennis Alumni Day at Fenner's is scheduled for Saturday 11th June.
If you would like to attend the Varsity Dinner and/or take part in the Alumni Day, please contact cozzy.mar@gmail.com.
Ladies Blues (Premier South Division)
With very strong new team members (Emily Arbuthnott and Georgie Walker) and returning players (Anna Chesca, Kureha Yamaguchi, Leah Hurst, Aisha Brown (Captain) and Juliana Ganendra) raring to go after a year away from BUCS, the Women's 1st Team (W1) have had a very successful season so far, winning the Premier South division and making it to the quarterfinals of the National Cup so far.
The league was a closely fought affair. Despite a couple of setbacks due to leaky venue roofs, W1 managed to finish top of their league. Particular highlights included bagel victories against King's College London in the first match of the year, University College London and Oxford first teams. The real high point of the season so far, however, came in the final round of league matches in a showdown away against Exeter. We were neck and neck on points at the top of the league, so this match would be the one to decide who would win the league and make it through to playoffs. Despite a long journey down to Exeter, the team consisting of Emily Arbuthnott, Anna Chesca, Kureha Yamaguchi and Leah Hurst were keen to get going. With a previous 5-1 home victory under their belts already, the girls had some confidence going into the match. The match itself was a closely fought affair; 1-1 after the initial round of doubles. Although Yamaguchi lost a very close singles 7-6, 7-6, Hurst managed to claw back a 3 set win after losing the first set. Arbuthnott and Chesca secured routine wins to close out the match, and the league.
Playoffs for promotion to the National (top) division will take place in early April, with round 1 to be played against the Premier North division winners, Leeds Beckett. The winner of round 1 will then go on to play the University of East London (who came bottom of the National division) in the match to determine a possible promotion.
Following completion of the league, the National Cup got underway. W1 played Exeter yet again in round 1, this time at home in a precariously patched up bubble in Peterborough which just about managed to survive storms Eunice and Franklin. This time, the girls achieved an even more convincing 5-1 win, taking us through to the quarter-finals where we are due to play Loughborough firsts away. Although a challenging prospect, the nominated team of Arbuthnott, Chesca, Walker and Brown are relishing the opportunity to score an upset against the National League toppers!
Men's Blues (Midlands Tier 1)
The Men's Blues were excited for the return of BUCS after a year missed due to Covid-19. After returning from a pre-season tournament in Monte Carlo, we started the term with a convincing 6-0 win against the Oxford 2's. Following this we faced a tough draw against Loughborough playing for the first time at Gosling on the indoor clay, with first pair Esah Hayat and Captain Jack Wilson-Smith losing a tight doubles in a match tiebreak. Next, we drew against our rivals, the Oxfords 1's (in a mini-varsity face-off), with big wins from the captain and fresher Harry Cookson.
For our first away match of the season we travelled to Nottingham to play Nottingham Trent. Going 3-0 down in matches after losing both doubles in the first round to two strong pairs as well as the top singles match, pulling back a draw seemed tough. Wilson-Smith scraped a win in straight sets from numerous set points down, followed by Patrick Smart at 4 winning a tough battle against Trent's singles super sub. All down to the last match, Cookson faced a bitter loss as the Trent player persevered in a gruelling match tiebreak.
Facing the Oxford 2's again, 3 new players for the Cambridge team played their first match leading to a comfortable 4-2 win. For our last match of Michaelmas we drew to Cardiff Metropolitan University in the first round of the cup. With convincing wins from Cookson and Smart at 3 and 4, dropping only 1 game combined in their singles, they took the team into a tiebreak shootout. Smart and Wilson-Smith played first in the singles tiebreaks with Smart narrowly missing out and Wilson-Smith beating Trent's first player in a crucial win. Hayat and Cookson then took it home with a high-quality doubles tiebreak.
Into Lent, we started the term off again playing Oxford 1's at Iffley road in a convincing 5-1 win but, despite the score line, clutched up with two doubles wins in match tiebreaks. The next two matches were away against Nottingham and Loughborough which we lost 4-2 and 5-1 respectively, followed by a close draw against Nottingham Trent. Dominating our next cup match 6-0 against Exeter, we travelled away to Bath to play in the quarterfinals of the cup to narrowly miss out 4-2.
With one match to go it looks likely we'll miss out on promotion but retain our place in the league. Overall it has been an enjoyable two terms of matches with big wins and tight losses from all players and we are excited to return next year to fight for promotion.
Aisha Brown and Jack Wilson-Smith (Homerton, CULTC)
Sightings of the Club Colours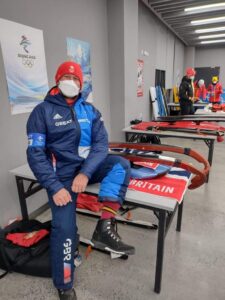 Mark Hatton (St John's, CUAC, CUIHC, 1995-96) sporting the Club socks in the pit lane between runs during the 2022 Olympic Men's Luge. Mark was coaching Great Britain at the Winter Olympics in Beijing.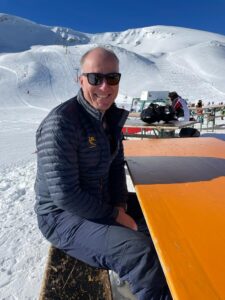 Seb Pollington (CUMPC, CUCC) rocking his new Club puffer on the slopes!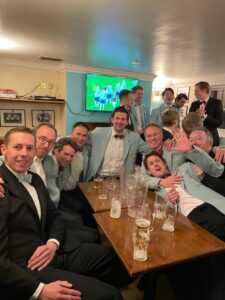 Some big names returned to the Clubhouse for CUHC alumni weekend, with many wearing their Club bow tie!
Varsity Rugby Matches 2022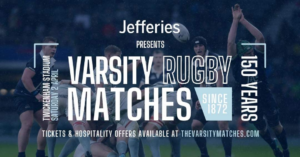 The Rugby Union Varsity Matches are back at Twickenham on Saturday 2nd of April for their 150th anniversary. Get together with your friends, family and fellow Hawks to support the Light Blues for this landmark fixture. There are a range of tickets available; starting at £15 and going up to £160 per person for a hospitality suite.
To buy tickets, please contact jonny.andrews@curufc.com
For hospitality suites, please contact boxes@curufc.com
Varsity Matches 2021-2022
Dates for Varsity Matches taking place during the 2021-22 academic year will be posted on the Varsity Fixtures page of the website. This page will be updated as dates for Varsity Matches are confirmed by various clubs. A link to results from 2020-2021 Varsity Matches can also be found on the link above.
Where Are They Now?
This year, we will once again continue our 'Where Are They Now?' feature, which we know many Hawks, both alumni and residents alike, really enjoy reading. In this section, we ask alumni to reminisce about their sporting achievements and their time in Hawks'. We feel communications like these are vital to maintaining the connection between alumni, old friends and the Club. We hope you enjoy reading!
We would love to hear from you and share your entries, which you can do here. Do also encourage any fellow Hawks to share their stories too – the best entry at the end of the year will win £50 of Hawks' merchandise! Last year we had many great entries, with the eventual winner being Russ Abel (Fitzwilliam, CUHC, 2000-04) and the runner-up John Taylor (Sidney Sussex, CUGC, CURFC, 1984-89). You can find all of our previous submissions here.
Our four most recent responses are both great, so many thanks to Neil, Hugh, Ian and Ali:
Neil Hennessy (Homerton, CURUFC, 1999-200)
Hugh Bethell (St John's, CUABC, 1960-1963)
Ian Ralby (St John's, CULC, 2007-2011)
Ali Arshad (Downing, CUHC, 1998-2003)
It would be great to hear from you so please take a few minutes to submit your entry!
If you're in town…
Please pop into the Clubhouse if you find yourself in Cambridge. The Clubhouse is open from 6pm daily (apart from Mondays), serving food and drink. It has been great to see a number of alumni call in at the Clubhouse over the past couple of terms. At the start of January, Jerrold Freed (Trinity, CUABC, 1971-1972), pictured below, called in at the Clubhouse whilst visiting from Santa Monica, USA!
Ed Hyde (President) and Jerrold after enjoying a few drinks at the Clubhouse and The Pickerel Inn
Contact Us and Picture Submissions
Please do get in touch with us about anything at all Hawks' Club related! We particularly welcome photos of Hawks past and present which we will try to get up in the Clubhouse and on the website. It is also great to hear about the sporting or social activities of past Hawks – for example, anecdotes or brief thoughts on current affairs, or how we could improve the newsletter. We're very keen to get content in here that you as Hawks alumni want to read about! Do get in touch either at president@hawksclub.co.uk or secretary@hawksclub.co.uk.
You can also rapidly and easily keep up to date with all the latest Hawks' Club activities by following our social media accounts on Instagram, Facebook, Twitter and LinkedIn.
A reminder to keep your details up to date on the website (your username should be <SURNAME><INITIALS> e.g. MOENAJ for Alexander James Moen – send an email to secretary@hawksclub.co.uk if you have forgotten your username).
If you enjoyed this newsletter, you can also read all six of last years' newsletters, including December's newsletter, here.
Newsletter compiled and edited by Alex Moen (Vice-President, Magdalene, CUCC, CUHC, CURC) and Jeremy Dempsey (Communications Officer, Girton, CUAC).