Matt Shaw
Manufacturing Engineering, Homerton, CURTC, CURFC, CURC, CUSRC, 2014-18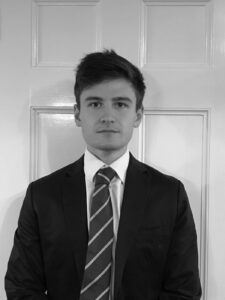 Where are you now?
Based in London, working as a product manager for VivacityLabs and volunteering with UK Wallball.
What are your sporting career highlights?
Becoming U18 National Fives Champion, Winning three Varsity matches in the same year (Real tennis, Rackets, Rugby Fives), being awarded an Extraordinary Full Blue.
What are your fondest memories of Cambridge Sport and The Hawks' Club?
Coamaraderie around the Clubhouse particularly after training sessions or behind the bar when I was on the Hawks' Committee. Watching players develop and improve their game as Captain of Varsity teams.
What do you miss most about Cambridge / The Hawks' Club?
The people, the socials, the dinners and of course the Hawks' Event.
If you could relive any sporting moment from your lifetime, what would it be and why?
Real Tennis Varsity Match 2018, the closest sporting match I've ever played in, which captivated the audience and where I learnt a lot about my relationship with competitive sport.