Sam Grimshaw
Jesus, CUHC, CUCC, 2002-2013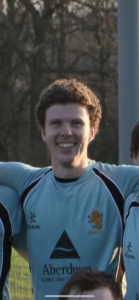 Where are you now?
I'm still in Cambridge! After three years travelling the world as a strategy consultant I returned to study a PhD at the Whittle Laboratory (part of the Engineering Department) in October 2009. 12 years later I'm still here, researching aerodynamics for propulsion and power, supervising students, including one who is going to crack the mysteries of cricket ball swing once and for all, teaching undergrads and generally having more fun than your supposed to as a grown up. Officially, I'm a Senior Research Fellow at Girton and also the Senior Treasurer for CUHC.
What are your sporting career highlights?
My highlight was the 2012 Blues Hockey Varsity Match. I'd played two previous Blues VMs, in 2006 and 2011, but we had lost both and I had only been awarded half blues as I was a sub. In 2012 I was in the starting line up and we were determined to win for the first time in four years. The game was a thriller, from 2-1 down at half time we came back to win 5-3 and I can still vividly remember the last minute or two, after we scored the fifth, knowing we were going to do it. It was definitely the best feeling I've ever had playing sport and it was amazing to share it with a really great group of lads.
What are your fondest memories of Cambridge Sport and The Hawks' Club?
Cambridge sport has provided so many great memories. Away from hockey I always looked forward to going to Twickenham and Lords to watch my mates play in rugby and cricket varsity matches and I also loved playing every sport possible for college, even eventually rowing in the Rhadegund Society May VIII. Hawks was like a home away from home, especially for us Jesus students and I've spent so many amazing nights there, either drinking Tomma and setting up the evening, or taking it easy with a beer, burger and some random sport on the TV.
What do you miss most about Cambridge / The Hawks' Club?
I'm very lucky to be living in Cambridge, I'm still connected with CUHC and when I occasionally pop down to Hawks it still feels the same – I'm heartened to see that each new generation of students understands how much of a privilege it is to be a Hawk or an Osprey and to have access to such an amazing place. I do miss the unique feeling of playing sport where the commitment to the cause is unnegotiable and unwavering and where your team mates become like family because you see each other every day and you share all the good and bad times together – you just don't get that once you leave university.
If you could relive any sporting moment from your lifetime, what would it be and why?
Can I have two, both of which I watched on TV and would have loved to see live? The first is the Edgbaston Test in 2005 – not just the nerve shredding final morning but the whole test including Flintoff smashing it all over the place and the Harmison slower ball. Second, it would have been incredible to see the Women win the hockey gold in Rio 2016 – that team was the definition of gutsy and it would have been awesome to watch them somehow overcome the Dutch.